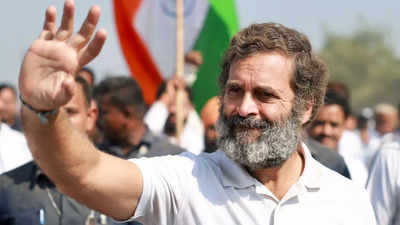 Claiming that the BJP government is "scared" of Rahul Gandhi, the Congress on Tuesday alleged that the party MP's plane has been "deliberately" denied permission to land at Varanasi's Lal Bahadur Shastri airport.
Congress leader Ajay Rai alleged that the airport authorities did not grant permission as they were under pressure, and that they used President Droupadi Murmu's Kashi Vishwanath Temple visit as an "excuse".
"Rahul Gandhi was scheduled to arrive in Varanasi and then proceed to Prayagraj, but the airport authority did not allow his plane to land here due to pressure from the government. They said there is a traffic jam here and deliberately did not give permission," he was quoted as saying by a news agency. Rai further alleged that the BJP government is "scared" of Rahul and that Prime Minister Narendra Modi has been "anxious" since the Congress MP embarked on the Bharat Jodo Yatra.
Also read: Rahul Gandhi kickstarts Wayanad constituency visit, meets tribal family
However, airport officials rejected the allegations, claiming that they received a message about Rahul's flight getting cancelled. "During late evening hours of February 13 (the day of Rahul's scheduled visit), airport authorities got the message from the company operating his flight that it has been cancelled by the party," said Varanasi airport director Aryama Sanyal.
Rahul was scheduled to land in Varanasi on Monday night. He was supposed to offer prayers at Kashi Vishwanath temple. On the other hand, President Murmu visited the temple on the same day. She offered prayers at the temple and attended the Ganga Aarti at the Dashashwamedh Ghat.