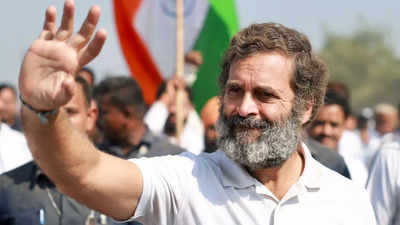 Congress leader Rahul Gandhi on Monday (February 13) visited the house of a tribal man who was found hanging near the Government Medical College Hospital at Kozhikode on Saturday (February 11).
Forty-six-year-old Vishwanathan had accompanied his pregnant wife to the hospital. But on Thursday (February 9), Vishwanathan was accused by the hospital's security of stealing money and a mobile phone while a mob attacked him, his family alleged in their complaint. A case of theft was also filed against him. He was found dead the next day. His family said that he committed suicide after being humiliated and accused of theft.
Rahul, who represents Kerala's Wayanad constituency in the Lok Sabha, visited Vishwanathan's house in the district along with party leaders and spent some spent some time with the family, listening to their woes and complaints and consoled them.
Kozhikode Medical College police have said that they have already registered a case when the relatives lodged a complained that the tribal man was missing from the hospital. According to the family's complaint, Vishwanathan went missing on Thursday and was later found dead on Saturday.
This is Rahul's first visit to his constituency after successfully wrapping up the over 4,000-kilometre long Bharat Jodo Yatra from Kanyakumari to Kashmir on January 30.
He was accorded a warm reception by the party leaders and workers outside the Kozhikode International airport on Sunday.