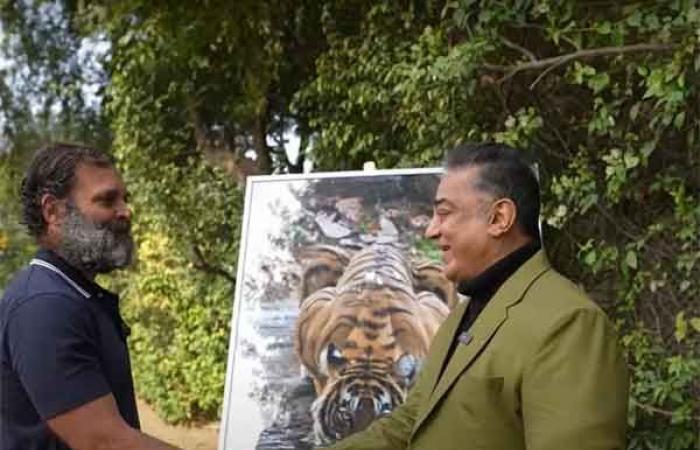 Rahul chats with Kamal, criticises Modi govt, discusses India-China issues
The border problems with China are connected to what's going on internally within India, said Rahul Gandhi hitting out at Prime Minister Narendra Modi and his government.
In a conversation with actor turned politician Kamal Haasan, the YouTube video of which Rahul shared on his Twitter page, the Congress leader said, when the 'economy doesn't work and there is joblessness and internal fighting, then opponents can take advantage of the situation.'
According to the Wayanad MP, the government "miscalculated" the threat from China, and referred to Prime Minister Narendra Modi allegedly playing down reports of Chinese aggression as a reason why the rival nation feels emboldened. Speaking extensively about India's border issues with China, he said that in the 21st century, India needs to have a holistic view of security.
A conversation between two proud Indians. All other identities blur when it comes to the Nation . @rahulgandhi

Have a great united Indian new year. https://t.co/TyGHi6ZVPh

— Kamal Haasan (@ikamalhaasan) January 2, 2023

"And that's where our government has completely miscalculated. We constantly hear about what is going on at the border. But, the fact of the matter is that China has taken 2,000 km of our territory. The military has clearly said that they are sitting in our territory but the PM has said that nobody has come, which destroys the entire negotiation position of India," he said, adding that this sends a very clear message to China… and the message is: 'We can do what we want, and India will not respond, right?'
Gandhi then claimed that in some of the conversations the Chinese are having with our military, they are saying, "your Prime Minister himself has said we are not in your territory. So, what is this conversation about?"
Also read: Why Rahul Gandhi is key to the 'alternative vision' needed to displace Modi
Further, Rahul said that the 'meaning of conflict has been transformed because earlier you fought just on the border but now you fight everywhere.'
"You can fight by shutting down power stations or by shutting down railway systems, so the single most important thing in the 21st century is that there is internal cohesion, that there is harmony and peace in the country, and the country has a vision," he said. The Congress leader added that there is a 'link between a weak economy and a confused nation without a vision.' According to Gandhi, the nation's border problems with China are connected to what is 'going on internally within India.'
"The Chinese know that we are dealing with internal matters and confusion and lack harmony so they can go in and do whatever they want," he said. Also, he said that he believed that the "flabby" west cannot take on the Chinese. "I believe India can take on the Chinese. We have the population, we have the people. You need a young population, you need a large educated base," he said.
Rahul also compared to what is happening between Russia and Ukraine to India's situation with China. "What Russians have done in Ukraine is they have said look we will not accept that the Ukrainians have a strong relationship with West. And that is the exact same principle that can be applied in India," Rahul said.
Also read: It will be difficult for BJP to win 2024 election, says Rahul Gandhi
"What Chinese are saying to us is to be careful what you are doing. Because we will alter your geography. We will enter Ladakh, we will enter Arunachal Pradesh," he added. The former Congress chief also felt that he can see China building a platform for "that type of approach".
Rahul has been attacking the Modi-led government on China. His use of the word pitai (beating) on the December 9 clash between India and China troops along the Line of Actual Control (LAC) was criticised by BJP leaders.