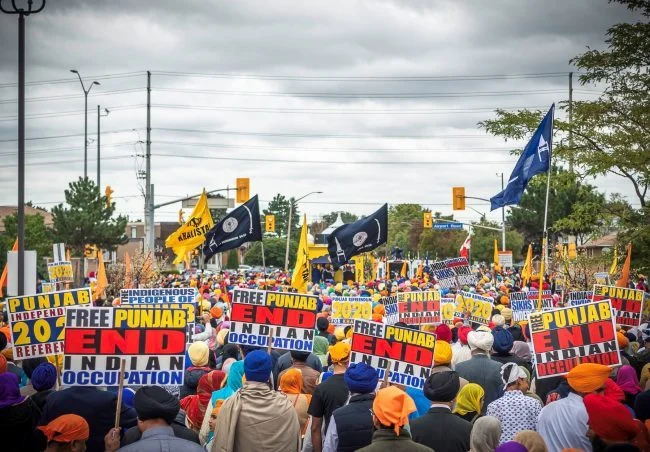 'Pro-India' group waves tricolour to counter pro-Khalistani protest in Canada; 2 nabbed
Two Khalistani protesters were arrested as violence broke out at an anti-India rally outside the Indian consulate in Canada's Toronto on Saturday.
More than 200 pro-Khalistani protesters had converged across the street housing India's consulate in Toronto. Backed by secessionist group Sikhs for Justice, the protest had been publicised by circulating online 'Kill India' posters that targeted India's envoys in Canada.
However, pro-India demonstrators holding tricolour had also gathered at the spot and virtually had a confrontation with pro-Khalistani protesters. They were separated by Toronto police personnel who had not only put up barricades to stop the protesters but had also blocked traffic to the street where Indian consulate is located.
Also read: Canada calls Khalistani rally call 'unacceptable'; assures safety of Indian diplomats
Clash averted

The pro-Khalistan group made an unsuccessful bid to breach the barricade and storm the pro-India supporters. Police manged to push them back and a man trying to raise ahead was thrown to the ground before being taken away by the police. Another person was nabbed for apparently assaulting a police officer. However, both were subsequently released without charges.
The Khalistani group vent its ire at the Indian government, accusing it of plotting the assassination of their leader Hardeep Singh Nijjar who was murdered in Surrey, British Columbia, on June 18. They were holding posters of Nijjar while staging the protest.
The pro-India group, which was outnumbered by Khalistani supporters, did not withdraw even when the assault bid was thwarted. They said they were happy as they were able to resist the Khalistanis who continue to violate the limits of freedom of speech. They felt that the violent side of the Khalistanis was exposed when one of them broke through the police barricade to try and attack their peaceful gathering.
Security up
Anti-India protests were also held in other parts of Canada. About 30 protesters gathered across the road from India's high commission in Ottawa but were peaceful. The protest in Vancouver drew about 50 protestors and passed off peacefully.
Also read: Wanted in India, Khalistani leader Hardeep Singh Nijjar shot dead in Canada
An Indian official said Canadian authorities seemed "responsive" to "some of our sensitivities" as security was stepped up in all three target cities. Earlier, Canada had assured India of the safety of its diplomats following the circulation of Khalistani posters online which named Indian officials and termed the promotional material circulating ahead of a Khalistan rally "unacceptable".
Canadian Prime Minister Justin Trudeau on Thursday said that Canada has always taken "serious action" against terrorism and it will continue to do so as he asserted that it is "wrong" to believe his government is soft on Khalistan supporters and terrorists in the country.
Protest in UK
Meanwhile, the Khalistani supporters also staged a protest outside the Indian High Commission in United Kingdom on Saturday. However, the UK witnessed a significantly subdued protest on Saturday, with only 30 to 40 pro-Khalistani supporters turning up for it.
The protestors were seen carrying Khalistani flags and posters against Indian High Commissioner to the UK, Vikram Doraiswami, and Consul General in Birmingham, Shashank Vikram, PTI reported. They blamed them for the death of Khalistani leader Hardeep Singh Nijjar, who was wanted in India on terrorism charges.
Security was beefed up with the UK police calling in additional forces to the location. Khalistani supporters had announced rallies outside Indian Missions in the UK, US, Canada, and Australia after the killing of Khalistan Tiger Force chief Nijjar, ANI reported.
Also read: NIA takes over investigation into attacks on Indian Missions by Khalistanis in US, Canada
After his demise, demonstrations were held in several cities across the world, including Melbourne, San Francisco, and Toronto. This was followed by posters threatening the Indian ambassadors to Canada and the US, as well as the consulate general in Toronto.
MEA flags issue
On the other hand, Ministry of External Affairs spokesperson Arindam Bagchi said New Delhi has raised the issue of threats to Indian diplomats in London, but it will judge the UK authorities only by what actually happens on the ground.
On March 19, a group of people chanting pro-Khalistan slogans took down the Indian flag at the High Commission in London, following which the Indian government summoned the senior-most UK diplomat and lodged a strongly worded protest.
Earlier this week, the UK government declared that any direct attacks on the High Commission of India in London are unacceptable amid the anti-India attacks and posters by Khalistani extremists emerging on social media channels.