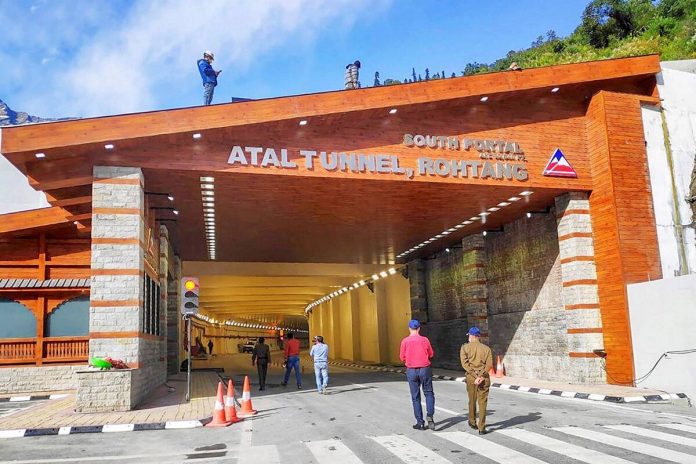 Prime Minister Narendra Modi inaugurated the Atal Tunnel — built at an altitude of 3,000 meters in Himachal Pradesh's Rohtang — on Saturday (October 3) and said "in just six years, we completed the work of 26 years."
The tunnel links Solang Valley near Manali to Sissu in Lahaul and Spiti district. The 9.02-km passage is the longest highway tunnel in the world.
The Prime Minister was accompanied by Defence Minister Rajnath Singh, Chief of Defence Staff Gen Bipin Rawat and Army Chief General MM Naravane.
The tunnel cuts through a mountain west of the Rohtang La and will shorten the distance between the two points by around 46 km. The two-lane tunnel can handle around 3,000 cars and 1,500 trucks per day, with a maximum speed of 80 km per hour.
The Rs 3,300-crore tunnel reduces the road distance by 46 km between Manali and Leh and the travel time by about four-five hours. The tunnel has been built with ultra-modern specifications in the Pir Panjal range of the Himalayas.
"The tunnel will give new strength to India's border infrastructure. It is an example of world-class border connectivity. There have been demands to improve border infrastructure but for a long time, such projects either couldn't get out of the planning stage or got stuck midway. Connectivity has a direct connection with development. Connectivity in border areas is directly related to security issues.
Related news: Atal tunnel construction almost complete, 10 years after the work began
"Atal ji laid the foundation stone of the approach road of this tunnel in 2002. Till 2013-2014, progress was made only on 1,300 meters of this tunnel. After 2014, the project progressed with unprecedented pace. In just six years, we completed the work of 26 years," Modi said.
The Prime Minister said the government's emphasis has been put on the development of border infrastructure. Its benefits are being extended to the common people as well as the armed forces personnel. "There is nothing more important for us than protecting the country. But the country has also seen a period when the defense interests of the country were compromised."
"Many other important projects were treated in the same way as Atal tunnel. The strategically important Daulat Beg Oldi airstrip in Ladakh remained closed for 40-45 years. I don't want to go into details as to what the helplessness and the pressure was behind it," he added.