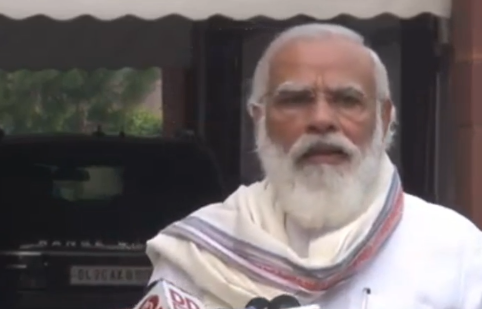 Amid growing agitation by farmers and protest by Opposition parties against the farms bills introduced by the Centre for reforms in agriculture, Prime Minister Narendra Modi has tried to allay their fears saying the legisations are not intended to do away with the agriculture mandis or the Minimum Support Price (MSP).
These laws are "not against agriculture mandi, it will continue like it always has", Modi said. "I want to assure every farmer that the Minimum Support Price system will continue as before," he said addressing an event held online after inaugurating some development projects in Bihar.
Related News: Farm bills cleared by voice vote amid RS ruckus, farmer protests
A day after calling the passage of the bills in Parliament as a watershed moment, Modi said the Bills are "needed for 21st century India" and called the protests by the  Opposition an attempt to "mislead and instigate" farmers.   
Stating that there has been a record purchase of food grains by the government in the past five years, he remarked: "One can easily understand who is working for farmers and who is not."
Related News: Why farmers from Punjab, Haryana are at forefront of protests?
Modi said the Bills will empower farmers by allowing them to sell their produce wherever they wanted. This will free them from the restrictions imposed by previous laws on yields and produce, he said. Farmers will now be able to sell their produce for the maximum profit, he said. "I want to assure farmers that minimum support price, govt procurement of their produce will continue," he added.
In a tweet, Modi had said the bills will help farmers double their income.
Related News: Derek O'Brien, 7 others suspended for ruckus in Rajya Sabha over farm bills
The government passed the Farmers' Produce Trade and Commerce (Promotion and Facilitation) Bill and the 'Farmers (Empowerment and Protection) Agreement on Price Assurance and Farm Services Bill' in the Rajya Sabha on Sunday through voice vote amid protests from Opposition members who threw papers. Rajya Sabha chairman Venkaiah Naidu has suspended eight Opposition MPs, including Trinamool Congress' Derek O'Brien, for their "unruly behaviour" during the discussions on the Bills.