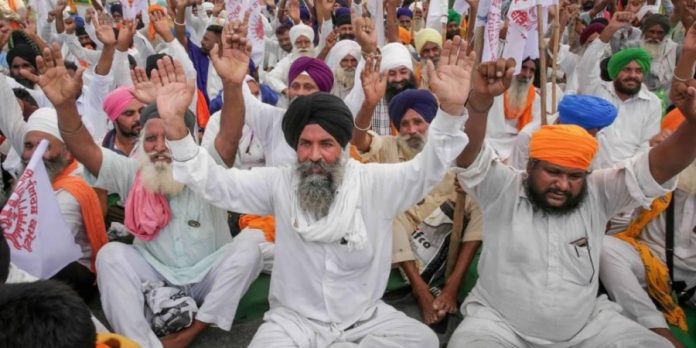 Farmers from Punjab and Haryana are protesting against the central government laws reforming agricultural marketing. The reason behind this is that they see a threat to wheat and rice procurement on which they are much more dependent than farmers from other states.
In 2018-19, 80 percent of Haryana's wheat production was procured at the minimum support price through regulated mandis, while it was 73 percent of wheat production in Punjab.
These farmers also produce rice mainly for consumption in other states. In the three years between 2016-17 and 2018-19, 89 percent and 85 percent respectively of Punjab and Haryana's non-basmati rice output was procured for consumption, when compared to the 51 percent in Andhra Pradesh and 11 percent in West Bengal, which are usually the major rice-consuming states.
Eight to nine lakh Punjab farmers have been supplying wheat for the public distribution system (PDS) during each of the past four years at minimum support prices (MSP). They account for more than 80 percent of the state's wheat growers even though their share is only 3 percent nationally. In Haryana, nine lakh farmers sold wheat at the MSP to the central government last year, up from 4.7 lakh farmers in 2016-17.
The centre procures more grain than is required for distribution to the poor through ration shops. As procurement operations are extended to other states and more of their farmers are covered, Punjab and Haryana farmers will be squeezed out. In Uttar Pradesh, which is the largest producer of wheat, the number of farmers covered by procurement operations has increased 4.5 times from 1.66 lakh to 7.5 lakh over four years, yet only seven percent of them are covered. In Rajasthan, the number has increased by 2.5 times to one lakh farmers, but they constitute just four percent of the state's wheat growers.
The government is holding excess stock of wheat and rice. In 2019-20, it offered 2 million tonnes of wheat for sale but got buyers for only 1.2 percent of it (2.4 lakh tonnes). If the government had not impounded the wheat produced, market prices would have collapsed and farmers would have had to shift to other, more paying, crops.
The Commission on Agricultural Costs and Prices (CACP), which fixes MSPs, wants an end to open procurement. If states procure through their own agencies for their own ration requirements, and the Food Corporation of India (FCI) buys just enough to supply to poor consumers in states that do not grow enough rice and wheat, the farmers of Punjab and Haryana will lose a steady source of income from assured procurement of wheat and rice.
Ajay Jakhar, Chairman of Punjab's Farmers' and Farm Workers' Commission, says the FCI may put a cap on the amount of grain it procures from individual farmers in the state. Instead of buying whatever is offered, it might limit the quantity to the average output of maybe 5 acres.
Related news: Explained: Why are 3 agri bills angering India's farmers?
Speaking in another context, Trilochan Mohapatra, Director-General of the Indian Council of Agricultural Research, said rice procurement must be based on the amount of groundwater required to cultivate it. This is less in the wet states of eastern India. Punjab and Haryana will be discouraged from depleting their groundwater to grow it. Rice procurement must shift to the eastern states, which are climatically suited for its cultivation. This will also alleviate poverty in a region that is steeped in it.
States fear revenue loss from the central legislations. Punjab charges 3 percent each as market cess and market development fee. These earned the state Rs 3,623 crore last year. "Its arhatiyas charge 2.5 percent as commission and earned Rs 1,611 cr last year, says Laal Singh," Chairman of Punjab's Mandi Board. There are 36,000 licensed arhatiyas in Punjab, most of them active. According to Sukhpal Singh of the Centre for Management in Agriculture at the Indian Institute of Management, Ahmedabad, about a third of the arhatiyas are Jat Sikhs, a politically important community.
The mandi levies and fees add up to 8.5 percent in Punjab, 6.50 percent in Haryana, 4.05 percent in Uttar Pradesh, 3.75 percent in Madhya Pradesh, and 3.15 percent in Rajasthan. During 2018, the imposts were higher: 14.50 percent in Punjab, 11.50 percent in Haryana, 8.86 percent in MP, 8.16 percent in UP, and 3.25 percent in Rajasthan.
Since private traders cannot pass on these charges, they have virtually kept out of the wheat and non-basmati rice trade in Punjab.
The charges are payable even if agri-produce is bought anywhere in a state. NITI Aayog Member Ramesh Chand cited ITC, a cigarettes company which has diversified into branded staples like Aashirward brand wheat flour and rice. It has a procurement centre in Kapurthala but pays mandi cess and rural development fees.
The central legislations restrict the charges only to the market yard.
Singh says the revenue earned from the mandis has been invested in rural roads and marketing infrastructure. Punjab has a network of 153 principal yards, 284 sub-yards and 1,443 purchase centres. These would wither away if trade moves out of the mandis.
Related news: Farmers being misled: PM on farm bills that distanced the Akalis
However, that might not happen. Competition might persuade the mandis to shed bad practices like price-fixing and reduce their charges. There is much going for them. Mandis are inclusive spaces where farmers, big or small, can sell any produce throughout the year. Private buyers are choosy. They will buy just what they need, as per their quality norms and during fixed periods. The mandis have dispute resolution mechanisms and there is little risk of payment defaults. Small farmers also have a symbiotic association with arhatiyas who lend them money or sell inputs like pesticides and fertilisers on credit.
Change will take time. Despite the central legislations allowing organised retailers or food processers to buy directly from farmers, aggregating the produce from hundreds of small farmers, transporting, and storing it is not an easy task. Private market yards will take time to be set up. Their services might not come cheap.
The southern and western states are less dependent on regulated markets. The Shetkari Sanghatana of Maharashtra, which champions open markets and free access to technology, has welcomed the central laws. "The footprint of the regulated markets is light in Andhra Pradesh," says Y Madhusudana Reddy, Special Secretary for Agri-Marketing. There are about 250 of them in the state, of which just 30 are active.