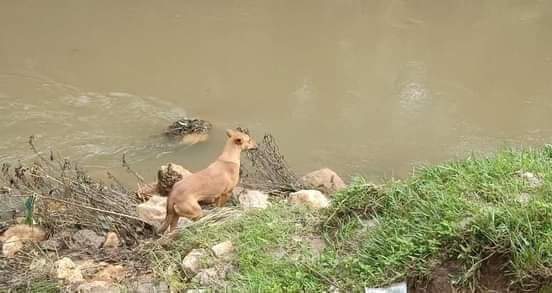 Kuvi was among those who were disconcerted after the landslide at Pettimudi in Munnar on the intervening night of August 6 and August 7.
The pet dog's two-year-old human friend had gone missing after the natural disaster. Locals and rescue workers had seen the dog roaming in the area but did not pay much attention.
Eight days after the incident, it, however, took rescue workers to the body of its friend Dhanusha in the Pettimudi river.
A Kerala cop, who was part of the rescue work and also the trainer of a district dog squad, has decided to adopt it. What's more, efforts are on to induct it into the dog squad.
Wanting to adopt Kuvi after it helped recover the body of Dhanusha, Ajith Madhavan, a civil police officer who also trains a K-9 dog squad in Idukki, approached the district collector. During the discussions, the idea of inducting it into the K9 dog squad cropped up, Manorama reported.
Related News: Munnar landslide: 24 children missing; search on amid heavy rains
Following this, the state DGP issued necessary orders to the district police headquarters to make arrangements for the induction.
Now, Kuvi will be examined by veterinary doctors before it is made a part of the dog squad.
"Steps have been initiated to induct the dog, named Kuvi, to the police dog squad," district police chief R Karuppasamy told Manorama.
Kuvi was Dhanusha's family's pet. The two-year-old girl and her parents perished in the landslide; only her grandmother Karuppayi survived.
Related News: Munnar landslide: Death toll mounts to 11, rescue operation underway
Over 80 people were buried in the landslide. While 12 people were rescued by the locals, bodies of over 60 victims were recovered from the debris.