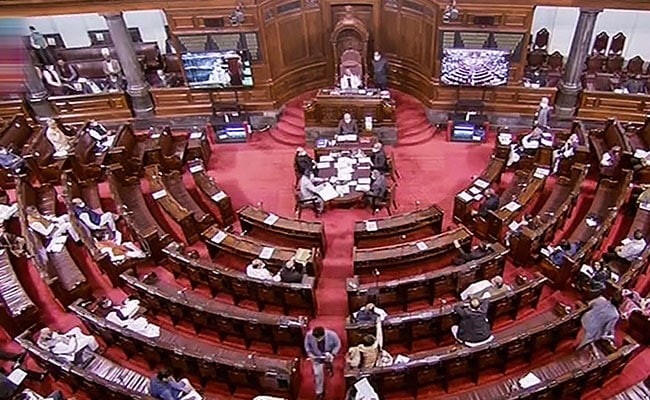 The Opposition is expected to carry on with their protests against the Centre's refusal for a JPC probe into the Adani-Hindenburg Report issue and over allegations of the govt 'misusing' central probe agencies to target political rivals.
As Parliament reconvenes on Monday (March 13) for the remainder of the budget session, acrimonious exchanges between the Treasury Benches and the Opposition that have now become the norm may not be the only cause of disruption of parliamentary proceedings.
A bulk of the Opposition parties are expected to carry on with their protests against the Centre's continuing refusal for a Joint Parliamentary Committee (JPC) probe into the Adani-Hindenburg Report issue and over allegations of the Narendra Modi government "misusing" central probe agencies to target political rivals. What may, however, add to this predictable cacophony is a face-off between the Opposition and the presiding officers of the two Houses of Parliament, especially the Rajya Sabha.
Dhankhar facing unvarnished criticism from Opposition parties
Earlier this week, the unprecedented decision of Vice President Jagdeep Dhankhar, the ex-officio chairperson of the Rajya Sabha, to "attach" eight officers from his personal staff to 12 standing committees and eight department-related standing committees of Parliament, had come in for unvarnished criticism by most Opposition parties. On Thursday (March 9), Dhankhar gave the main Opposition party, the Congress, cause to remind him that certain offices – the office of the Vice President being the "foremost" among these – "require us to shed our prejudices, our party allegiances and compel us to rid ourselves of whatever propaganda we may have imbibed along the way".
Also read: 'Cheerleader': Congress hits out at VP Dhankhar for criticising Rahul's UK remarks
Sources in the Congress told The Federal that the harsh tenor of the party's communication department chief Jairam Ramesh's swipe at Dhankhar is expected to find an echo inside the Rajya Sabha too "if the chairperson continues to speak the language of the Modi government". The reason for the Congress's defiant stance against the Rajya Sabha chairperson is the latter's unabashed criticism of allegations recently made in London by Congress leader Rahul Gandhi about suppression of the Opposition's voice in Parliament.
Dhankhar's veiled attack on Rahul
On Thursday (March 9), while speaking at the release of a book authored by Congress veteran Dr. Karan Singh, Dhankhar launched into a barely-veiled attack at Rahul. "The world is applauding our historic accomplishments as a functional vibrant democracy… India is having a moment of glory being president of G20, and some amongst us, including parliamentarians, are engaged in thoughtless, unfair denigration of our well-nurtured democratic values. Such a misplaced campaign to taint and tarnish our Parliament and Constitution is too serious and exceptional to be ignored. How can we justify such wanton orchestration of a factually untenable narrative?" Dhankhar said.
Though the Vice President did not name Rahul, it was evident that he was criticizing the Wayanad MP. "How can I sanctify a statement that mics in the Indian Parliament are put off? How can people say so?" Dhankhar asked.
Also read: Dhankhar's remarks on judiciary: Chidambaram flays VP, warns of dangers ahead
Last week, while on his visit to London, where he gave a guest lecture at the Cambridge University's Cambridge Judge Business School and had several interactive engagements, including one with some members of the British House of Commons, Rahul had made a series of comments critical of the state of India's democracy under the Modi regime. At an interaction organized by Indian-origin Labour Party MP Virendra Sharma at the Grand Committee Room within the British House of Commons complex, Rahul had alleged that microphones in the Parliament are turned off when Opposition members speak on any issue. During another interaction, the former Congress president had alluded to India's democracy being in peril.
Rahul's comments in London trigger political storm
Rahul's comments have triggered a political storm in New Delhi with a bevy of BJP leaders, including Union ministers Kiren Rijiju, Anurag Thakur, and former Union minister Ravi Shankar Prasad, alleging that the former Congress president was indulging in anti-India rhetoric on foreign soil. Prasad, and several other BJP leaders, also claimed that Rahul had urged America and the United Kingdom "to intervene" in Indian democracy – a claim that was immediately called out by the Congress as a "fake and deliberately misleading" attribution.
Also watch: Who's right, who's wrong? Political slugfest over Rahul's Cambridge speech
While the political slugfest that Rahul's remarks triggered had largely stayed between the Congress and the BJP until Thursday afternoon (March 9), it was clear that the Vice President was now wading into it. "No political strategy or partisan stance can justify compromising our nationalism and democratic values… We cannot allow such a narrative to gain momentum by those elements who wish to pose hurdles to our rising growth," Dhankhar said, while adding that if he remained silent "on this orchestration by a Member of Parliament outside the country, which is ill-premised and motivated, I would be on the wrong side of the Constitution. It would be constitutional culpability and outrage of my oath".
The Congress, which had until now only made oblique insinuations at Dhankhar's partisan conduct as Vice President and Rajya Sabha chairman, seems to have abandoned that thin veil of constitutional propriety. Responding to Dhankhar's remarks, Jairam Ramesh issued a statement expressing surprise and asserting that the Vice President had "rushed to the defence of a government from which he is constitutionally required to be at arm's-length, and in a manner that was both confusing and disappointing".
This regime's actions not those of a secure govt: Jairam Ramesh
Ramesh pointed out that Rahul "has not said anything abroad that he has not said several times here" and that the Wayanad MP's statement was "factual and representative of the reality on the ground". The Congress communication department chief, who is also the party's chief whip in the Rajya Sabha, pointed out that "over the last two weeks, more than 12 MPs belonging to Opposition parties have been served Breach of Privilege Notices for protesting the suppression of their voices in Parliament on an issue that is inconvenient to the ruling regime… There may be no declaration of Emergency but make no mistake, the actions of this regime are not those of a secure government… the Hon'ble Vice President's remarks on this occasion, as well as on previous ones, only serve to underscore this point".
This was Ramesh's second verbal duel with Dhankhar through Thursday (March 9). Earlier in the day, Ramesh had also contradicted the Rajya Sabha chairman's claim of having appointed members of his personal staff to various parliamentary committees after consulting with the chairpersons of these committees. "The Chairman of the Rajya Sabha has said that his controversial move to have his staff attached to various Committees was after consultations with the respective Chairpersons. I chair a Standing Committee and I can categorically say I wasn't consulted at all," Ramesh said.
Also read: Distorting, twisting, lying with straight face: Cong slams Prasad over Rahul criticism
The Congress, sources say, suspects that Dhankhar's public criticism of Rahul's remarks and justification of it as being part of a constitutional obligation could trigger BJP MPs into demanding the Lok Sabha Speaker to act against the Wayanad MP. During the first half of the budget session, BJP MP Nishikant Dubey had moved a Breach of Privilege notice against Rahul for a slew of allegations that the latter had made against Modi in connection with industrialist Gautam Adani. A chunk of Gandhi's speech in the Lok Sabha, in which he had repeatedly alluded to a nexus between the Prime Minister and Adani, had also been expunged from the records on directions of the Lok Sabha Speaker Om Birla. Similarly, Dhankhar had ordered several remarks made by Congress president and Leader of Opposition Mallikarjun Kharge about Modi and Adani to be expunged from the Rajya Sabha's records.
Dhankhar breaking parliamentary conventions: Trinamool MP
"The first half of the budget session saw the Treasury Benches and the presiding officers of the two Houses come up with a new strategy to silence the Opposition. Earlier, as Rahul said, mics of Opposition members would be turned off when they raised issues uncomfortable for the Centre, and the Lok Sabha Speaker as well as the Rajya Sabha chairman would repeatedly reject all notices for adjournment motion, discussions, etc. submitted by Opposition members on such issues… with the budget session last month, the Speaker and Chairman have come up with a new way to stifle our voices – they expunge any remark critical of the government, especially the Prime Minister, and then accept Breach of Privilege notices moved by BJP MPs on the flimsiest of grounds," a senior Rajya Sabha MP of the Congress told The Federal.
Also read: Rahul Gandhi in London: 'At the heart of BJP's ideology is cowardice'
Another Rajya Sabha MP from the Trinamool Congress echoed similar views. "It is the Chairman who is breaking parliamentary conventions… never in the history of Parliament has a Chairman attached his personal staff to parliamentary committees; it is clear that this is being done to snoop on confidential discussions and pre-empt any conclusions that may be uncomfortable for the government. This aside, this is for the first time that we have a Chairman who interrupts Opposition speakers more often than the Treasury Benches do, and when we object, we are threatened with suspension or other action… we will not let all this go unchallenged. If the Chair wishes to act in a partisan manner, it should be prepared to be called out for being party to this subversion of democracy and parliamentary traditions," the Trinamool MP said, requesting anonymity.