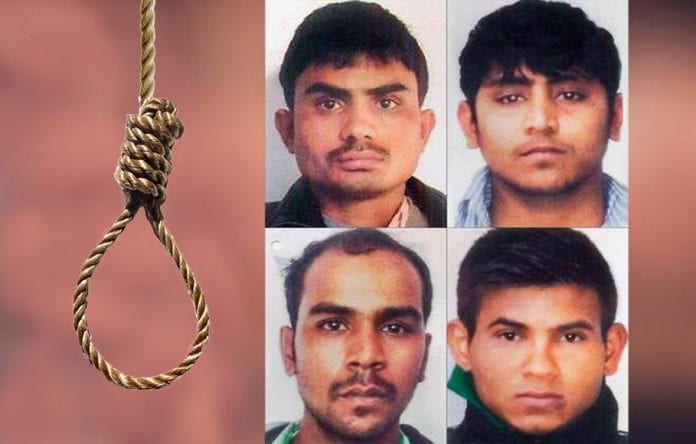 All four convicts in the 2012 Nirbhaya gang-rape case will now be hanged at 6 am on February 1, a Delhi court said on Friday (January 17). This comes after the Tihar jail authorities on Friday sought from a Delhi court the issuance of fresh death warrants against the four convicts.
The four convicts facing the gallows in the 2012 case include Akshay Thakur, Pawan Gupta, Vinay Sharma, and Mukesh Singh. Prime accused Ram Singh had in committed suicide in Tihar jail days after the trial began. Another accused, a juvenile, was released after he spent three years in a correctional home.
Earlier in the day, President Ram Nath Kovind rejected the mercy plea of Mukesh Singh after the Union Home Ministry forwarded his petition to the President late on Thursday night. He had filed his mercy petition two days ago.
Mukesh, Vinay, Akshay and Pawan were convicted and sentenced to death in September, 2013. They were to be hanged on January 22 at 7 am in Tihar Jail, a Delhi court had said. However, the Delhi government informed the high court the execution of the convicts will not take place on the designated day as a mercy plea had been filed by Mukesh.
Also read | Nirbhaya convicts' hanging turns poll issue, AAP and BJP slug it out
Reacting to the change of date of execution, Nirbhaya's mother said the system in our country listens only to the convict. "This is exactly what the convicts wanted… Date after date… In our system, only the convicts get to be heard," she said. Her father said the news of the execution not happening on January 22 had disheartened them but Friday's developments have heightened their hopes.
The 23-year-old paramedic student, referred to as Nirbhaya, was gang raped and brutally assaulted on the intervening night of December 16-17, 2012 inside a moving bus in south Delhi by six persons before being thrown out on the road. She died on December 29, 2012 at Mount Elizabeth Hospital in Singapore.
(With inputs from agencies)