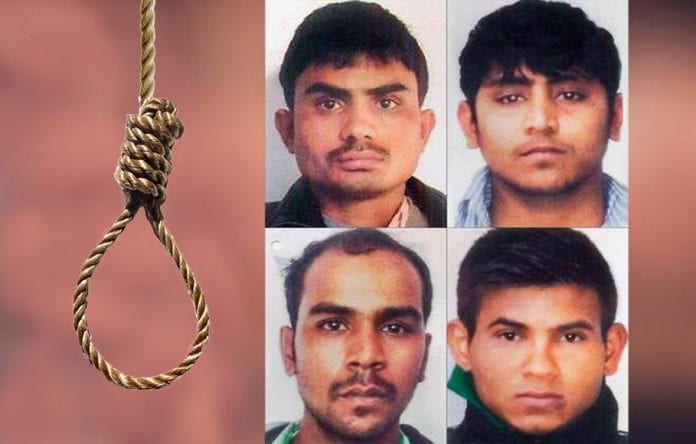 Seven years after a 23-year-old paramedic was brutally gang-raped in a moving bus in Delhi and later succumbed to her injuries, the four convicts in the rape and murder case were hanged to death at 5.30 am on Friday (March 20) at Tihar Jail.
Tihar Jail's director general Sandeep Goel, announced the completion of the hanging while talking to media persons after 6 am.
"The doctor has examined all the four convicts and declared them dead," ANI quoted him as saying.
Advertisement
The bodies have been sent to Deen Dayal Upadhyay Hospital. A five-member team of doctors led by Dr BN Mishra will conduct their post-mortem, which will be videographed.
"The post-mortem report of judicial handing is different from normal handing. Autopsy likely to completed by 12:30 pm," Deen Dayal Upadhyay Hospital source told to ANI.
The bodies will be handed over to the respective families after the completion of the post-mortem.
Delhi: Ambulance carrying bodies of 2012 Delhi gangrape case convicts leave from Tihar Jail complex for Deen Dayal Upadhyay Hospital pic.twitter.com/usDUxSSTI0

— ANI (@ANI) March 20, 2020
Commenting on the execution, Rekha Sharma, chairperson of National Commission for Women (NCW) said, "An example has been set today but it could have been done earlier. Now people know that they will be punished, you may extend the date but you will get punished."
Calling it a historic day Swati Maliwal, chairperson, Delhi Commission for Women said that the execution sends across a strong message to rapists against such crimes.
"It's a historic day, Nirbhaya got justice after over seven years. Her soul must have found peace today. The country has given a strong message to rapists that if you commit this crime you will be hanged," ANI quoted her as saying.
The four convicts are Akshay Thakur, Pawan Gupta, Vinay Sharma, and Mukesh Singh.
On Thursday, a trial court had dismissed the plea of Akshay, Pawan and Vinay seeking a stay on their death warrants. In a midnight hearing, just hours before the execution, the Supreme Court too refused to grant relief to Pawan, who had challenged rejection of a mercy plea by the President.
Ahead of the hanging, a heavy crowd had gathered around the Tihar jail compound. Paramilitary personnel were deployed in and around the prison which was locked down for the hanging.
The four convicts, however, did not express any last wish before their execution, Goel said.
Earlier, the Solicitor General on the request of Akshay Singh's lawyer in the court had urged Tihar jail authorities to allow him to meet his family in jail for 10 minutes before the execution. Jail official, however, said that such meetings are not recommended at this stage.
Of the six accused in the case, Ram Singh, had committed suicide in Tihar jail. Another, a juvenile, was convicted by a juvenile justice board and was released from a reformation home after serving a three-year term.
Reports say the convicts had spent the last hours of their lives in isolation and in separate cells. They were up all night. They refused to eat and did not sleep a wink.
They were taken out of their cells at 3:30 am and the execution was conducted together.
The six of them had raped and murdered a 23-year-old paramedic student, referred to as Nirbhaya, on the intervening night of December 16-17, 2012 on a moving bus in south Delhi. She died on December 29, 2012, in Singapore's Mount Elizabeth Hospital.
The death came after a prolonged legal battle which was often perceived by the general public and the legal fraternity as a tactic by the convicts to delay and escape execution.
Timeline of Nirbhaya case
Interactive timeline graphic. Click on the arrow or year to progress.
Timeline of Nirbhaya case
The Supreme Court had, in its 2017 verdict, upheld the capital punishment awarded to the convicts by the Delhi High Court and the trial court.
The petitioners had filed curative petitions and even approached the President with mercy pleas.