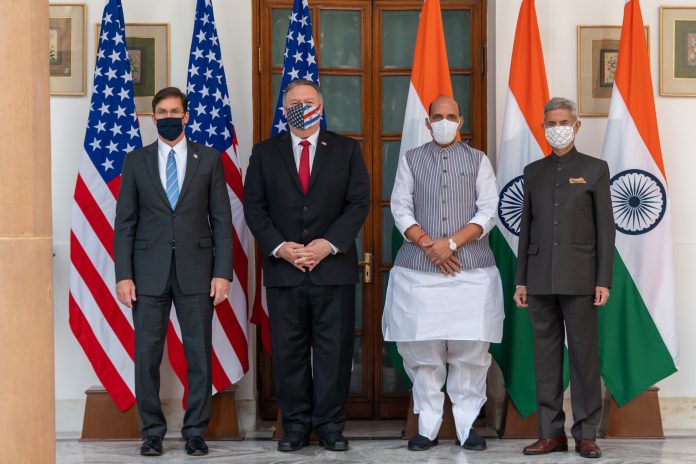 India and the US concluded the 2+2 dialogue in New Delhi on Tuesday, termed as the BECA (Basic Exchange and Cooperation Agreement) which will facilitate sharing of high-end military technology, geospatial maps and classified satellite data between the two militaries.
Defence Minister Rajnath Singh, External Affairs Minister S Jaishankar, US Secretary of State Michael Pompeo and US Secretary of Defence Mark Esper attended the meeting on Tuesday.
Today's U.S.-India 2+2 Ministerial was a success. The bond between our nations is built on the foundation of a longstanding friendship, partnership, and vibrant democratic traditions. Thank you @DrSJaishankar, @EsperDoD, and @rajnathsingh for yet another successful dialogue. pic.twitter.com/h9fy6c7lYz

— Secretary Pompeo (@SecPompeo) October 27, 2020
The Indian delegation included Chief of Defence Staff Gen Bipin Rawat, Army Chief Gen MM Naravane, Navy Chief Admiral Karambir Singh and Chief of Air Staff Air Chief Marshal RKS Bhadauria, Defence Secretary Ajay Kumar and DRDO Chairman G Satheesh Reddy.
About India's ties with the US, Jaishankar said, "At a time when it is particularly important to uphold the rules-based international order…together we can make a real difference when it comes to regional and global challenges."
Michael Pompeo and Mark Esper are in New Delhi to attend the third edition of the two-plus-two ministerial dialogue. The meeting assumes significance because US presidential elections are just a week away and India is in the middle of a border row with China.
Esper tweeted saying the partnership of "our two great nations is vital to peace and stability in the Indo-Pacific." Jaishankar and Pompeo discussed stability and security in Asia and the situation in the Indo-Pacific region.
Also read: All you need to know of India, US defence pact BECA
Pompeo said, "Today is a great opportunity for two great democracies to grow closer. We've a lot to discuss today-to cooperate amid pandemic, to confront Chinese Communist party's threats to security and freedom, to promote peace and stability in the region."
Early in the morning, Pompeo and Esper visited the war memorial and lay wreaths in honour of the soldiers.
NSA Ajit Doval also met Pompeo and Esper at South Block in the morning. The two sides primarily discussed issues of strategic importance for the two democracies and ways to build capabilities across all domains for a safe, stable and rule-based regional and global security environment.
About BECA
India and the US inked a key defence deal on Tuesday that will provide for sharing of high-end military technology, logistics and geospatial maps between their militaries. News agency PTI reported that BECA (Basic Exchange and Cooperation Agreement) is the last of four foundational agreements for strengthening defence ties, which was signed during the 2+2 dialogue between the two countries on Tuesday.
"We are happy that we've completed the BECA, which will open new avenues in the information sharing. We are eager to discuss further issues with US," Defence Minister Rajnath Singh said in the backdrop of the dialogue. Singh reiterated India's stance that India-US partnership is more important today looking at the present global challenges.
"Great discussion with @DrSJaishankar ahead of our third U.S.-India 2+2 Ministerial Dialogue. We agree that the U.S.-India Comprehensive Global Strategic Partnership is critical to the security and prosperity of both our countries, the Indo-Pacific region, and the world," Pompeo tweeted ahead of the dialogue.
Defence minister Rajnath Singh extended an invitation to US companies to invest in the defence sector and help India become 'Atma Nirbhar Bharat' (independent). Among several other things, Rajnath Singh and US Defence Secretary Mark T Esper reviewed military cooperation, secure communication systems and information sharing.
India and US signed the Logistics Exchange Memorandum of Agreement (LEMOA) in 2016 that allows their militaries use each other's bases for repair and replenishment of supplies as well as provide for deeper cooperation. The two countries signed another pact called COMCASA (Communications Compatibility and Security Agreement) in 2018 that provides for interoperability between the two militaries and provides for sale of high-end technology from the US to India.