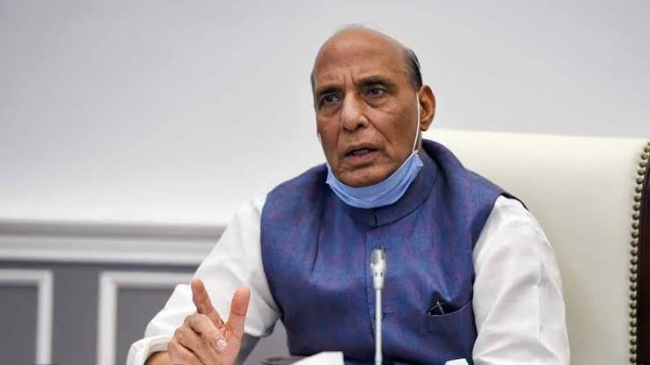 India and the US have signed the landmark Basic Exchange and Cooperation Agreement (BECA) today (October 27) during the 2+2 ministerial meeting between the two countries.
On Monday, Dr. Mark T. Esper, Secretary of Defence of the US and Defence Minister Rajnath Singh had a bilateral meeting in New Delhi.
"The duo reviewed bilateral defence cooperation spanning military to military cooperation, secure communication systems and information sharing, defence trade and industrial issues and also discussed ways to take bilateral cooperation forward," the Ministry of Defence said in a statement.
Related News: India absolutely needs US to be its ally, says Pompeo
"Both expressed satisfaction at the close engagements between the respective armed forces. They discussed potential new areas of cooperation, both at the service-to-service level and at the joint level.
"They called for the continuation of existing defence dialogue mechanisms during the pandemic, at all levels, particularly the Military Cooperation Group (MCG). They also discussed requirements of expanding deployments of liaison officers," it added.
India is delighted to host the US Secretary of Defence, Dr. Mark Esper. Our talks today were fruitful, aimed at further deepening defence cooperation in a wide range of areas.

Today's discussions will add new vigour to India-US defence relations & mutual cooperation. @EsperDoD pic.twitter.com/MMk11GkSZ1

— Rajnath Singh (@rajnathsingh) October 26, 2020
Here is all you need to know about BECA.
1. BECA will provide for sharing of high-end military technology, geospatial maps and classified satellite data between India-US militaries.
2. India and the US can exchange maps, nautical and aeronautical charts, commercial and other unclassified imagery, geophysical, geomagnetic and gravity data.
3. According to officials, BECA is the last of four foundational agreements for boosting defence ties.
4. BECA will help India keep a close watch on the movements of Chinese warships in the Indian Ocean. This comes at a time when there is tension at the Line of Actual Control (LAC).
5. "Data received under the agreement will be useful for long-range navigation and missile-targeting with enhanced accuracy. Given the current geo-political situation, this data will be relevant on both the northern and western borders of India. As this is a bilateral agreement, India will also be expected to share similar data with the US," Captain Vikram Mahajan (Retd), Director of Aerospace and Defence at US India Strategic Partnership Forum (USISPF), said, according to Economic Times.
6. Earlier, the two countries inked the Logistics Exchange Memorandum of Agreement (LEMOA) in 2016 that allows their militaries use each other's bases for repair and replenishment of supplies as well as provide for deeper cooperation.
7. The two countries signed another pact called COMCASA (Communications Compatibility and Security Agreement) in 2018 that provides for interoperability between the two militaries and provides for sale of high end technology from the US to India.
8. Earlier, the UPA government had raised concerns about BECA over India's national security. The issues were addressed after several rounds of talks between the two countries.
(With inputs from PTI)