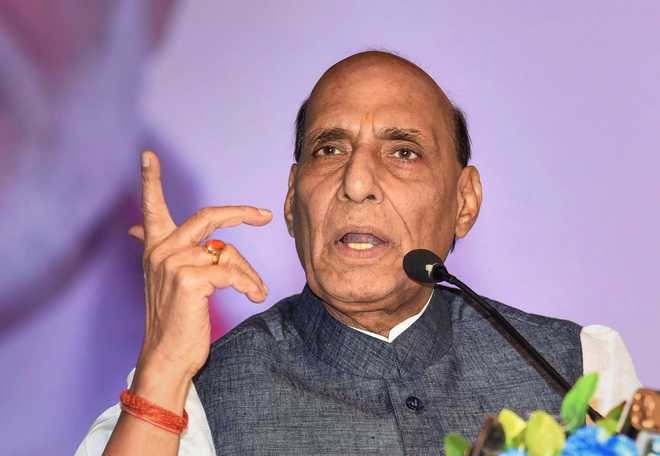 Union Defence Minister Rajnath Singh on Friday called upon the SCO member nations to fix accountability on supporters of terrorism and pitched for a framework of regional cooperation that respects the sovereignty and territorial integrity of the countries in the grouping, in comments seen as a veiled reference to Pakistan and a message to China respectively.
With Chinese Defence Minister Li Shangfu listening, Singh, who chaired a conclave of defence ministers of the SCO countries, said India envisions a robust framework of regional cooperation which mutually respects the sovereignty and territorial integrity of all member states by taking care of their legitimate interests. New Delhi strives to further bolster "trust and cooperation" among the members of the grouping as it believes in maintaining peace and security based on the provisions of the UN charter, he said.
Also read: India can't engage with Pakistan due to cross-border terror: S Jaishankar
Singh's comments referring to the need for respecting the sovereignty and territorial integrity of all member states under a regional framework for cooperation came amid the three-year border row between India and China.
The Pakistani defence minister did not participate in the Shanghai Cooperation Organisation (SCO) conclave. Special Assistant to Pakistan prime minister on defence affairs Malik Ahmed Khan joined the deliberations virtually.
Highlighting the threat of terrorism, Singh called upon SCO nations to collectively work towards eliminating it in all its forms and fix accountability on its supporters. Any kind of terrorist act or support to it in any form is a major crime against humanity and peace and prosperity cannot coexist with this menace, Singh asserted while stressing the need to contain terrorism effectively.
"If a nation shelters terrorists, it not only poses a threat to others but to itself too. If we want to make the SCO a stronger and more credible international organisation, our topmost priority should be to deal effectively with terrorism," he added.
Also read: India's borders fully secure, surgical strikes broken back of terrorists: Rajnath
Defence Secretary Giridhar Aramane told reporters that all the member nations arrived at a consensus on several areas of cooperation, including dealing with terrorism, and the security of vulnerable populations in various countries. He stated that all member states were unanimous in their statements that terrorism, in all its forms, must be condemned and eliminated.
At the end of the deliberations, all the SCO member countries signed a protocol, expressing their collective will to make the region secure, peaceful and prosperous.
(With Agency inputs)