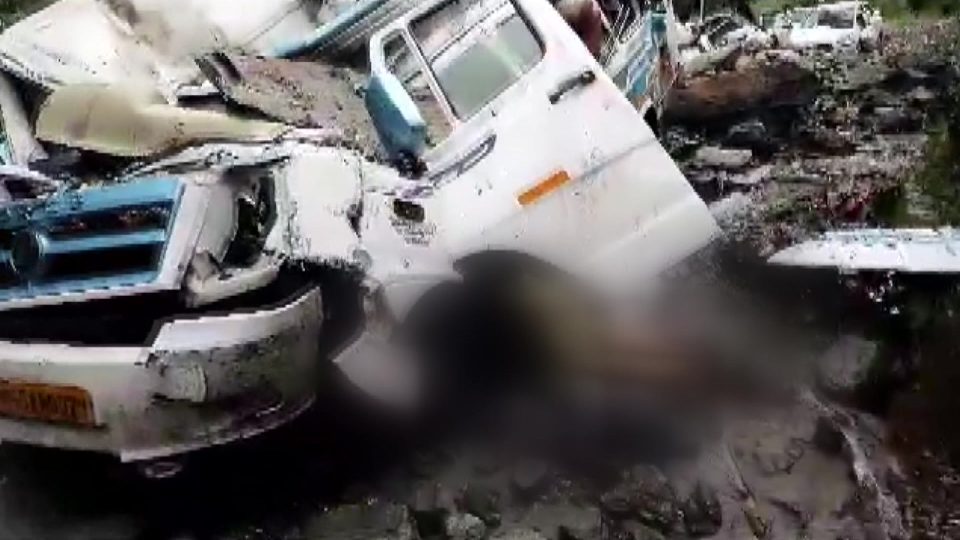 Monsoon mayhem: Four killed in Uttarkashi landslide; tourists stuck in Himachal
Four pilgrims from Madhya Pradesh died and seven more were injured when a landslide triggered by heavy rainfall buried three vehicles near the Gangnani Bridge on the Gangotri National Highway at Uttarkashi in Uttarakhand, officials said on Tuesday.
The incident took place on Monday night when the vehicles came under debris due to the landslide from the hill near the bridge. Uttarakhand Chief Minister Pushkar Singh Dhami expressed grief over the incident and urged people to avoid unnecessary travel during heavy rains.
Three of the four bodies have been recovered and efforts are underway to pull out the fourth from the rubble, Bhatwadi Sub-Collector Chatar Singh Chauhan said. Two of the seven people injured are in a serious condition, he said.
Also read: Delhi records highest single-day rainfall for July since 1982: IMD
Chauhan said teams of police and the State Disaster Response Force reached the spot for relief and rescue operations as soon as the information came in. Local people and Border Roads Organisation personnel also joined the relief work.
Uttarakhand: Bridge washed away

Floods in Jummagad river in the border area of Chamoli district of Uttarakhand has washed away the bridge built on it, blocking the Indo-Tibet border road there while contact with over a dozen border villages has also been lost.
VIDEO | Three killed as several vehicles get buried under debris from rain-triggered landslide on Gangotri National Highway in Uttarakhand's Uttarkashi. pic.twitter.com/tx36sF0yGy

— Press Trust of India (@PTI_News) July 11, 2023
Flooding in Jummagad river flowing near Jumma village on the Joshimath-Niti highway, about 45 km from Joshimath, continued till late night on Monday evening, in which the bridge collapsed. The Joshimath-Malari border road is now blocked and traffic connectivity to over a dozen border villages in the area has been lost. Supply to border outposts by road has also come to a standstill. The flood water was so high that it kept flowing over the Joshimath-Malari road, which stood several metres above the river.
In neighbouring Uttar Pradesh, a 42-year-old man died while his wife and son were injured when their house collapsed following incessant rainfall in Gautam Buddh Nagar district. The incident occurred in the Salyan neighbourhood of Jewar town around midnight. Gautam Buddh Nagar has been receiving heavy rainfall for the past few days like many other parts of the National Capital Region and western Uttar Pradesh.
Himachal: IAF chopper to rescue

The scenario is equally grim in the other hill state, Himachal Pradesh, where a helicopter from the Indian Air Force (IAF) has been requisitioned to airlift the tourists stranded at Chandratal Lake in Lahaul and Spiti district.
A rescue team from Kaza has also reached Kunzum Top and is just 8 km away from the lake, Principal Secretary, Revenue, Onkar Chand Sharma said on Tuesday. Around 300 people, mostly tourists, are stuck in camps at Chandratal, located at an altitude of 14,100 feet, following rain and snowfall in the region.
#WATCH | Himachal Pradesh | Chandigarh-Manali national highway closed following landslide near Six Mile area in Mandi.

(Video – drone visuals) pic.twitter.com/yZE6v4GR43

— ANI (@ANI) July 11, 2023
"Two of them were facing breathing issues due to the high altitude and they would be airlifted," Sharma said. All the stranded people would be evacuated to safe places by Tuesday night, he said. About 100 people were rescued from different places in the hill state on Monday.
Two teams have been deputed for road restoration — one from the Losar side and the other from Kaza. The team comprises members of the administration, Indo-Tibetan Border Police (ITBP), Border Roads Organisation (BRO), police and local villagers, the officials said.
Also read: Himachal's Kangra suffers losses worth Rs 75 crore amid incessant rains
As many as 1,239 roads, including the Shimla-Kalka and Manali-Chandigarh national highways, are blocked due to heavy downpour over the last three days. Bus services are suspended on 1,416 routes of the Himachal Roadways Transport Corporation (HRTC) while 679 buses are held en route, transport officials said on Tuesday.
The supply of essential items was hit in several areas of the hill state, including Shimla and Manali, as the Chandigarh-Manali and Shimla-Kalka national highways were closed following landslides, caving in of roads and flooding.
Several areas in Kullu and Mandi remained without electricity as 2,577 transformers were disrupted while the water supply was also affected in several areas, including state capital Shimla, as 1,418 water supply schemes have suffered damage. Manali town and the adjoining areas remained cut off for almost a day as roads were blocked due to landslides. Mobile connectivity has also been disrupted.
The rains have stopped since Monday evening and the rescue operations and road restoration work have gained pace as the water level in the rivers has subsided, Kullu Deputy Commissioner Ashutosh Garg said.
The meteorological department has warned of the possibility of moderate to high flash floods in Shimla, Sirmaur and Kinnaur districts. Heavy to very heavy rain lashed parts of Sirmaur, Shimla, Mandi and Kinnaur districts.
Punjab: Relief work stepped up

Meanwhile, the rain ebbed on Tuesday after three days of incessant downpour, which left behind a trail of destruction in several parts of Punjab and Haryana where properties worth crores were damaged and nine lives lost.
Also read: It's raining heavily, yet Shimla faces huge water crisis
The governments in both states have stepped up efforts to provide relief to affected people even as they scramble to conduct rescue operations. On Tuesday morning, the weather was clear at most places in the region which brought relief to the people, after the incessant downpour inundated homes and caused extensive damage to crops and vegetables in many districts.
Officials said relief shelters have been set up in the affected districts in the two states, including Rupnagar, Patiala, Mohali, Ambala and Panchkula. The chief ministers of the two states are closely monitoring the situation, they said. In the worst-hit Rupnagar district of Punjab, several people joined hands with the administration to extend a helping hand to those in need.
#WATCH | Haryana: A portion of a flyover in Panchkula washed away due to heavy rainfall in the city. Cracks were also seen at many places on the road. pic.twitter.com/LXiL3YH93c

— ANI (@ANI) July 11, 2023
Since the level of the Yamuna river at Haryana's Hathini Kund Barrage was rising constantly, people in adjacent low-lying areas have been asked to stay away from the riverbank, officials said. Around 3.21 lakh cusecs of water was discharged from the barrage at 9 am on Tuesday. This is reportedly the highest quantity of water released from the barrage this year. Many villages of Yamunanagar, Karnal, Panipat and Sonepat districts, and those adjoining the Yamuna river have been put on alert.
There has been a breakdown in the power and water supplies in some of the worst-affected areas of Punjab and Haryana but authorities were working to restore them. Officials said 9 rain-related deaths had been reported in the two states. The Punjab government has ordered the closure of schools till July 13. Haryana too has ordered the closure of schools in some of its worst-affected regions till Wednesday. In other places, the state government has left it to the deputy commissioners to take a call on the matter.
Also read: Flood alert issued for two Jammu districts amid incessant rains
Punjab DGP Gaurav Yadav on Monday said 15 NDRF teams and two units of the SDRF have been deployed to carry out evacuation and rescue operations.
Heavy rains lash Rajasthan

Heavy to very heavy rainfall was recorded in isolated parts of Rajasthan and one rain-related fatality was reported in Pratapgarh district, officials said on Tuesday.
Shivganj in Sirohi district recorded the highest 13-centimetre downpour in a 24-hour period ending on Tuesday morning, they said. Light to moderate rainfall occurred at most places in the eastern part of the state and at isolated places in the western part during the same period, the officials added.
VIDEO | Water enters houses in Rajasthan's Dholpur as heavy rainfall triggers waterlogging in several parts of the city. pic.twitter.com/WBJOpw3sYU

— Press Trust of India (@PTI_News) July 11, 2023
According to the meteorological department, Abu Road in Sirohi recorded 11 cm downpour, Pratapgarh and Dholpur 9 cm each, Sangod (Kota), Paota and Chomu (both in Jaipur) and Sumerpur (Pali) recorded 8 cm each while the rainfall in many other areas was below 8 cm.
The weather office has predicted heavy rainfall in Baran, Bharatpur, Bundi, Dholpur, Jhalawar, Karauli, Kota and Sawai Madhopur districts on Wednesday. In Pratapgarh, a 35-year-old man drowned in the Karmvachhni river on Monday night. A team of the SDRF recovered his body on Tuesday morning from a spot nearly 200 metres away from where he drowned, SDRF Commandant Rajkumar Gupta said.
(With agency inputs)