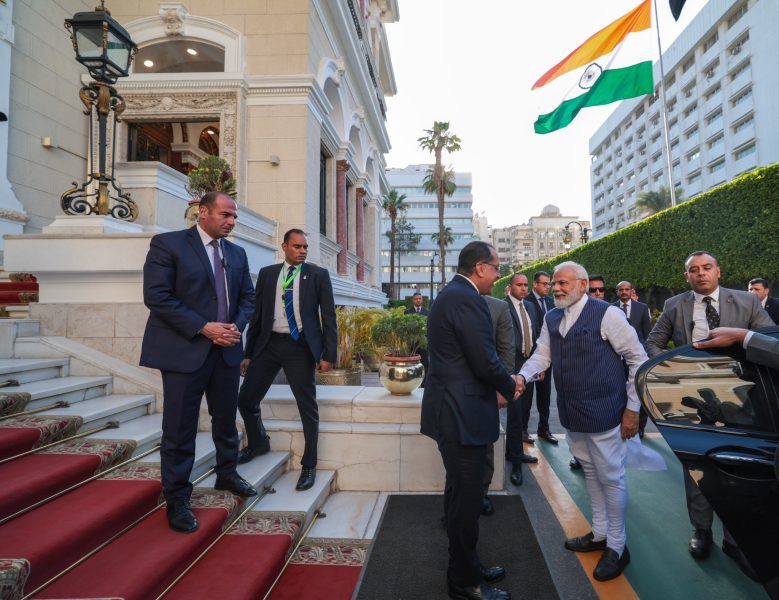 Modi's talks with Egyptian PM, ministers focus on deeper trade, strategic ties
Deepening trade relations and strengthening the strategic partnership were at the core of discussions between Prime Minister Narendra Modi and his Egyptian counterpart Mostafa Madbouly and top Cabinet ministers on Saturday (June 24).
Prime Minister Narendra Modi is on his maiden state visit to Egypt. This is also the first bilateral visit by an Indian Prime Minister to Egypt in 26 years. Modi is visiting Egypt at the invitation of President Abdel Fattah El-Sisi.
The Prime Minister also met the Grand Mufti of Egypt, Dr Shawki Ibrahim Abdel-Karim Allam, and interacted with members of the Indian diaspora and the Bohra community.
Honoured to have met the Grand Mufti of Egypt, His Eminence Prof. Shawky Ibrahim Allam. Had enriching discussions on India-Egypt ties, notably cultural and people-to-people linkages. pic.twitter.com/GMx4FCx2E0

— Narendra Modi (@narendramodi) June 24, 2023
Modi's meeting with the Bohra community came ahead of his on scheduled Sunday visit to Cairo's historic Al-Hakim Mosque, restored with the help of India's Dawoodi Bohra community. The Bohra community in India is said to have originated from the Fatima dynasty and they have renovated the mosque from the 1970s onwards.
Earlier, in a special gesture, Modi was welcomed at the Cairo airport by the Egyptian Prime Minister with a warm embrace and accorded a ceremonial welcome and a Guard of Honour.
"I am confident this visit will strengthen India's ties with Egypt. I look forward to talks with President Abdel Fattah El-Sisi and attending other programmes," Prime Minister Modi tweeted after landing in Cairo.
Also read: PM Modi arrives in Egypt for two-day State visit
The India Unit
Modi's first official engagement was a meeting with the India Unit, a group of high-level ministers constituted by President El-Sisi in March to further enhance the relationship with India. The two leaders had decided to elevate the relationship to the level of strategic partnership during El-Sisi's visit to India as the chief guest at the Republic Day celebrations this year.
Seven members of the Egyptian Cabinet, led by Madbouly, were present at the meeting with Modi. Madbouly and his Cabinet colleagues outlined the activities that the India Unit has been undertaking and proposed new areas of cooperation, the Ministry of External Affairs said in a statement.
The setting up of the India Unit in @CabinetEgy indicates the priority given to India-Egypt ties. Today in Cairo, I met this Unit. PM Mostafa Madbouly and other esteemed Ministers were present in the meeting. pic.twitter.com/5qAEHJydHg

— Narendra Modi (@narendramodi) June 24, 2023
They appreciated the positive response from their Indian counterparts and look forward to deepening India-Egypt bilateral relations in numerous sectors, the statement said.
Prime Minister Modi appreciated the setting up of the India Unit and welcomed this government approach to take forward bilateral relations with India. He also shared India's readiness to work closely with Egypt in various areas of mutual interest.
Discussions took place on ways to strengthen cooperation in areas like trade and investment, renewable energy, green hydrogen, IT, digital payment platforms, pharma and people-to-people ties, the statement said.
Watch: PM Modi on 2-day trip to Egypt, to visit historic mosque
Egyptian Foreign Affairs Minister Sameh Shoukry, Finance Minister Mohamed Maait and Minister of Industry and Trade Ahmed Samir were among the seven Egyptian Cabinet members present at the meeting.
Modi will meet Egyptian President El-Sisi on Sunday.
Modi's welcome
Earlier, the Indian diaspora, dressed up in traditional attire, gathered in large numbers at the Ritz Carlton Hotel in Cairo to welcome Modi.
Waving the Indian tricolour, they welcomed the Prime Minister to chants of "Modi, Modi" and "Vande Mataram" when he reached the hotel.
Deeply moved by the warm welcome from the Indian diaspora in Egypt. Their support and affection truly embody the timeless bonds of our nations. Also noteworthy was people from Egypt wearing Indian dresses. Truly, a celebration of our shared cultural linkages. pic.twitter.com/rTqQcz3tz7

— Narendra Modi (@narendramodi) June 24, 2023
An Egyptian woman, Jena, dressed in a saree, greeted Modi with the popular song Yeh Dosti Hum Nahi Chhodenge from the movie Sholay.
Impressed by the rendition of the Kishore Kumar-Manna Dey number, the Prime Minister expressed surprise when Jena said she knew very little Hindi and had never visited India.
"Kisi ko pata bhi nahi chalega ki aap Misr ki beti ho ya Hindustan ki beti ho (Nobody will be able to tell whether you are a daughter of Egypt or a daughter of India)," Prime Minister Modi said.
He is also scheduled to visit the Heliopolis War Cemetery to pay respects to the Indian troops who gave their lives in the ultimate act of valour for Egypt during World War I. This memorial was built by the Commonwealth, although it is dedicated to the 3,799 Indian troops who lost their lives in different First World War conflicts in Egypt.
El-Sisi is also scheduled to travel to India in September for the G-20 Summit where Egypt has been invited as a special guest.
(With agency inputs)