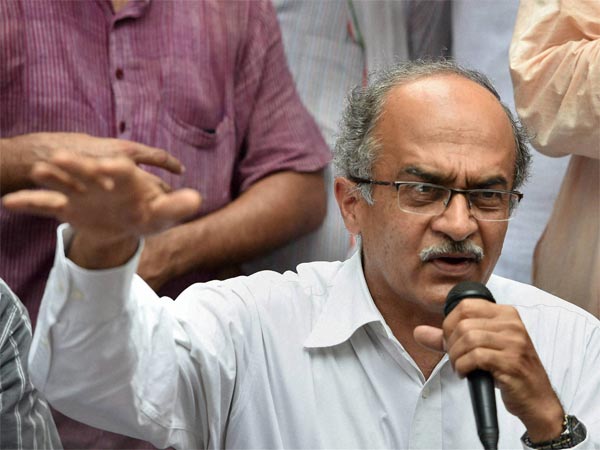 Let him go with warning, Attorney Gen. urges SC in Prashant Bhushan case
The Attorney General on Tuesday (August 25) asked the Supreme Court to let activist-lawyer Prashant Bhushan go with a warning after the top court sought his opinion on dealing with the case following Bhushan's refusal to apologise for his two tweets against the judiciary and the Chief Justice of India.
A three-judge bench headed by Justice Arun Mishra was hearing two contempt of court cases – one pertaining to two of his tweets and another accusing the judiciary of corruption in a 2009 interview –  against the activist-lawyer to decide the quantum of punishment to be handed down to him.
Stating that Bhushan's was not a lone case and that several sitting and retired judges have in the past spoken about corruption in the judiciary, AG KK Venugopal also cited the 'Arundhati Roy case' in which the apex court had ruled that "our shoulders are broad enough to shrug off" comments against it.
Venugopal also urged the court to give Bhushan one more chance to express his regret.
At the beginning of the hearing, the bench urged CJI SA Bobde to refer the 2009 contempt case against Bhushan to an "appropriate bench" as Justice Mishra is slated to demit office in the first week of September and the case would need a detailed hearing of four to five hours.
The matter will be listed before a new bench which can decide if an individual can go public with an allegation of corruption against judges, on September 10, the bench said.
Related news: Court could have been magnanimous in Prashant Bhushan case
The court on August 14 had held Bhushan guilty of criminal contempt in the case pertaining to the two tweets which were critical of the judiciary and CJI Bobde.
The apex court had given Bhushan time till August 24 after he refused to follow the order to submit an "unconditional apology" for the tweets before the sentencing, during the hearing on August 20.
Bhushan, however, had asserted that he will not apologise as "the tweets were expressions of his belief as well as bona fide opinions," and it would be insincere to aplologise for such beliefs.
The activist may face a punishment of up to six months in jail or a fine of ₹2,000 or both, when a three-judge bench headed by justice Arun Mishra gives its judgement.
Related news: It would be contemptuous on my part to offer apology: Prashant Bhushan
The second contempt case against Bhushan pertains to his comments in 2009 calling the past CJIs corrupt in an interview with Tehelka magazine. Bhushan had also refused to apologise for his statement in the said case and had offered an explanation instead. The apex court had rejected his explanation of August 10 and decided to hear it.