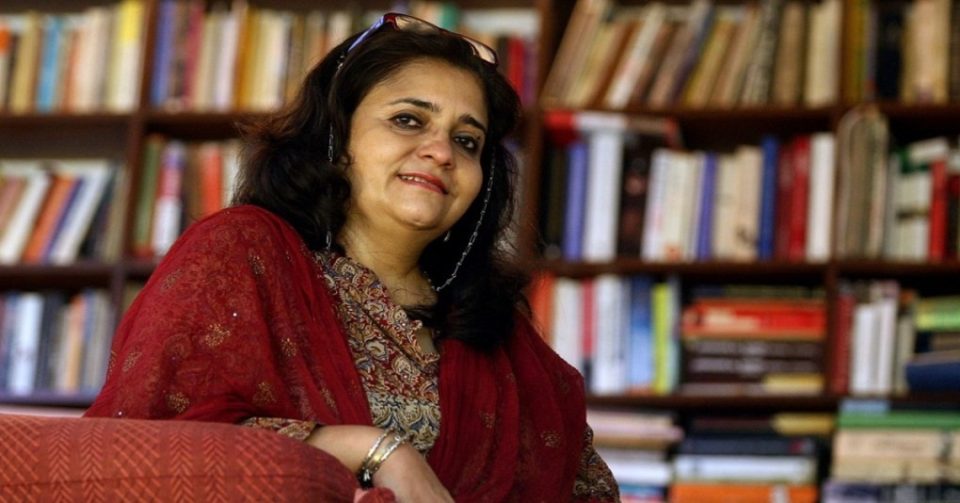 The 60-year-old Teesta Setalvad had fearlessly taken on the then Gujarat CM Narendra Modi back in 2007 by participating in a case filed against him for his alleged role in the 2002 communal riots. Pic: CJP
A human rights activist and journalist, Mumbai-based Teesta Setalvad, who was taken into custody by the Gujarat police's anti-terrorism squad on Saturday, has been actively fighting against communalism for more than three decades now. Though a strident champion of civil liberties and human rights, the 60-year-old is prominently known for taking up the cause of the victims of the Gujarat riots in 2002, and for famously questioning the clean chit given to the then Chief Minister Narendra Modi in the riots.
Setalvad, the daughter of a famous lawyer in Mumbai, Atul Setalvad, had her first brush with communal violence when as a journalist she covered the Bhiwandi riots that broke out in 1984. After working in newspapers such as The Daily, Indian Express and the magazine, Business India, this BA graduate in philosophy from Bombay University, branched off on her own in 1993, to start a magazine along with her husband, Javed Anand, a famous civil rights activist and journalist.
The activist couple started a monthly magazine called Communalism Combat, in response to the communal riots that had gripped the country in the wake of the Babri Masji demolition. The decision to break from mainstream journalism to start a magazine was to enable them to intervene, when injustices happened, in ways which they couldn't have otherwise. She also started a project called Khoj: education for a pluralistic India, which aims to relearn anti-minority prejudices by providing partially rewritten history and social studies textbooks.
After the Gujarat riots, the couple started an NGO called Citizens for Justice and Peace (CJP) on April 1, 2002, along with the late journalist Anil Dharkar, the late theatre personality, Alyque Padamsee, Javed Anand etc. The focus areas being minority rights, freedom of expression, criminal justice reforms and child rights and education.
According to the website, CJP has spearheaded both, legal campaigns as well as citizens' interventions to empower and assist fellow Indians navigate complex and extremely divisive political ploys, and hate-filled communal minefields. Under their key interventions, they mention a Hate Hatao campaign under which they have moved petitions before human rights groups; worked on the Assam citizenship issue and empowered Adivasis in forest areas etc.
Opinion: Teesta Setalvad's detention: The perils of choosing vindictiveness
Setalvad's antecedents
Setalvad is born into a reputed Gujarati family in Mumbai. She is the granddaughter of M C Setalvad, India's first Attorney General. Her great grandfather Chimanlal Harilal Setalvad was one of the three Indian members in the Hunter Commission that investigated the Jallianwalla Bagh massacre.
A Padma Shri awardee herself, she has written a chapter, "When guardians betray: the role of the police", in the book titled Gujarat: The making of a tragedy.
Setalvad received the Nuremberg International Human Rights Award in 2003. In her acceptance speech, she spoke about her work, her magazine Communalism Combat, and civil rights. At that time, she said "The language of fascism and its glorification of violence and extermination have deeply disfigured Indian public life. We struggle today against it reaching a crescendo."
Setalvad's involvement with Gujarat riot victims
She was among the first activists to take up the cases of riot victims in Gujarat in 2002, finally leading the Supreme Court to set up a special investigation team to probe the post-Godhra riots, six years later, under former CBI director R K Raghavan.
Setalvad publicly locked horns with the then CM Narendra Modi when in March 2007, she became the co-petitioner in a special criminal application filed by Zakia Jafri, before the Gujarat HC. Jafri's husband, Ehsan Jafri, a Congress leader was brutally killed in the riots.  She sought an FIR against Modi and 61 other politicians, bureaucrats and police officers for their alleged role in the 2002 riots. She also sought a CBI inquiry against Modi.
The petition and Setalvad's locus standi in the case were rejected, but she moved Supreme Court, which asked the SIT to conduct a preliminary inquiry into the allegations. However, she fell out with Raees Khan, formerly a CJP member and a field worker on behalf of the CJP at Ahmedabad and this led to allegations that she had tutored the witnesses.
Also read: Activist Teesta Setalvad detained by Gujarat ATS; action after SC order on Gujarat riots
Figure of controversy
Setalvad became embroiled in a lot of controversy, when in 2018 Raees Khan alleged in a complaint  lodged at the Ahmedabad DCB police station that Setalvad and her husband Javed Anand had allegedly misappropriated grants released for their NGO, Sabrang Trust, in 2014. Setalvad and Anand filed a petition against the complaint and this case is pending before the Gujarat HC.
Also, in 2014, an FIR was registered against Setalvad, Anand and Jaffri's son Tanveer at the Ahmedabad Crime Branch by some victims of the Gulberg Society. They accused the trio of criminal breach of trust, cheating, criminal conspiracy etc., and alleged that foreign donations received for Gulberg Society to set up a museum, were used for other purposes. They alleged that Setalvad had used it for herself. The end result: the bank accounts of the NGO trusts in two banks — IDBI and Union Bank — were frozen.
Earlier too, in 2006, Setalvad, Raees and 10 others were charged with allegedly hurting religious feelings, fabricating false evidence, trespassing on burial places among other charges by the Panchmahal police. The police alleged that without permission they had dug up the spot, where the bodies of 28 Muslims from Pandervada village killed during the 2002 riots, had been buried by the administration. A petition by Setalvad for quashing of this FIR also remains pending before the Gujarat HC.
She has also been often slammed by the BJP for attacking Modi without substantial evidence.
Also read: SC Gujarat riots verdict: Amit Shah says Modi suffered for 19 long years
Why was Teesta Setalvad arrested on June 25?
Zakia Jafri and CJP, of which Setalvad is the secretary, moved Supreme Court to ask for a proper investigation into allegations made in Zakia Jafri's complaint in June 2008. The SIT probing the Gujarat 2002 violence had failed to take into account several key pieces of evidence and filed a closure report that was accepted by a magistrate's court, they said in their petition.
On Friday (June 24), the SC, however, upheld the clean chit by the SIT to then CM Narendra Modi and 64 others in the 2002 Gujarat riots. And, the SC pulled the petitioners up for the "falsity" of their claims and for trying to "keep the pot boiling" on the Gujarat riots case. The SC also said: "As a matter of fact, all those involved in such abuse of process, need to be in the dock and proceeded with in accordance with law."
Hours before Setalvad's arrest, home minister Amit Shah also hit out at the role of a police official, Setalvad's NGO and the media for the case against Modi.
A day later, Setalvad, along with retired state DGP R B Sreekumar, was held on charges of criminal conspiracy, forgery and other sections of the IPC on the basis of an FIR lodged in the Ahmedabad Detection of Crime Branch (DCB) by an inspector Darshansinh Barad. The FIR quotes extensively from the Court order. Also named in the nine-page FIR, filed on behalf of the Gujarat state, is former IPS officer Sanjiv Bhatt, who also faced strictures in the Supreme Court order and is in jail in connection with another case.
Several human rights organisations like Amnesty International have slammed the arrests saying that this is sending a chilling message to civil society and further shrinks the space for dissent. The All India Democratic Women's Association (AIDWA) also condemned the arrest stating that after the unfortunate Supreme Court decision to throw out the appeal filed by Zakia Jafri whose husband, Ehsan Jafri was brutally killed in the Gujarat pogrom, the Gujarat Police has lost no time in arresting Teesta Setalvad who has stood with Ms Jafri like a rock. It is this and her other acts of exemplary courage for which she is being victimised, said the statement.