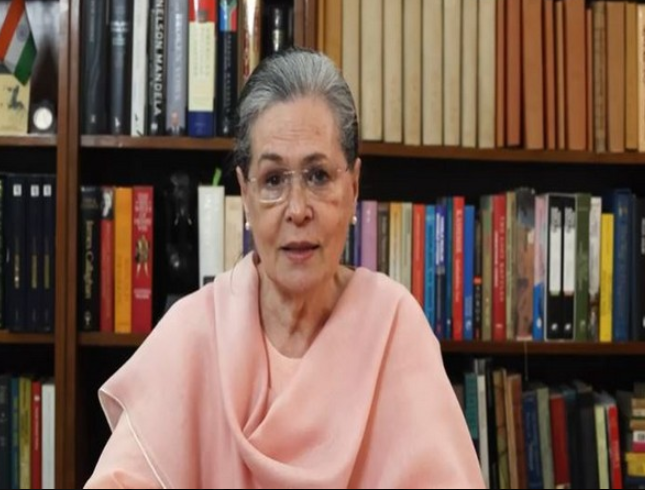 As the Congress government took oath in Karnataka, former party president Sonia Gandhi on Saturday (May 20) thanked the people of the state for giving a "historic mandate" for pro-poor regime and rejecting the "politics of divisiveness and corruption".
In a video message posted on Twitter, Sonia also assured people that the government will fulfil its commitment to implement all the promises made before the polls.
Also read: Karnataka: Congress forms an inclusive Cabinet, focus on community diversity
Congress leader Siddaramaiah was sworn in as Karnataka chief minister in a grand ceremony in Bengaluru and the new dispensation held its first Cabinet meet that gave an in-principle approval to implement the party's poll promises.
"From my heart, I wish to thank the people of Karnataka for giving the Congress party such a historic mandate. This mandate is for a pro-people government, this mandate is for a pro-poor government. It is a rejection of the politics of divisiveness and a rejection of corruption," Sonia who couldn't attend the swearing-in ceremony said.
"I would like to reassure the people of Karnataka that the Congress government which has been sworn in today will stand by its commitment to implement the promises it made to them," she added.
Sonia said she is proud that the first cabinet meeting has already approved the immediate implementation of the Congress's "five guarantees".
The Congress remains committed to the prosperity, peace and progress of Karnataka, she asserted.
A galaxy of opposition leaders, including chief ministers of non-BJP ruled states, took part in the mega event signifying solidarity with the Congress to take on the BJP next year in the Lok Sabha elections.
The new government at its maiden Cabinet meeting, soon after the swearing-in ceremony, accorded "in-principle" approval to the Congress five guarantees promised before the elections.
Also read: Karnataka: Siddaramaiah sworn in as CM; top Oppn leaders in attendance
Siddaramaiah, addressing a press conference later, cited estimates and said implementing poll assurances would cost the exchequer about ₹50,000 crore a year. He asserted that the pre-poll assurances would be implemented notwithstanding the financial implications, if any.
The party's five poll guarantees were 200 units of free power to all households (Gruha Jyoti), ₹2,000 monthly assistance to the woman head of every family (Gruha Lakshmi), 10 kilograms of rice free to every member of a BPL household (Anna Bhagya), ₹3,000 every month for unemployed graduate youth, ₹1,500 for unemployed diploma holders (both in the age group of 18-25) for two years (YuvaNidhi), and free travel for women in public transport buses (Shakti).
In the May 10 elections to the 224-member Karnataka assembly, the Congress won 135 seats, while the ruling BJP and the former prime minister H D Deve Gowda-led Janata Dal (Secular) secured 66 and 19, respectively.
Also read: Siddaramaiah blames Modi for Karnataka's 'missed' Rs 5,495-crore grant
(With inputs from agencies)