India's space start-ups exploring niche markets, global collaborations
On the back of India becoming a signatory to the US-led Artemis Accords and the strong focus on the space sector, India's space start-ups are intent on exploring niche markets.
From aiming to re-fuel satellites in orbit to monitoring the earth's health, Indian start-ups in the space sector are tapping niche markets with the hope of striking it big as opportunities for global commercial collaborations open up.
Industry leaders believe that India's focus on the space sector, particularly on addressing issues related to export control and technology transfer, during Prime Minister Narendra Modi's recent visit to the US will open up doors for private players.
Since India opened up its space sector in 2020, more than 150 start-ups have come up in areas such as building rockets and satellites, setting up astronaut training facilities and exploring possibilities for space tourism.
A good start
"It is a good start, because it was unheard of for the US to supply any space or defence-related technology 10-15 years ago. It was a taboo. Now, we are talking of working together in sunrise sectors," Manastu Space co-founder Tushar Jadhav told PTI.
Also read: India's space start-ups may get a boost with human spaceflight programme
Mumbai-based Manastu is developing green propulsion systems for satellites and hopes to validate its technology during a test flight in the coming year. It is also designing a fuel station in space to provide in-orbit refuelling service for satellites which otherwise have to be abandoned after the on-board fuel is exhausted.
Director general, Indian Space Association, Lt Gen A K Bhatt (retd), said, "Many technologies in the space sector are dual use technologies, but this is an indication that now there will be easing of processes for this."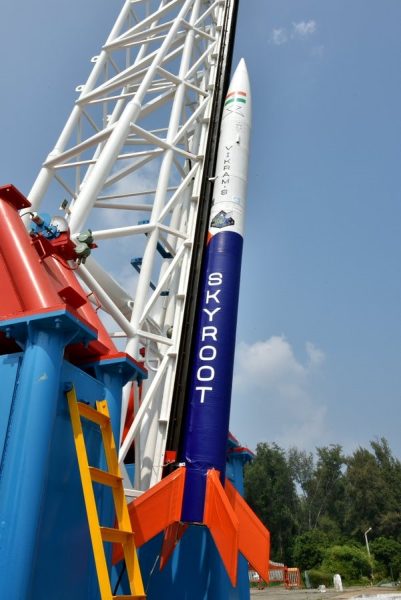 Launch of first privately built space rocket in India
In November last year, Hyderabad-based Skyroot Aerospace wrote its name in spacefaring history with the successful launch of its Vikram-S rocket, the first privately built space rocket in India, within four years of its founding.
The company, founded by former scientists and engineers from the Indian Space Research Organisation (ISRO), is now developing three variants of the Vikram series of rockets to put small satellites in orbit.
"The kind of work that is being done by the private sector is not replicating what ISRO has done. The launch vehicles developed by Skyroot and Agnikul have their own uniqueness. The satellite applications are very niche and cutting edge in terms of technology," Indian National Space Promotion and Authorisation Centre (IN-SPACe) chairman Pawan Goenka told PTI.
Also read: Indian Space Policy: Cabinet nod to boost ISRO activities
Government contracts abroad for India's space start-ups
Last year, Chennai-based Agnikul Cosmos inaugurated its own launchpad within the Satish Dhawan Space Centre at Sriharikota, from where ISRO carries out its space launches.
Since the demand for space technology and space data is very low in India, domestic private players are exploring global markets for their products.
"They are beginning to see some successes. Getting some orders from government agencies. That's another big thing that is happening," Goenka said, referring to the five-year contract Bengaluru-based Pixxel bagged from the US National Reconnaissance Office for supply of hyper-spectral imagery from its satellites.
Union minister for science and technology Jitendra Singh said the US now considers India as an equal collaborator in the space sector, which is in contrast to what was 50 years ago when every country looked towards the US for cues in the space sector.
"Prime Minister Narendra Modi broke the taboos of the past, and unlocked space technology to the private sector. Within three years, we have more than 150 start-ups, some of them first-of-its-kind. It is being acknowledged on world parameters," Singh told PTI.
The space economy in India is very small accounting for about 2.1 per cent of the global space economy in 2020 amounting to US$ 9.6 billion, which was 0.4 per cent of the Gross Domestic Product (GDP) of the country.
US collaborations
Earlier this year, Hyderabad-based Dhruva Space signed a pact with France-based satellite operator and global connectivity provider Kineis to establish space and ground infrastructure.
It includes development and manufacturing of ground terminals powered by Kineis chipsets, mutual commercialisation of space assets; and satellite earth stations to enable satellite-based services.
"Dhruva Space is also looking to work with the US prime contractors and OEMs on partnering and delivering indigenous solutions under the Defence Offset Obligations," said Kranthi Chand, head (strategy and special projects), Dhruva Space.
In April, Dhruva Space successfully tested and space qualified its two satellite orbital deployers and an orbital link onboard ISROs PSLV-C55 launch vehicle.
In June last year, Dhruva Space successfully space-qualified its 1U Satellite Orbital Deployer and later in November launched two amateur communication satellites, Thybolt-1 and Thybolt-2 into low-earth orbits. Both the missions were carried out on board PSLV rockets.