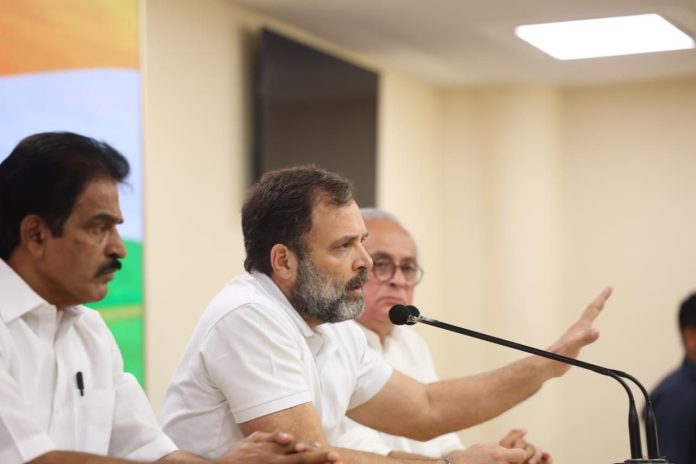 In the eye of storm over his London speech, Congress MP Rahul Gandhi on Thursday expressed his wish to respond to allegations levelled against him by 4 minister in the Lok Sabha, stating that if democracy was functioning he would be allowed to speak.
Addressing a press conference at the AICC headquarters in New Delhi, Rahul said, "I'm a Member of Parliament and since the allegations against me have been made by four ministers on the floor of the House, I should be permitted to put forth my views in the Parliament. So if Indian democracy was functioning, I would be allowed to speak in the Parliament. What you are seeing is a test of Indian democracy. Will I be allowed to speak or told to shut up? That's the real question before the country right now." He said there was an adjournment within a minute of his arriving in the House on Thursday, hoping that he would be allowed to speak on Friday.
Also read: Budget Session Live: Rahul in Parliament, says 'London speech wasn't anti-India'
'Speaker non-committal'

Rahul said he met Lok Sabha Speaker Om Birla and told him that he wishes to speak in the House. "Four ministers have made allegations against me on the floor of the House and I have the right to respond. The Speaker was non-committal, he smiled. There is no clarity on whether they will allow me to speak but I don't think they will," he said.
Rahul said when he spoke in the Parliament on Adani issue, his entire speech was expunged. "The speech had nothing that wasn't a matter of public record. I asked some fundamental questions to the PM about Adani. This entire tamasha is being created to avoid a discussion on Adani. Those questions (about Adani) are still on the table. The PM is not able to answer any of the questions I had raised," he added.
Meanwhile, Rahul didn't take any questions from the media. He said he will first try to speak up in the Parliament as that is his first priority as an MP. If that doesn't happen, he will speak at length with the media, he added.
Also read: BJP likes to believe it will be in power eternally: Rahul Gandhi in London
The controversy
Earlier in the day, Rahul arrived in Parliament House for the first time since the controversy over his UK tour broke out. Rahul's remarks during his recent trip to the UK have rocked Parliament, with both Houses failing to transact any significant business on the first four days of the Budget Session's second leg.
During his interactions in the UK, Gandhi alleged that the structures of Indian democracy are under attack and there is a "full-scale assault" on the country's institutions. He also told British parliamentarians in London that microphones are often "turned off" in Lok Sabha when an Opposition member raises important issues.