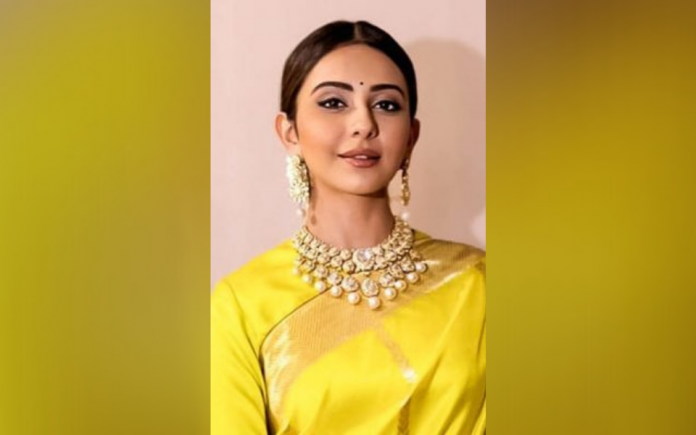 Actor Rakul Preet Singh has moved the Delhi High Court seeking an end to media reports linking her to the drug case that has emerged in connection with actor Sushant Singh Rajput's death.
The court has issued notices to the Centre and other organisations seeking their responses to the petition.
Media reports had suggested that actor Rhea Chakraborty, who has been arrested, had named Rakul Preet as being one of those in the industry who took drugs.
But there were "unsubstantiated" reports in various media outlets linking her to the case even after Rhea retracted the statement, in violation of the Information and Broadcasting Ministry's guidelines, Rakul Preet said in her petition. She was represented by advocate Aman Hingorani in the court.
The court has issued notices to the Information & Broadcasting ministry, Prasar Bharati, News Broadcasters Association (NBA) and Press Council of India (PCI), seeking their response. 
The court said media houses and TV channels should show restraint in their reports and abide by cable TV regulations, programme code and other statutory and self-regulatory guidelines while reporting on Rakulpreet Singh. 
After she was arrested by the narcotics control bureau (NTB), Rhea had told the agency that at least 15 Bollywood personalities either procured or consumed drugged. She had reportedly named Rakulpreet as being one among them.
So far, at least 16 people, including Rhea, her brother Showik Chakraborty, Rajput's servant Dipesh Sawant, his former employee Samuel Miranda and a few drug peddlers from Mumbai and Goa. Rhea and Showik have been remanded in judicial custody till September 22.
Related news: NCB arrests 6 more drug dealers in Sushant death case
The allegations of drugs use in Bollywood has created a lot of controversy with members of Parliament raising the issue in the ongoing monsoon session.
BJP MP and actor Ravi Kishen had said that the drugs connections should be investigated, evoking a rebuttal from Jaya Bacchan of the Samjwadi Party who said    people in the industry are being "flogged" by social media to divert attention. "People who made their names in the industry have called it a gutter. I disagree," she said in Parliament. "Just because of a few people, you cannot tarnish the image of the entire industry… Jis thaali me khaate hain usi me chched karte hain," she said.
Hema Malini, an MP of the BJP, also said she was "hurt" by the allegations against the industry. 
The government has been maintaining that it has no evidence of any links of the  industry to drugs.