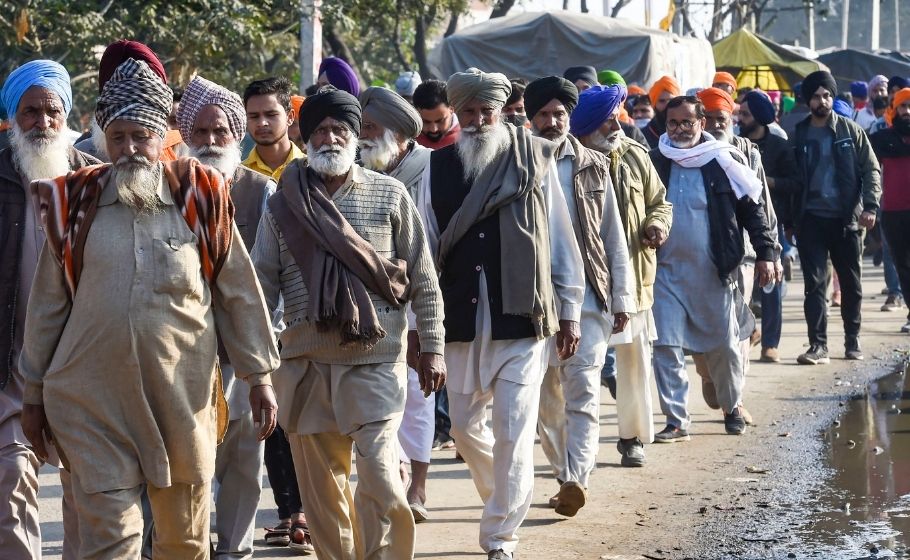 Haryana police on Sunday (January 3) lobbed tear gas at hundreds of farmers from the state who tried to breach barricades near the Rewari-Alwar border to travel to Delhi and join the main protest against the Centre's three farm laws.
The incident which occurred near Sangwari village in Rewari district, around 16 km from Gurgaon, came a day before the government holds another round of talks with the protesting farmers to break the two-month-long stalemate.
Reports said around 300 farmers had entered Rewari after breaking through barricades at the Rajasthan-Haryana border on Thursday and were followed by 50 more farmers from Sri Ganganagar in Rajasthan.
Police said they had to fire tear gas at the protesters after they tried to break through barricades at Rewari-Alwar border.
Related news: Farmers fight a tricky sludge of poor credit, odd monsoon, crop loss
"The protesters said those who had gone ahead did not have enough provisions. They asked for permission to go to them and set up a langar, and were allowed to do so. However, when they got there, the entire group tried to break through the barricades and move forward," Rajesh Kumar, Deputy Superintendent of Police, Bawal told Indian Express.
The protesters have remained at the border.
Ramzan Chaudhary, chief of the Nuh unit of Jai Kisan Andolan has said they are staying put at the border and will decide on their next move after leaders of the Samyukt Kisan Union completes talks with the Centre.
The protesting farmers at Delhi have stood by their demand to repeal all the three laws and ensure the legal provision of Minimum Support Price.
During the sixth round of talks held last week, the Centre had offered to withdraw the Electricity Amendment Bill and penalties imposed on stubble burning in one of the laws. While the Centre has not responded to the farmers' main demands, the protesters have threatened to take out a tractor march on the GT-Karnal road on January 6 if the January 4 meeting proves inconclusive.
The collective of 40 farmers' unions have also threatened to take their protest to Delhi if their demands are not met by January 26.