India is the world's second-largest agricultural producer with a contribution of 7.68 per cent to the global output. Closer home, it contributes about 17.32 per cent of India's gross value added. More than two-thirds of the country's population resides in rural areas, out of which about 58 per cent depend on agriculture for livelihood.
According to the World Bank, India is the second-largest producer of rice, wheat, cotton, sugarcane, farmed fish, sheep and goat meat, fruit, vegetables and tea. The country has some 195 million hectares of land under cultivation, out of which roughly 63 per cent is rain-fed (roughly 125 million hectares) while 37 per cent is irrigated (70 million hectares).
More than 60 per cent of India's population is engaged in farming, but sadly over 28 farmers/farm labourers commit suicide in the country every day (as per the National Crime Records Bureau data). Over 90 per cent of our farmers live in poverty, out of which 25 per cent are below the poverty line.
While the National Crime Records Bureau (NCRB) is silent on the reasons behind farmers ending their lives, the Causes and Policy Prescription report of 2016-17 cites frequent crop failure due to vagaries of monsoon, absence of assured water resources and pest attacks/diseases as reasons for farmers taking the extreme step.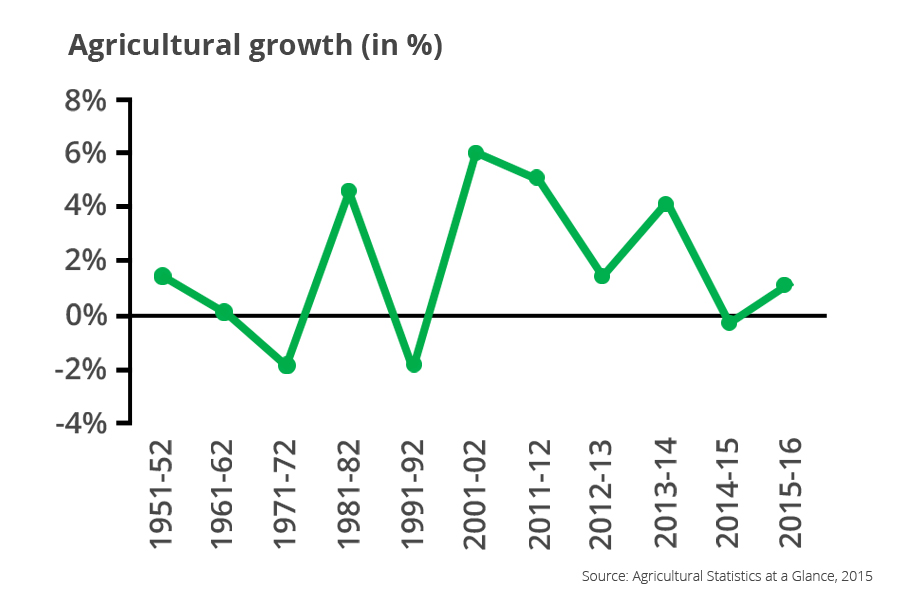 Shift from cereals to pulses and non-vegetarian food
Over the past few decades, with increasing per capita income and access to a variety of food groups, the food consumption pattern of the country has been changing dramatically. Dependence on cereals for nutrition has decreased and the consumption of protein has increased. The main sources of protein are pulses, meat, seafood and eggs, among others.
According to a Finance Ministry report aimed at "incentivising the production of pulses in the country", poor levels of nutrition suggest that increasing the consumption of proteins should be the policy priority for the government. The report estimates that the cost of pulses as a source of protein is lower than other sources. Under the current domestic scenario, India is facing a shortage of pulses, which is being plugged by imports.
A majority of farmers, mainly in the Green Revolution beneficiary states like Haryana, Punjab, UP, MP and Bihar, focus more on growing wheat and rice. The total production of food grains increased from 51 million tonnes in 1950-51 to 252 million tonnes in 2015-16. The production of wheat and rice took off after the Green Revolution in the 1960s, and as of 2015-16, wheat and rice accounted for 78 per cent of the food grains produced in the country.
Farmers in Punjab and Haryana say they only get the minimum support price (MSP) from the government on wheat and rice and so they continue to grow them. Taran Grewal, a farmer based out of Ludhiana, said that he is ready to grow pulses and vegetables, but he is unable to recover even half of his input cost. "When we grow grains, we are assured that the government will buy it, but for other crops, there is no security. Last year I harvested cauliflower, but nobody bought them. So we now grow only food grains," he said.
"Farmers want the ambit of MSP widened — adding more crops to the list while offering higher prices as well. If the government wants farmers to shift from mono-cropping of wheat and rice to multi-cropping, it should give MSP for more than just the 23 crops that are covered under the MSP regime right now. Our farmers are smart. Once they realize they can make more profit selling other crops instead of wheat and rice, they will make the shift immediately," says Arun Kumar, Malcolm Adiseshiah Chair Professor at Institute of Social Sciences, New Delhi.
While there is a common belief that India is surplus in wheat and rice, the Ministry of Agriculture projected the country would need 300 million tonnes of foodgrain by 2025, which implies that the crop output needs to grow at an annual average of 2 per cent.
"Despite good production, 15 per cent of the population remains under-nourished. It is a wrong perception that we have a surplus of grains. We lack a better public distribution system. Every year people in India are dying due to lack of food. The foodgrain production projection for 2025 is 50 million tones, much more than what we are growing now," added Arun Kumar.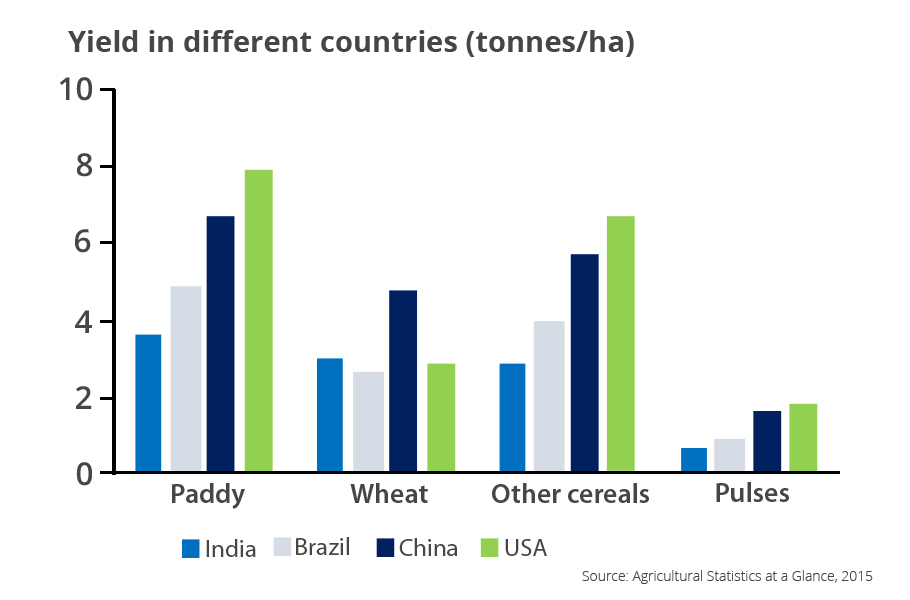 A consistent decrease in landholding
Over 86 per cent farmers are small or marginal, who own less than 2 hectares of land. The number of marginal land holdings (less than one hectare) increased from 36 million in 1971 to 93 million in 2011. Marginal and small landholdings have limitations, mainly with regards to mechanization and irrigation.
Since smaller landholdings are mostly fragments of larger holdings, which have been passed on within the family or have been informally leased by a large holder, farmers who cultivate these holdings often do not have a formal lease agreement. The absence of such land records does not allow these farmers to access formal credit or be eligible for government benefits such as input subsidies or crop insurance schemes.
Access to agricultural credit is linked to the holding of land titles. As a result, small and marginal farmers, who account for more than half of the total land holdings, and may not hold formal land titles, are unable to access institutionalised credit. Farmers may require credit for short term uses such as purchasing inputs, weeding, harvesting, sorting and transporting, or long term uses such as investing in agricultural machinery and equipment, or irrigation.
Also read: A Haryana farmer earns only ₹2,000 per month even with MSP
Farmers with landholdings of less than a hectare primarily borrow from informal sources of credit such as moneylenders, whereas those with land holdings of two or more hectares primarily borrow from banks. Other major sources of agricultural credit include shopkeepers, relatives or friends, and co-operative societies.
Often farmers who are unable to pay the loans commit suicide. Some farmers earn not more than Rs 2,000 per acre per month even with MSP.
The less the land, the more difficult it is to survive for a farmer. Grewal said, "I own four acres of land and I have to take a loan at the end of every season, which I repay when the next season begins. The money I get from farming is either used to meet household expenses or to keep the farm productive. I have never been debt-free in my life. I think I am lucky that a natural calamity has not hit my fields yet."
Also read: Why are farmers wary of corporates? These Kerala farmers have a tale to tell
Arun Kumar highlighted the fact that in India, or for that matter anywhere in the world, we cannot put the government out of the system. "Farming is not like other businesses where the government can be kept out of the system. The government has to take care of prices farmers get and their living condition. Even developed countries offer subsidies to farmers," he added.