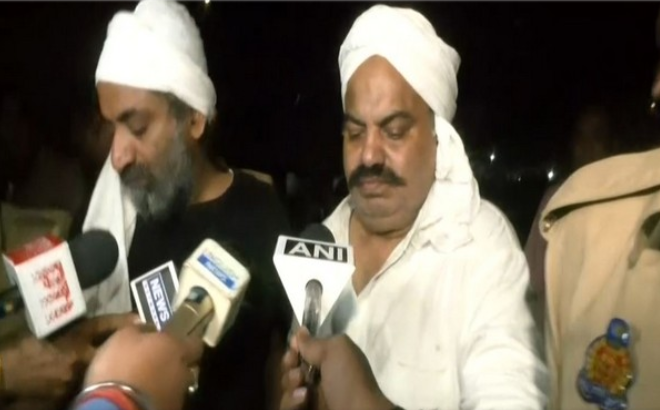 Gangster-turned-politician Atiq Ahmad and his brother Ashraf were shot dead at point-blank range by three men posing as journalists in the middle of a media interaction late on Saturday (April 16) night while police personnel were escorting them to a medical college in Prayagraj for a checkup.
The brothers, both jailed in Prayagraj, were in handcuffs when they were killed in full view of camera crews around 10 pm. The horrifying visuals showing sudden firing stopping both brothers mid-sentence while speaking to the media, were circulated widely on social media platforms and television channels.
Also read: Prayagraj court finds ex-MP Atiq Ahmad guilty in Umesh Pal case
The individuals responsible for the murder of Atiq Ahmad, a former gangster turned politician, and his brother Ashraf Ahmad, have been apprehended and identified.
Sunny resides in Kasganj, Lavlesh Tiwari hails from Banda, and Arun Maurya is from Hamirpur.
According to sources, preliminary interrogation has indicated that the perpetrators aimed to advance in the realm of criminal activity, which led them to carry out the crime. However, the police are continuing to question them and have not released any official information yet.
In disturbing footage that emerged online, the assailants can be heard chanting "Jai Shri Ram" slogans following the murders of Atiq and his brother.
Also Read: Atiq Ahmed's son buried amid tight security in UP's Prayagraj
Sources said 17 policemen have also been suspended.
Uttar Pradesh Chief Minister Yogi Adityanath has ordered a high-level probe into the killings while prohibitory orders under Section 144 of the Code of Criminal Procedure (CrPC) have been issued in all districts of Uttar Pradesh to maintain law and order.
"The chief minister has constituted a three-member judicial commission to probe the killing of Ahmad and Ashraf," Special DG, Law and Order, Prashant Kumar told the media. He said the three assailants were arrested from the spot and a detailed probe into the case is underway.
The incident comes just days after Atiq's son Ahmad was killed by police in an encounter. His last rites were conducted on April 13.
Briefing reporters in Prayagraj, Commissioner of Police Ramit Sharma said that the three assailants, who were arrested immediately after the incident, had joined the group of mediapersons who were trying to get sound bites from Ahmad and Ashraf.
"As per mandatory legal requirement, Atiq Ahmad and Ashraf were brought to the hospital for medical examination. According to preliminary information, three persons posing as journalists approached them and opened fire. Atiq Ahmad and his brother Ashraf were killed in the attack. The attackers have been held and are being questioned," Sharma said.
He said Man Singh, a constable, also suffered an injury to his arm while a journalist was hurt after he fell during the commotion that followed the shooting.
Atiq's last words before being shot

Video footage of the incident showed Atiq and Ashraf being killed in public view while they were speaking to the media. Atiq says, "Nahi le gaye to nahi gaye (we didn't go as they didn't take us)," referring to his son's funeral as a man butts in and shoots him in the head.
"Main baat ye hai ki Guddu Muslim…(the main thing is that Guddu Muslim…)" were Ashraf's last words before he falls down to a spray of bullets.
The footage also showed the three assailants firing at the brothers even after they had fallen.
The bullet-riddled bodies of Ahmad and Ashraf were taken away from the spot as tension gripped the area after the sensational killings. "We are looking into the incident. It is too early to say anything. We are yet to question the arrested men," another police officer said.
Prayagraj, UP: Early morning visuals from the spot where Atiq Ahmed and his brother were shot dead yesterday pic.twitter.com/nbHAdumZZK

— ANI (@ANI) April 16, 2023
Ahmad, 60, a former SP MP, and his brother were brought to Prayagraj for a court hearing in connection with the Umesh Pal murder case and were remanded in police custody.
Also read: 183 criminals eliminated in police encounters since March 2017: UP Police
Pal, a key witness in the murder case of BSP MLA Raju Pal, and his two police security guards were shot dead outside his Dhoomanganj residence in Prayagraj on February 24. Based on a complaint lodged by Pal's wife Jaya, a case was registered on February 25 against Atiq, Ashraf, Atiq's wife Shaista Parveen, two sons, aides Guddu Muslim and Ghulam, and nine others.
'Cold-blooded killings': Opposition cries foul
Opposition leaders on Saturday questioned the law and order situation in Uttar Pradesh and demanded that the state government be dismissed after the twin murders.
The "cold-blooded" killings are the "height of anarchy" in Uttar Pradesh, BSP MP Danish Ali claimed.
Samajwadi Party chief Akhilesh Yadav said crime has reached its peak in Uttar Pradesh and criminals are unfazed.
"Crime has reached its peak in Uttar Pradesh and the criminals are unfazed. When someone can be shot dead amidst a police cordon, then what about the safety of the general public? An atmosphere of fear is being created among the public due to this and it seems that some people are deliberately creating such an atmosphere," Akhilesh tweeted.
Rashtriya Lok Dal (RLD) chief Jayant Chaudhary asked if jungle raj prevails in the state. "Nobody is sympathising with Atiq Ahmad because a criminal should be punished. But anyone who will see this video will question if we are a democracy. Every criminal has the right to be heard in court and be convicted there. But you can see they were killed in police custody in the open," he said.
"The chief minister should answer what kind of law and order he has established in the state. Is this not jungle raj and a ground to call for emergency rule in UP?" he asked.
Also read: 'Mitti me mila dunga' trends on Twitter after Atiq's son killed in police encounter
In a tweet, Rajya Sabha MP Kapil Sibal said, "Two murders in UP: 1) Atiq Ahmed and brother Ashraf 2) Rule of law."
Bahujan Samaj Party (BSP) MP from Amroha Danish Ali said the "cold-blooded" murder of Ahmad and his brother is the "height of anarchy" in Uttar Pradesh. "This can't happen without a go-ahead from the top. In any other democracy the state government must have been dismissed for such a heinous crime against the rule of law," he said in a tweet. In a tweet in Hindi, Uttar Pradesh minister Swatantra Dev Singh said, "Sins and virtue are accounted for in this birth…"
(With inputs from agencies)