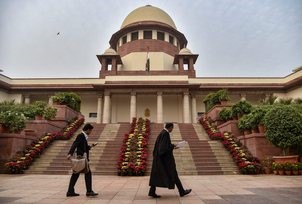 A court in Prayagraj on Tuesday pronounced former MP and alleged gangster Atiq Ahmed and his brother Khalid Azim guilty in the 2006 Umesh Pal kidnapping case. The sentencing will be announced after 2 pm on the day.
Earlier, the Supreme Court dismissed Ahmad's plea seeking protection while in custody with the Uttar Pradesh Police.
Justices Ajay Rastogi and Bela M Trivedi granted Ahmad liberty to approach the Allahabad High Court for protection after he insisted that his life was under threat while in the custody of UP Police.
Also read: Another accused in Umesh Pal murder case killed in encounter: UP Police
Ahmad's counsel's plea
The bench refused to record that the former Samajwadi Party MP's life was in danger despite desperate pleas by Ahmad's counsel.
Since Ahmad was in judicial custody, the Uttar Pradesh state machinery will take care of his protection in case of a threat to his life, the court said.
"It is not a case where this court is going to interfere. Liberty granted to move appropriate application before the (Allahabad) High Court. Whatever is the process prescribed under law will be followed," the bench said.
Threat to life
Ahmad's counsel argued that there was a serious threat to his life while in police custody in the Umesh Pal murder case.
"I am not shying away from any custody or police interrogation but what I want is grant me protection as there is serious threat to my life," he said of his client.
But the judges dismissed his plea.
Also read: UP: Prayagraj police use bulldozers to demolish house of Atiq Ahmed's close aide
Ahmad claimed that he and his family have been falsely "roped in" as accused in the 2005 murder of Umesh Pal in Prayagraj.
Umesh Pal, a key witness in the 2005 killing of then BSP MLA Raju Pal, was killed on February 24 along with his two security guards.
(With Agency inputs)