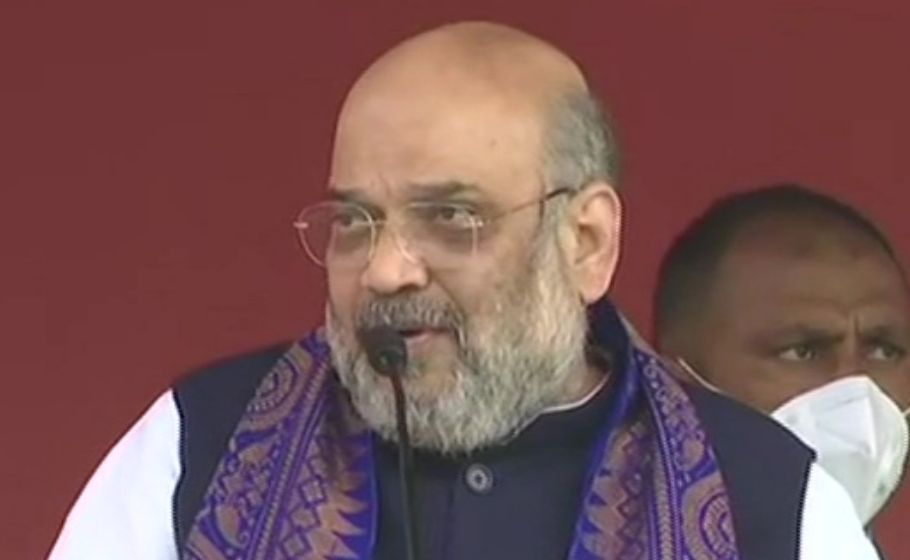 Union Home Minister Amit Shah on Wednesday (March 29) said the CBI was "putting pressure" on him to "frame" Prime Minister Narendra Modi in an alleged fake encounter case in Gujarat when he was being questioned by the probe agency during the Congress-led UPA government.
Shah said this at the News 18 Rising India programme in New Delhi in response to a question on the Opposition's charge that the Narendra Modi government was "misusing central agencies to target them".
"The CBI 'was putting pressure' on me to 'frame Modi ji' (when he was Gujarat CM) in an alleged fake encounter case during the Congress government," he said, adding that the BJP never raised a ruckus despite this.
Rahul Gandhi should appeal to higher court: Shah
On Rahul Gandhi's conviction in a criminal defamation case by a court in Surat, the home minister said the Congress leader was not the only politician who was convicted by a court and lost membership of the legislature.
Instead of moving to a higher court, Rahul has been trying to create a hue and cry and blaming Prime Minister Narendra Modi for his fate, he said. Shah said Rahul Gandhi should go to a higher court to fight his case, instead of trying to put the blame on Prime Minister Narendra Modi.
Also read: Rahul disqualification: Election Commission not in hurry for Wayanad bypoll
He said the Congress was spreading a misconception that the conviction could not be stayed. "The sentence can be stayed if the court decides," he said.
"He has not appealed to take a stay on his conviction. What kind of arrogance is this? You want a favour. You want to continue to be MP and will also not go before the Court," Shah said.
"Where does such arrogance get generated?" he asked.
'17 prominent leaders lost membership due to conviction'
Shah said 17 prominent leaders, including Lalu Prasad, J Jayalalitha, and Raashid Alvi, had lost their membership because of a 2013 Supreme Court order during the UPA government, which said an elected representative would lose his seat immediately after conviction. Still, no one protested wearing black clothes because it is the "law of the land", he said.
"Listen to the full speech of Rahul Gandhi, he has not only spoken abusive words for Modi ji. He has spoken abusive words for the entire Modi community and OBC society," he said.
"The law of the land is clear. There is no question of vendetta politics. It is the judgment of the Supreme Court of India, which had come during their government," Shah said.
Asked about the notice to vacate his bungalow, Shah asked why should there be "special favour" when the Supreme Court had said to act as soon as the conviction comes into effect.
Also read: Rahul's disqualification: Protesting Congress leaders held at Red Fort
"It was a deliberate statement by Rahul Gandhi. If Rahul Gandhi did not want to apologise, then he should not have applied for bail. Let him not apologise," Shah said.
"This gentleman is not the first one. Politicians who held much bigger positions and with much more experience have lost their membership because of this provision," the Home minister said.
He said India's democracy wasn't threatened when Lalu ji was disqualified, but it is endangered only when a person from the Gandhi family is disqualified.
'Whatever happens, they blame Modi ji'
"Now it has come on him, so they are saying make a separate law for the Gandhi family. I want to ask the people of this country whether there should be a separate law for a single family. What kind of mentality is this? Whatever happens, they start blaming Modi ji and the Lok Sabha Speaker," Shah said.
He said senior lawyers who are Congress MPs in Rajya Sabha should tell their colleagues that the Lok Sabha Speaker has no role in the disqualification.
"It is the law of the country that all his speeches in Parliament would have to be erased from the records from the moment of his conviction. Even if his disqualification notice were served a few days later, it would have no purpose," he said.
Also read: PM Modi makes a strong pitch for return of BJP govt in Karnataka
Shah said the BJP did not want changes in the Supreme Court order. The Manmohan Singh government brought an Ordinance to blunt the apex court order, but Rahul Gandhi tore it apart, calling it "nonsense".
"Once he tore it apart, who in his government would have dared to turn it into law? It was vetoed. Had that ordinance become a law, he could have been saved," Shah said.
'Savarkar only freedom fighter to receive two life terms'
Asked about Rahul's comment on Savarkar, the Home Minister said Veer Savarkar was the only freedom fighter who was sentenced to two life terms in Andaman prison. "Such language for such a freedom fighter should not have been used," he said.
Also read: Raut meets Sonia, Rahul over Savarkar remark; says "everything's fine"
"He (Rahul) should read his grandmother's speech on Veer Savarkar. His own party people are advising him to not speak against Savarkar," he said.
Confident that BJP will win Karnataka assembly and 2024 general elections
In the general election of 2024, Shah said Modi would again be PM with a larger majority. "BJP will get more seats in the 2024 elections than 2019 elections," he said, adding that there was no unity among the opposition.
Also read: Modi will become PM for record term in 2024, says Amit Shah
On the upcoming Karnataka elections, Shah said BJP would comfortably cross the halfway mark and form a government with a clear majority in the state. Ruling out any alliance in Karnataka,  Shah said, "The BJP will definitely cross the halfway mark and form the government with an absolute majority in Karnataka. We will win a record mandate."
Referring to a recent decision by the Karnataka government to end quota on the basis of religion, he said reservation based on religion is unconstitutional. "Karnataka's Congress government did it due to polarisation, and we have just rectified it. It should have been done earlier," he said.
Rejects allegations of misuse of investigative agencies
The Home minister rejected the allegations on the misuse of investigative agencies against the opposition leaders. Shah said, "We never blamed the opposition for anything, innocent police officers were put behind bars during the Congress government."
Shah said the BJP had won the 2014 and 2019 elections on the plank of anti-corruption.
He said the Enforcement Directorate had seized 1.10 lakh crore of assets, of which not even five per cent are of political leaders.
Also read: Kerala, Telangana among 9 states to withdraw general consent to CBI: Centre
"Shall we stop the fight against corruption? Should we not act if the accused is a politician?" Shah asked.
The Home minister asked who had filed cases against Lalu Prasad Yadav and who had sent a plane full of officials from Delhi to arrest Shaikh Abdullah.
Citing the misuse of agencies, Shah said thousands of innocent persons were imprisoned for 19 months of Emergency and questioned whose doing it was. "It was his grandmother Indira Gandhi," he said.
'No question of merger of Shiv Sena with BJP in Maharashtra'
On the Maharashtra question, Shah said people wanted the Shiv Sena and BJP government and now the real Shiv Sena is with BJP.
"I also accept that the BJP on its own could have formed the government in Maharashtra. There is no question of the merger of Shiv Sena," he said.
Also read: Recognise only Eknath Shinde-led Shiv Sena: Maha Speaker
He said the Congress should introspect about its contribution to corruption. "There is a strong resentment against the Congress governments in Rajasthan and Chhattisgarh. We will definitely win the elections in Madhya Pradesh," he said.
Shah said, "We have not taken any decision on the face in Rajasthan elections. People want to change the CM of Rajasthan."
One with Punjab govt to ensure country's security
On Amritpal Singh, Shah said he meets Punjab Chief Minister every three months, irrespective of the government, and stands with the party when it comes to the security of the country.
"Many people have been arrested in connection with the Amritpal case, the police and intelligence agencies are working on the case," he said.
Also read: Punjab CM Mann to meet Amit Shah to discuss Ajnala incident
On attacks on Indian missions abroad, Shah said it was an attack on India.
"We will take action against those involved in the attack, an FIR is already lodged in Delhi," he said.
Contribution of Sikhs to India's freedom immense: Shah
Shah said the contribution of Sikhs to India's freedom has been immense; every Sikh wants to be with India.
The Home minister ruled out any confrontation between the judiciary and the government.
"Both are working within their limits," he said.
"The government's duty is to make law now and the Parliament will think over it, he said.
(With agency inputs)