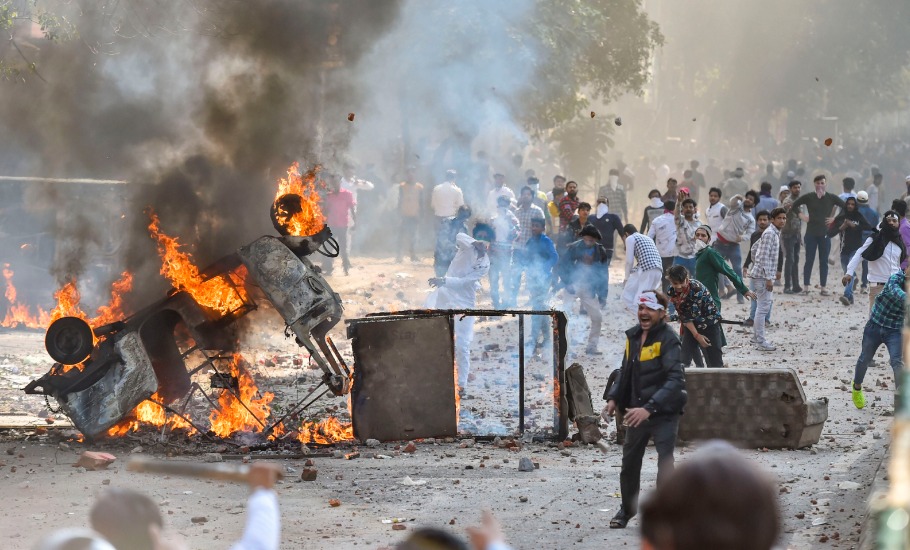 The Delhi Commission for Minorities after conducting the a survey of the riot-hit localities of northeast Delhi has found that around 1,500 to 2,000 outsiders were ferried to the locality and put up for 24 hours to perpetrate violence in the area as part of a planned conspiracy.
Revealing the same to The Wire on Tuesday (March 3), commission chairperson Zafarul Islam Khan, after vising the affected areas, said the miscreants were lodged in schools for almost 24 hours, before attacking the neighbourhoods.
A team of the minorities' commission conducted a field tour of the affected localities along with police on March 2.
Related news: Amit Shah is loud and clear: BJP will hold on to its Hindutva plank
Khan said the commission has sourced photographs of people involved in the violence.
"There were approximately 1,500 to 2,000 people who had come to these areas from outside to create trouble," The Wire quoted him as saying.
He said the commission will talk about its findings in detail in its report and more in another major fact finding report later.
Khan who pointed that the presence of Delhi police was minimal on February 24 and 25, the first two days of the riots, accused them of being mute witness to the violence.
"They have not saved anything, they allowed properties and people to be burned, allowed the rioters to damage houses and even to blast them," he said.
Related news: 122 houses, 322 shops gutted in Delhi riots: Interim report
"It was only after two days that the police became active. The violence lessened on February 26 and ended the following day. The police will have to answer for its acts – there are no two ways about this," he added.
Stating that several residents in the affected localities have fled their homes due to the violence, Khan stressed the need to make relief material and compensation available to them to "rebuild their homes and lives."
"The compensation which the government has announced is not sufficient. We have demanded that this amount be enhanced so that the affected people may be able to start their lives again," he was quoted as saying.
Khan said security reasons prevented rights agencies like Delhi Commission for Minorities from visiting the riot-hit areas on February 24 or 25.
Related news: Victims of Delhi riots return to robbed homes, hostile neighbours
"In February 24 and 25 there was no question of security for anyone in the area. You did not know where a bullet or brick would come from. So it was only after that that rights groups began reaching the place," he said.