Delhi police on Friday (January 10) named as suspects nine students of the Jawaharlal Nehru University (JNU) in connection with the January 5 campus violence, based on the photographs provided by RSS-affiliate Akhil Bharatiya Vidyarthi Parishad (ABVP). Most of these students are affiliated with the Left-controlled students' union of the varsity.
This comes five days after masked goons unleashed violence on the premier university's campus on January 5, and attacked students and faculty members with sledgehammers and iron rods. However, no one has been arrested in this connection so far.
Addressing the media on Friday, DCP (Crime) Joy Tirkey released photographs of the violence and identified the nine suspects. Surprisingly, these photographs were the same provided by the RSS to claim SFI and JNUSU president Aishe Ghosh's involvement. Moreover, he barely gave any details on the attack on students and teachers on Sunday.
Advertisement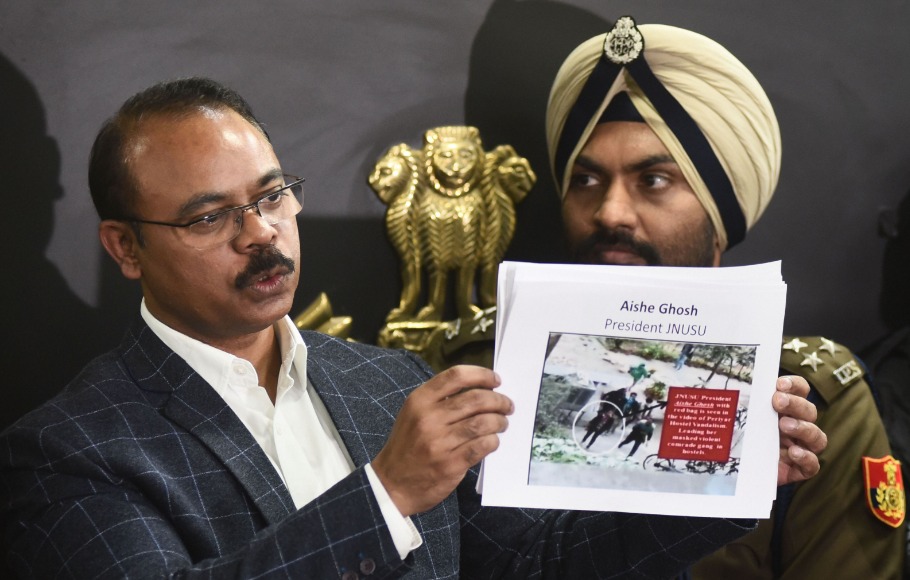 The nine suspects named by the police are Chunchun Kumar, Pankaj Mishra, Aishe Ghosh, Waskar Vijay, Sucheta Talukdar, Priya Ranjan, Dolan Sawant, Yogendra Bhardwaj and Vikas Patel. Yogendra Bhardwaj and Vikas Patel are said to be members of the ABVP.
However, Tirkey did not go into the political affiliation of the nine suspects but spelt out the Left groups that were part of the JNUSU. There was no answer to a question around links of any suspect to the ABVP. A police officer said two of the nine suspects were from ABVP. One of them, Yogendra Bhardwaj, was a PhD scholar in Sanskrit and was the administrator for "Unity against Left", one of the few WhatsApp groups created that day.
Also read | Police rely on ABVP's proof, says Aishe Ghosh involved in violence
Tirkey, who gave a broad sequence of events on Sunday evening, said after the 3.45 pm attack on students at Periyar hostel, a peace meeting was held at Sabarmati T-point attended by teachers and students around 7 pm. While this meeting was on, a group first got into an altercation with the attendees. Later, they entered Sabarmati hostel and attacked students.
Like the attack that had taken place earlier in the day at Periyar hostel, this group at Sabarmati hostel also targeted specific rooms, said Tirkey. This implied JNU students were part of this group of masked attackers. "They knew which rooms to go to," Tirkey said.
Aishe Ghosh stands ground
Reacting to this development, Ghosh challenged the Delhi Police to prove their allegations. "I was not wearing a mask. I am the one who was affected. I still have my blood-soaked clothes," said Ghosh, who was badly injured during Sunday's mayhem.
"I have full faith in the law and order of this country that investigation will be fair. I will get justice. I have not carried out any assault. Let Delhi Police release our footage. None of our office-bearers have done any wrong," added the JNUSU president.
Also read | Why is Delhi Police biased, asks Aishe Ghosh on being accused of violence
The JNU Teachers' Association (JNUTA) too expressed its disappointment saying the police underplayed the Sunday's attack on students and teachers. "Such underplaying of incidents that shocked the nation and subjected several to extreme trauma is deeply disturbing. Not even one of the several complaints filed by teachers has been turned into a FIR.
"Seen in combination with the attempts at the Delhi Police press conference to paint the student body which has been agitating against the fee hike for more than 75 days as an unruly mob, these only reinforce suspicions about the role of the Delhi Police on the fateful day," said DK Lobiyal, JNUTA president.
Also read | JNU professors move HC with PIL to preserve data, CCTV footage
Meanwhile, three JNU professors — Ameet Parameswaran, Atul Sood, and Shukla Vinayak Sawant — on Friday filed a petition in the Delhi High Court seeking directions to preserve data, CCTV footage and other evidence relating to the January 5 violence.
The CPI(M) also slammed the Delhi Police and questioned its credibility. "It is sad that Delhi Police has become the stooge of Home Minister Amit Shah. In JNU, the reality is that ABVP and RSS activists attacked students and Delhi Police today did not say a word on it. Delhi Police now has zero credibility." said CPI(M)'s Politburo member Brinda Karat said.
BJP leaders hail Delhi Police's claims
However, BJP leaders and ministers hailed the Delhi Police's claims and attacked the Left parties for their alleged involvement in Sunday's mayhem.
Left design in JNU unmasked. They led mobs of mayhem, destroyed public property paid for by taxpayers, disallowed new students from being enrolled, used the campus as a political battleground. #LeftBehindJNUViolence becomes public knowledge as @DelhiPolice releases evidence.

— Smriti Z Irani (@smritiirani) January 10, 2020
"Left design in JNU unmasked. They led mobs of mayhem, destroyed public property paid for by taxpayers, disallowed new students from being enrolled, used the campus as a political battleground," Union Minister Smriti Irani said in tweet.
Also read | BJP distances itself from 'ABVP student' who 'mobilised' JNU attackers
Union Minister Prakash Javadekar said the claims established that ABVP and BJP were unnecessarily being blamed for the violence. "Malafide campaign launched to defame ABVP, but Delhi Police cleared the picture," he was quoted as saying by ANI.
"Today's police press conference established that for the last five days, the chorus that was created deliberately to blame ABVP, BJP and others, wasn't true. It is the Left organisations who planned the violence, disabled CCTV and destroyed server," he said.
(With inputs from agencies)