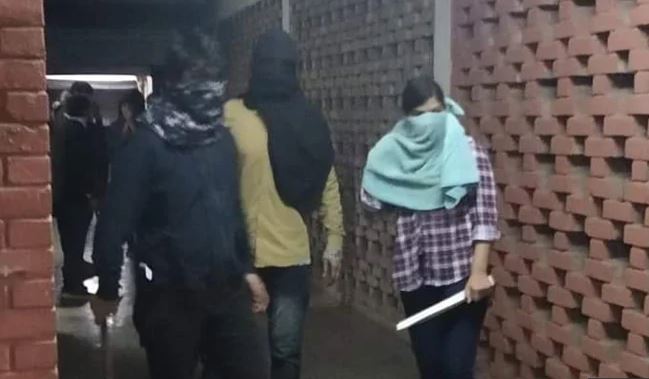 The Bharatiya Janata Party (BJP) on Friday (January 10) distanced itself from Akshat Awasthi, the JNU student who claimed to have mobilised a crowd to attack the campus on January 5.
The BJP statement came after India Today aired an expose in which Akshat Awasthi was seen saying that he was a member of the ABVP and was among the miscreants who beat up students with sticks.
Also read | Police rely on ABVP's proof, says Aishe Ghosh involved in violence
Advertisement
The expose came immediately after the Delhi Police held a press conference and said the attack was carried out by Left-wing student unions SFI, AISA, AISF, and DSF. The police said JNU Students' Union president Aishe Ghosh was involved in the attack. Crime Branch DCP Joy Tirkey showed printouts of CCTV footage showing masked goons to substantiate their claims. The images were the ones previously used by the ABVP to claim that the Left had carried out the attack.
ABVP general secretary Nidhi Tripathi said the organisation had nothing to do with Akshat Awasthi and reiterated that he was not there.
"You cannot attach the ABVP tag to some random person who claims to have done this," she said.
Also read | Smriti Irani's attack on Deepika is typical right-wing mix of canards and bluster
Seeking a thorough investigation into the incident, she said the ABVP extended complete support to the police and the JNU administration in bringing out the truth.
BJP spokesperson Amit Malviya said the JNU incident should be 'investigated thoroughly. He said the ABVP had no office-bearer from the first-year of any degree program, indicating Akshat Awasthi, BA first-year student, was not an ABVP man.
Akshat Awasthi was seen on TV saying the police 'was theirs' and the force was on the campus and not outside on the 'bloody Sunday.' He went on to say that the police said 'hit them' and had also switched off the lights on the campus to aid the attackers.
Also read | Why is Delhi Police biased, asks Aishe Ghosh on being accused of violence