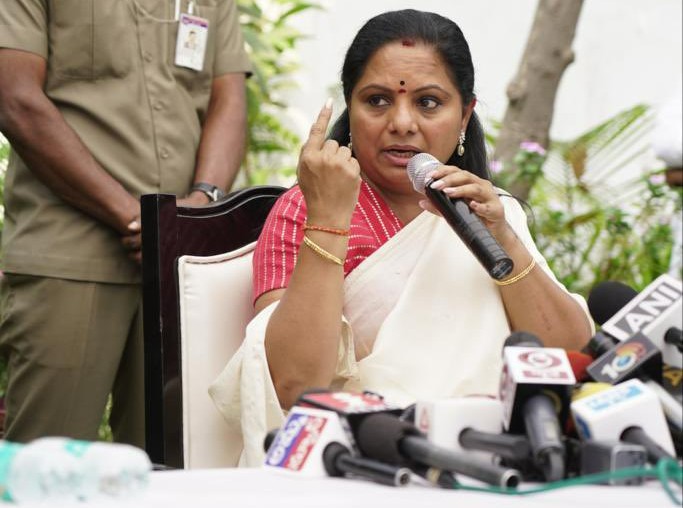 K Kavitha, MLC and daughter of Telangana Chief Minister K Chandrashekar Rao, on Tuesday submitted the phones she has used so far to the Enforcement Directorate. She reportedly showed the phones to the media as she walked in for the third round of questioning in the Delhi excise policy-linked money laundering case at the Enforcement Directorate (ED) New Delhi office on Tuesday.
The 44-year-old BRS leader reportedly also submitted a letter to the ED officials. "These phones are submitted without prejudice to my right and contentions and larger contention whether a women's phone can be intruded, in the teeth of her right to privacy," she mentioned in the letter, India Today reported.
Also read: Delhi excise policy case: Kavitha appears before ED for questioning
'Malafide accusations'
"For the record, the first time I was called by the agency was in the month of March 2023, therefore, I have reasons to believe that accusation made against me in November 2022 were not only malafide, misconceived, but also prejudicial," she mentioned.
She said the accusations against her were false and had vested political interest. The accusations, she said, were being used by her political adversaries to charge her with destroying the so-called evidence.
Kavitha has spent around 19 hours at the ED headquarters in Delhi during her two appearances on March 11 and March 20.
On March 20 (Monday), the BRS leader left the ED office around 9:15 pm on Monday after 11 hours during which, according to sources, she was questioned and her statement was recorded as investigators asked around a dozen questions to her.
'Politically targeted'
According to a Telangana Today report quoting sources, Kavitha repeatedly asserted that she was innocent and that she was being politically targeted at the behest of the ruling party at the Centre. The report added that ED officials did not to tell Kavitha why she was being questioned.
Interestingly, the ED officials had conceded that she was not called in for questioning as an 'accused person'. That confirmation came to pointed query from the BRS MLC whether she was being queried as a witness or as an accused person, Telangana Today report added.
Kavitha reportedly wondered why the ED cases against Himanta Biswa Sarma, Y Sujana Chowdhary and Narayan Rane were shelved after they joined the BJP.
Also read: K Kavitha extends olive branch to Congress; will this change shape of Opposition?
The BRS sources said that she was made to sit alone in a room as part of harassment apparently due to political pressures. Further, their questions were also said to be on the lines to explore her political relations.
The officials are learnt to have arrived nearly one hour after she reached the ED office to record her statement, the report added.