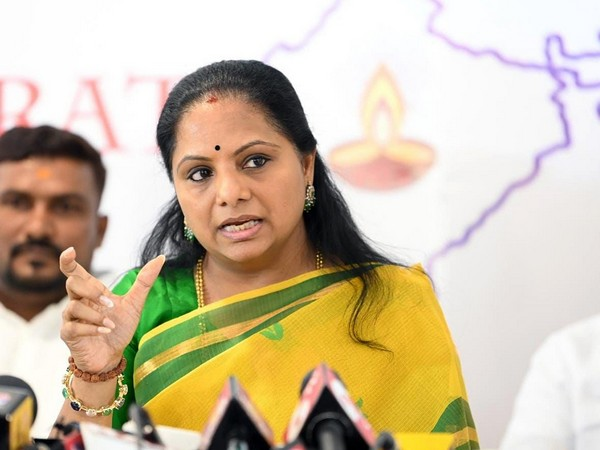 BRS leader K Kavitha in a file photo
The US-trained software engineer K Kavitha, who took to Telangana politics a decade ago or so, has inadvertently thrown a hard choice before the Congress. The grand old party has been rather at odds with Telangana Chief Minister and Kavitha's father K Chandrasekhar Rao (KCR) and his party Bharat Rashtra Samithi (BRS). 
But Kavitha, a former Lok Sabha member and currently an MLC in Telangana, wants this to change. Thus, she called upon the Congress on Thursday (March 9) to "team up" and take on the BJP in the next year's general elections.
Watch: Congress should shed arrogance, ask to join Third Front: Kavitha
Though the Congress is yet to respond to this in precise terms, Kavitha, who was summoned by the Enforcement Directorate (ED) in the Delhi Excise Policy case, held a press conference in New Delhi on Thursday afternoon where, among other things, she remarked: "The Congress should align with strong regional parties if they truly want to defeat the BJP in the 2024 elections. They should leave their arrogance, come down and become a team player working with all the parties."
It goes without saying that the Centre's recent actions through its agencies like ED and Central Bureau of Investigation (CBI) against top-rung regional party leaders like Delhi's former Deputy Chief Minister Manish Sisodia and former Bihar Chief Ministers Lalu Prasad and Rabari Devi have created quite a bit of flutter in politics.
Delhi excise policy case
The summons to Kavitha in the case related to Sisodia has only frayed the political scene even further, though apparently unfazed by this, she claimed to be fairly equipped to face the ED or any other central government agency on her own. 
And her Thursday's press conference, she said, was meant to make a call to people, including all political parties, to join her on Friday at Jantar Mantar in Delhi to demand immediate clearance of the Women's Reservation Bill by Parliament, which begins its second spell of Budget Session from March 13. Kavitha appeared before the ED on Saturday (March 11).
Last month, Sisodia, who held the charge of excise department in Delhi among his several other portfolios, was arrested for revising the policy related to the supply and sale of alcoholic beverages in Delhi to allegedly benefit a cartel of liquor manufacturers and thereby make money. 
Agencies point to the hand of a "South group" that allegedly brought a kickback of ₹100 crore to Sisodia. The former Delhi Minister and his Aam Aadmi Party (AAP) have strongly been refuting this since last year and Sisodia had also shelved his excise policy well before his arrest on February 26.
Also read: Kavitha grilled for 9 hours in excise policy case, summoned again on March 16
But this couldn't let him off and he was recently interrogated in CBI custody for days before being sent in judicial remand to Delhi's Tihar Central Jail. He had to resign from his post and to prevent him from being released on bail, ED arrested him on Thursday even as he was still in. Now the agencies, more so the ED, appear to be turning their eyes to what they call the "South group".
Kavitha thanks Sonia
It is amid this that Kavitha spoke to the press on Thursday. She began by thanking former Congress chief Sonia Gandhi for her efforts that saw the Women's Reservation Bill through the Rajya Sabha way back in 1996. But, Kavitha said, as the Bill could not get the nod of Lok Sabha for the last 27 years, she was taking to protest in Delhi to revive the issue. 
Also read: Kavitha leads hunger strike demanding passage of Women's Reservation Bill in Parliament
She clarified that because of this pre scheduled protest she could not comply with the ED summons meant for March 9 and sought more time. She said she was given just two days despite her request for a week's time in view of her prior engagements. So, she said, she would appear before ED officials on March 11.
Congress' ambivalent stand
But in any case, Kavitha has now tried to break the ice that has been besetting the issue of Opposition unity. She said that Sonia was a tall leader for a virtual beginner in politics like her. "Thus, I have invited Congress to join Friday's protest at Jantar Mantar to highlight the need for the Women's Reservation Bill. I do not know who will come but I expect somebody from Congress to join." The Congress, however, kept off the protest.
Kavitha also appealed to Congress president Mallikarjun Kharge to reach an understanding with regional political parties before the next parliamentary polls.
Two different groupings among BJP's rival parties have so far emerged. The crux behind the divide among Opposition higher-ups has been around the question of whether to group with or without the Congress. 
Both BRS and AAP have thus far been for Opposition parties' unity without Congress before taking on the BJP. This is so despite the fact that the DMK in Tamil Nadu, JD(U), RJD and Left parties in Bihar and JMM in Jharkhand are already in alliance with Congress in their respective strongholds.
Watch | Khushbu Sundar: Why do female MPs have to wear sarees and high-neck blouses?
The Congress has taken an ambivalent stand following Sisodia's arrest. On the one hand, it blames the Centre for hounding rivals. On the other hand, about the alleged scam related to Delhi excise policy, the Congress has been in two minds. The party's Delhi unit has for long been baying for Sisodia's blood though Congress lawyers have defended him in courts and the central party leaders have said that the party is in principle against political witch-hunts through the use of central agencies.
Posturing as a strategy
Such posturing by Congress seems to be part of the party's strategy. Congress brass could well have anticipated the possibility of ED issuing summons to Kavitha. The olive branch now extended by her to Congress indicates only this though the Congress response to her call for unity of non-BJP parties, including Congress, is yet to be known. She said that KCR would hold another rally of like-minded parties in April.
So, it is yet to be seen whether the Congress gets an invitation for this; and if it does, how it responds. In January, KCR had invited peers from Opposition parties, barring Congress, for his rally at Khammam and ever since the task of broadening the Opposition base further before 2024 polls has been staring in the face of Opposition leaders.
The points made by Kavitha on Thursday indicate this but she has done so only when the seesaw between central agencies and some or quite a few Opposition leaders got intense. But at another level, the current row over excise duty charged by the government at provincial level has emerged because liquor was not brought under the ambit of Goods and Service Tax (GST). 
The idea behind keeping it off GST was to charge more excise duty on liquor than 28 per cent which is the highest limit of GST. In July 2017, when GST was enforced, the excise duty on liquor was supposed to be replaced by a higher, or prohibitively high, 'sin-tax' so as to discourage the habit of drinking. Somehow, this hasn't been possible so far although it has led to a mess.