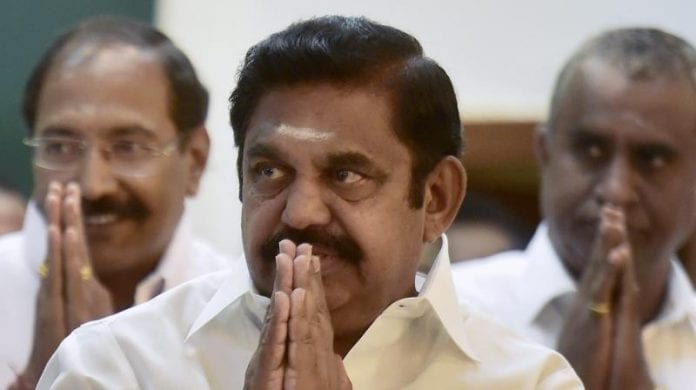 Kerala offers water to TN, CMO says not necessary now
The Edapaddi Palaniswami government in Tamil Nadu has rejected Kerala's offer to help the state resolve the water crisis. As Chennai and several parts of Tamil Nadu are facing water shortage, its western neighbour has been receiving bountiful south-west monsoons. As such, the Kerala government offered to give 20 lakh litres of water to Tamil Nadu in order to help meet its water requirements for drinking, agriculture and other purposes. However, the Tamil Nadu Chief Minister's Office said there was no necessity for water at the moment, according to a press statement released by the Kerala CM's office.
Activists write to parties, seek all future elections be held with paper ballots
A group of activists on Thursday (June 20) jointly demanded that all elections in the country in future should be held with paper ballots, following reports of alleged irregularities in functioning and transport of electronic voting machines during the recent Lok Sabha polls. At a press conference here, the activists from different organisation also released an 'open letter' addressed to political parties, saying, "The Opposition parties should raise the matter with the electoral authorities."
AN-32 crash: Six bodies, seven mortal remains recovered
Bodies of six air force personnel and remains of seven others, who died in the AN-32 aircraft crash, have been recovered, official sources said on Thursday (June 20). Over the past week, the Indian Air Force was making efforts to retrieve the bodies from the crash site but inclement weather was making it difficult to carry out air operations.
Also watch: IAF recovers 6 bodies and other remains after AN-32 crash
Water crisis gets worse in Chennai
A day after the four main reservoirs that supply water to Chennai dried up, people have begun to feel its profound effect. Owners of water tankers are giving residents a hard time, with the waiting period for water supply going up to 21 days now. Several private tankers have stopped supplying water entirely, quoting lack of water sources. Water supply has already been limited in places without pipe connections, and neighbours have been fighting over whatever amount of water is available. Radisson Blu GRT Hotel, Chennai has issued an advisory for guests to "use water judicially" as the city is "going through a major water crisis".
Also watch: Media hyping TN water crisis: CM Palaniswami
Rebellion in TDP: Four out of six Rajya Sabha MPs cross over to BJP
The Telugu Desam Party has split in the Rajya Sabha with at least four of its six MPs breaking to back the ruling BJP. These MPs also submitted a letter to Rajya Sabha Chairman M Venkaiah Naidu about their decision. Their decision to back the BJP will give a boost to the saffron party in the Upper House as the ruling National Democratic Alliance does not have a majority there yet.
Also read: Pondy's efforts to tackle water situation worthy of replication: Bedi
NIA raids premises of another youth in Coimbatore
The National Investigation Agency on Thursday raided the residences of another youth in Coimbatore in connection with the probe into the Tamil Nadu module of the militant outfit Islamic State (IS). After raiding the premises of six persons in Coimbatore, NIA arrested Mohammad Azharuddin, 32, for allegedly planning terror strike in South India, especially Tamil Nadu and Kerala. Subsequently, the agency also arrested his associate Sheik Hidayathullah, 38, for being a member of the banned terrorist organisation SIMI.
Also read: TN, Kerala, Andhra and Kashmir possible targets of ISIS: Intel reports
Three more children die in Bihar, encephalitis toll touches 118
Three more children suffering from Acute Encephalitis Syndrome (AES) have died here since Wednesday evening, taking the total number of deaths caused due to the outbreak to 118, the district administration said Thursday. While two deaths were reported from the SKMCH hospital – raising the toll at the government healthcare facility to 97 – another child died at privately-owned Kejriwal hospital, where the total number of casualties has reached 20. One death was reported from East Champaran district two days ago.
Also watch: What caused the death toll in Bihar to shoot up?
Sacked IPS officer Sanjiv Bhatt awarded life imprisonment
Sacked IPS officer Sanjiv Bhatt and another constable, Pravinsinh Jhala, on Thursday (June 20) were convicted and awarded life imprisonment by Jamnagar Sessions Court in connection with a three decades old custodial death case. Bhatt was charged under Section 302 of the Indian Penal Code. Earlier, he had moved the Supreme Court challenging a Gujarat High Court order, seeking examination of additional witnesses, which the top court had denied.
India rubbishes Pak media claim on talks, bats for conducive climate
The Indian government on Thursday (June 20) rubbished a report by a Pakistan based newspaper that claimed that Prime Minister Narendra Modi and Minister of External Affairs S Jaishankar have responded to "Islamabad's call for dialogue" in response to congratulatory letters from the Pakistan government. "Indian Prime Minister Narendra Modi and Foreign Minister Subrahmanyam Jaishankar have responded to Islamabad's renewed call for dialogue by conveying New Delhi desire to engage with all countries, including Pakistan, for the prosperity of the region," The Express Tribute report claimed on June 20.
Triple Talaq, NRC, One Nation, One Poll figure in Prez speech in Parliament
Delivering his first ever address to the joint session of Parliament since the last Lok sabha polls, President Ram Nath Kovind said that the people of India have given a mandate to continue with the country's development journey that started in 2014. In his address to the joint sitting of both houses of Parliament in the historic Central Hall on Thursday, he said the government is moving ahead to create a strong, secure and inclusive India. In his customary address after formation of the 17th Lok Sabha, the President also said that government has started a pension scheme to help farmers and small traders live a life
of dignity.