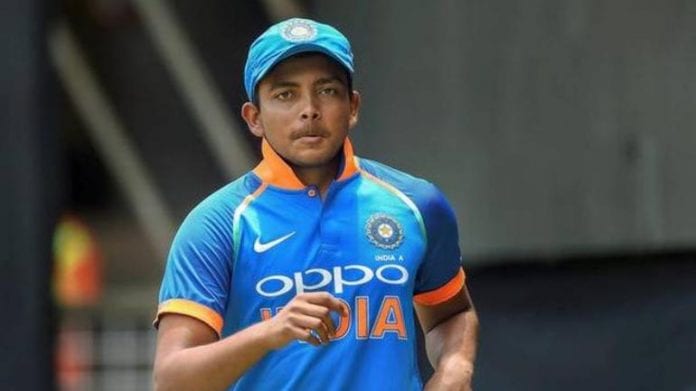 Social media influencer Sapna Gill has now alleged that Indian cricketer Prithvi Shaw, whose complaint of being manhandled led to her arrest along with her friends, outraged her modesty.
Gill, who was arrested last week along with others in connection with an attack on Shaw following an argument over clicking of selfies at a suburban hotel, was released on bail by a magistrate court on Monday. The influencer then filed a complaint with the police against the 23-year-old cricketer saying it was he and his friends who provoked her and her friends.
She also named a friend of Shaw, Ashish Yadav, in her complaint.
On February 15, a brawl broke out when Gill said her friend Shobit Thakur, 19, approached Shaw for a selfie at a suburban hotel.
Also read: Singer Sonu Nigam 'attacked', colleagues injured in brawl over selfie at Mumbai event
Drunk Shaw?
According to her, Shaw was allegedly drunk and he and his friends reacted violently to the selfie request, threw away Thakur's phone and roughed him up. Gill then intervened in a bid to save Thakur, adding that she begged Shaw and his friends not to thrash him.
Shaw then inappropriately touched her, Gill said, but she added that she did not file a complaint then because the cricketer begged her not to do so.
Gill's complaint has been registered under IPC sections 34 (criminal act with common intention), 120B (criminal conspiracy), 146 (rioting), 148 (rioting with armed weapons), 149 (unlawful assembly), 323 (voluntarily causing hurt), 324 (voluntarily causing hurt by dangerous weapons), 351 (use of criminal force), 354 (outrage of modesty) and 509 (advantage of proximity, gesture to outrage modesty).
Extortion charge
Shaw has accused Gill of trying to extort money from him. The woman denied the charge.
"They are saying I have asked for ₹50,000. What is ₹50,000 these days? I can make two reels and earn that much in a day. At least, the allegation should have been of a certain level," said Gill.
Shaw was allegedly manhandled and his car attacked with a baseball bat after a row that started in the luxury hotel in the early hours of February 15 over clicking selfies. While Gill was arrested on February 16, Thakur (19) was arrested on February 18, according to the police.
Eight persons were charged with rioting, assault and other offences.