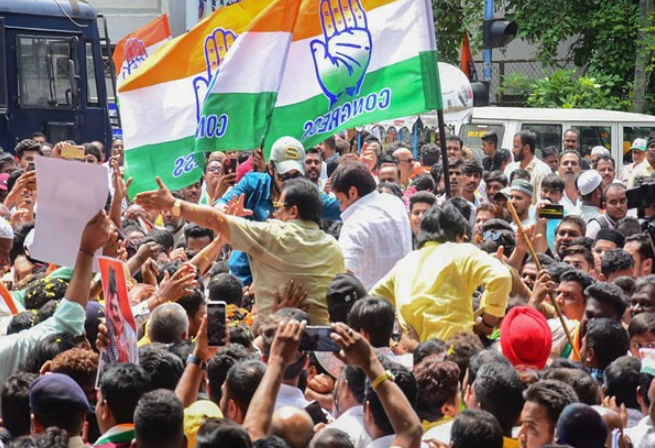 The Congress will hold press conferences titled 'Nau Saal, Nau Sawaal' (nine years, nine questions) in 35 cities over the next few days, to focus on the "failures" of the Narendra Modi government in the last nine years, said Congress leaders on Friday (May 26).
As many as 29 pressers will be held on Saturday with Congress general secretary Ajay Maken holding one in Guwahati, Pawan Khera in Dharamshala, Supriya Shrinate in Thiruvananthapuram, Imran Pratapgarhi in Srinagar, Gourav Vallabh in Nagpur, Kanhaiya Kumar in Hyderabad, Vaibhav Walia in Indore and Vineet Punia in Agra, among others.
On May 28, three press conferences will be held. Saptagiri Ullka will hold one in Kolkata, Wing Commander (retd) Anuma Acharya in Pune and Alka Lamba in Jodhpur. On May 29, two press meets will be held, one by senior party leader P Chidambaram in Mumbai and the other by Manish Tewari in Bengaluru.
One press conference will also be held on May 30 by Deepender Hooda in Lucknow.
Sharing the schedule of the press conferences on Twitter, Congress general secretary in-charge communications Jairam Ramesh said, "Over the next three days, the Congress will have press conferences in 35 cities on 9 Saal, 9 Sawaal: Chuppi Todiye Pradhan Mantriji."
Also read: 9 years of Modi govt: Congress poses nine questions to PM
As Modi completes nine years in office, the Congress on Friday demanded his apology for what it said was a "betrayal" of the people and asked him nine questions on issues ranging from rising prices and unemployment to national security and social harmony.
The Opposition party also said the government should mark this day as 'Maafi Diwas' and released a booklet 'Nau saal, Nau sawaal'. It said Modi became the PM on this day nine years ago and therefore, the party wants to ask nine questions of him.
Ramesh told a press conference that Rahul Gandhi had raised critical issues during the Bharat Jodo Yatra and the nine questions are based on that.
Also read: Fake narratives being built around PM Modi attending G7 summit: Congress
Flanked by party colleagues Pawan Khera and Supriya Shrinate, Ramesh said the booklet is a report card of the nine years of the Modi government and Congress leaders will hold press conferences in 35 cities across the country to highlight the "failures" of the government.
(With inputs from agencies)