Comedian Kenny Sebastian elated over name in English exam paper
Imagine having your name mentioned in a school examination paper. Wouldn't you be elated? Well, stand-up comedian, Kenny Sebastian, was over the moon when he saw his name on an English term paper. He was quick to let his fans know about the same through a post on his Instagram account on Wednesday (June 15).
Also Read: A WhatsApp news service has become the eyes and ears of Mumbai Muslims
The post, which has garnered more than 67K likes so far, goes as follows: "Someone DM'd me that I am on their English term paper. This feels more like an achievement than any award honestly. Shoutout to the person who formulated the question (exam paper person?). I like how professional I am in the question. I just postponed the show, I didn't cancel it."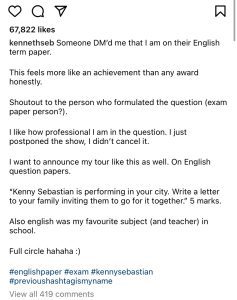 The 5-mark question in the Creative Writing Skills section (Section B) of the paper read as follows: "Mr. Kenny Sebastian, the popular stand-up comedian was to perform in your school. Due to some reasons, the programme is postponed. Write a notice in about 50 words informing the students about the new date on which he is coming. You are Ali/ Alisia, Secretary Arts Club, The Sunrise Public School, Delhi."
Kenny further wrote in his caption that he wants to announce his tours the same way, on English question papers. "Kenny Sebastian is performing in your city. Write a letter to your family inviting them to go for it together-5 marks," he wrote while also stating that English was his favorite subject (and teacher) in school. The comedian ended the caption with a smiley emoji.
Also Read: Fashion puts its inclusive foot forward in India
The post now has more than 400 comments on it by Kenny's friends and followers.
One Instagram user wrote: "THIS IS OUR PAPER." Another said: "You've officially made it!"
A third user wrote: "Woww validation from cbse."