A WhatsApp news service has become the eyes and ears of Mumbai Muslims
Gallinews employs a tactful strategy of combining citizen journalism, social media, and real-time videos — all packaged and narrated to the viewer in a typical Mumbaiya language
When 31-year-old Moin Soorya, a resident of the Andheri neighbourhood in Mumbai's suburbs, wakes up every morning, he doesn't pick up one of the broadsheet newspapers to get his daily dose of news. Instead, he turns to WhatsApp for updates from Gallinews.
The terms 'galli news' literally translates into "news from the lanes". Started by its editor and CEO Salim Shaikh in 2013 as a WhatsApp-only news service, the news outlet has now become the voice of the larger Muslim community in Mumbai, who live in predominantly Muslim neighbourhoods such as Nagpada, Dongri, Bhendi Bazaar and Behrampada.
Also read: Indians losing interest in newspapers, television and radio: NFHS-5
A strong player in Mumbai's "breaking news" circuit, Gallinews has, over the years, managed to carve  a niche for itself in the city's media ecosystem. Be it an accident on the flyover, a fire in a high rise, or a suicide case in a slum, the name of the game is to break the news first for their dedicated reader base.
Recently, when the 'Hanuman Chalisa-loudspeaker' row was ignited by MNS chief Raj Thackeray, Shaikh, along with his loyal lapel and a handheld mobile phone that replaces the job of a cameraman, interviewed senior politicians ranging from Nana Patole and Aslam Sheikh, to Chaggan Bhujbal and Jayant Patil, asking them—in his signature style—where they stood on the issue.
Inspiration from Shiv Sena's Saamana

In a no-holds-barred conversation with The Federal, Shaikh, fondly known as 'Salim Bhai' among the locals, said he was heavily inspired by Shiv Sena founder Balasaheb Thackeray in the early 1990s. "I was in college at the time and remember seeing a picture of Babri Masjid in Saamana (Sena's mouthpiece) along with a caption that read: 'If we have done it, then we are proud.'
I was impressed by their guts and courage…and it became my wish that one day, even the Muslim community would have a go-to publication that they could call their own." "Today, 80 per cent of our readers and viewers are Muslims," he added.
"We started pushing out news on WhatsApp in 2013…you could forward messages to only 15 people in one go back then," he recalled. "These WhatsApp news messages went on to define us amongst our readers since at the time there was no other player (in news) who used WhatsApp to disseminate news."
Shaikh's target of having a news publication dedicated to Mumbai's Muslim community seems to have been met halfway. By employing a combination of citizen journalism and by making himself and other Gallinews team members available on the phone around the clock, he ensured that they didn't miss a single piece of information that their readers were sending their way.
The USP? Mountain goes to Mohammad
"After I set up the website, I wanted to make it easier for the reader to consume news from our portal," Shaikh said. "Instead of them coming to the website, I took the news to them. If there was going to be a power cut or a water cut in any neighbourhood, I would give them the heads-up on it. As time progressed, these people would then inform me first if they came across an accident or a fire on the road or in their localities…or just generally if they had some news to share. This became a cycle…and we are where we are today because of it. We have a very strong network of citizen journalists," he said.
None of this would be possible without Shaikh's signature style of reporting, delivered in Hinglish to readers and viewers over various social media channels that Gallinews now has. It has 53,000 followers on Instagram and a whopping 3.6 lakh subscribers on YouTube. Shaikh is the face of Gallinews and also the most popular figure amongst his loyal fan base.
During the first phase of the pandemic, when stepping out of homes during lockdowns was impossible, Shaikh who reported live from vegetable mandis and wholesale general stores in select areas. People would tune in to his live videos to know whether, and where, they could purchase bread, eggs, and other essentials in their neighbourhood.
It was during this time that the publication's reach was truly strengthened, earning Shaikh the reputation of being a person who hits the ground running and reports from among the masses.
Crude, realistic and very effective
However, his live clips aren't the tailormade and carefully edited videos that we see usually on legacy media channels. They are crude and realistic. Sometimes he is bellowing at people passing by, asking them to move out of the frame, while during other times, he funnily responds to people in the live comments section. When someone asked him (in the comments) to buy a new phone, he simply put his GPay number in the comment box in a witty rejoinder.
His reporting remains unabashed and unapologetic, but it is his vocabulary that really helps him resonate with his viewer base. Using words like apun, kai ko and other mixtures of Mumbai's street lingo, he manages to create personal space for his viewers where they don't feel like someone is talking down to them.
Also read: Unauthorised 'newspaper' on Bengaluru-Chennai Shatabdi sets social media abuzz
"I know the importance of being a local," he said. "People always want to know first, what is happening in their neighbourhoods and localities. It is a form of hyperlocal journalism," he said. Today, if there is a water shortage in a crowded neighbourhood like Dongri, it is Gallinews that would break the news first, even if it (the news) impacts only a few hundred people who live in that locality. "Everyone is connected to Gallinews in some way or the other."
Behind the scenes
Salim Shaikh's second-in-command is Irshad Shaikh, who works behind the scenes and focusses solely on breaking news. He verifies information and conducts fact checks before quickly posting it on WhatsApp with a catching headline.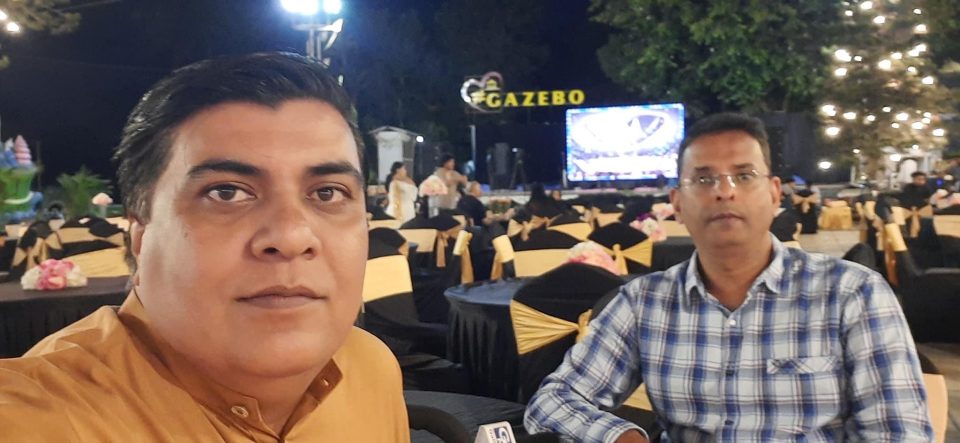 "The toughest part is to verify the updates that our citizen journalists from the field are sending us," Irshad told The Federal. "We are a news publication house after all and it is our duty to put out information that is watertight. Many times we receive a particular update but are unable to upload it on social media because we haven't confirmed it with the authorities yet," he said.
"Tuning in to Gallinews is entertaining if nothing else," said Soorya, a loyal reader/viewer of the publication. "He (Shaikh) makes the community his priority…which is why people feel comfortable sharing information with him. But for someone like me, it is also about the relativity factor. His language, his dressing style, and his reporting style…they make me feel like they're doing the news for me."
However, with great power comes great responsibility. And Gallinews had to learn this the hard way when, on two different occasions, its YouTube channel was pulled down due to copyright infringement allegations.
But an unfazed Salim Shaikh hit the restart on the channel once again, even if it meant starting from scratch with zero followers. He says that the next big step for Gallinews would be to expand beyond its hyperlocal viewer base and make its presence felt in other states as well.