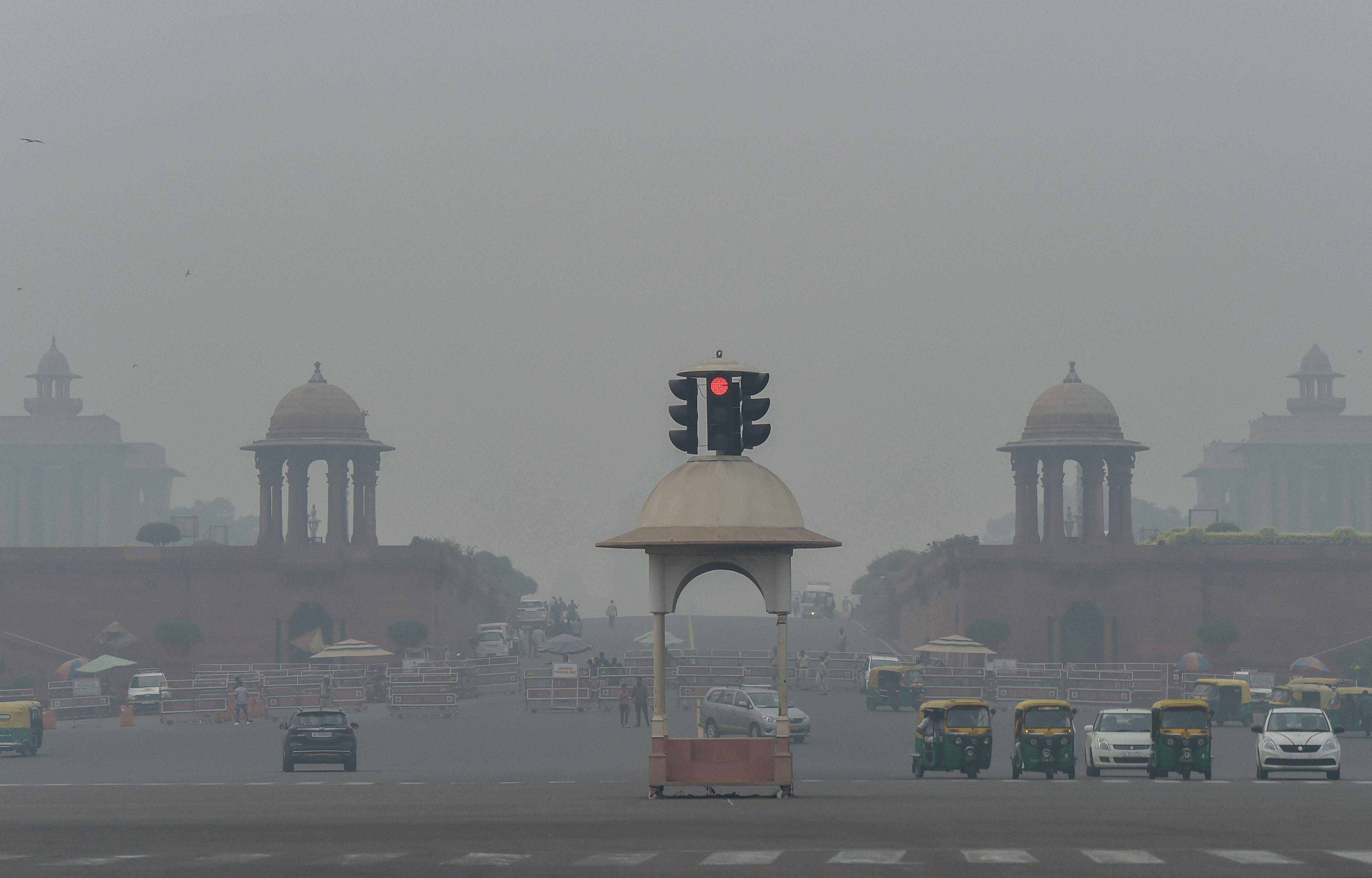 Delhi gets 'Green' app to monitor air pollution. Other cities...
As the temperature dips, Delhi faces a surge in air pollution. To keep a check on air polluting activities in the capital, chief minister Arvind Kejriwal launched a 'Green Delhi' mobile application on Thursday.
As the temperature dips, Delhi faces a surge in air pollution. To keep a check on air polluting activities in the capital, chief minister Arvind Kejriwal launched a 'Green Delhi' mobile application on Thursday.
Delhiites can use the application to register complaints against activities such as waste burning, dust emissions from construction work, polluting vehicles, industrial pollution, among others.
The 'Green Delhi' app is available only for Android users right now, but it will soon be made available for iOS users as well, Kejriwal said.
Delhi's overall air quality index (AQI) entered 'severe' category with a reading of 402 as of 12pm on Thursday. As per the Central Pollution Control Board (CPCB), the severity of the problem can be gauged from the fact that such bad quality of air can impact even healthy people and have seriously implications for those with underlying medical conditions.
Despite a significant rise in pollution, Kejriwal claims his government is taking several steps to check the problem. The measures taken in the last 5 years have helped reduce air pollution by 25%, he claimed.
Enlisting the measures Delhi government has taken, Kejriwal said that 95 per cent of industrial units in the city have switched from dirty fuels to non-polluting fuels. Besides, the government has shut down thermal power plants in Delhi.
Also read: Pollution levels rise, Delhi air quality inches closer to 'severe' category
How does the Green app work?
The application allows users to lodge complaints with supporting videos, audio clips and pictures, which are then sent to the respective department — including departments of municipal corporations and the Central and Delhi government. The location from where the complaint is made will also be automatically uploaded and sent to the departments.
"We have set timelines for the redressal of each complaint. After the complaint is solved, the concerned department will also upload a photograph. If the person who made the complaint is not satisfied, he can reopen the complaint," Kejriwal said.
The CM has set up a 'green war room' at Delhi Secretariat to monitor redressal of complaints.
In addition, 70 'green marshals' will be deployed in areas across the city to address people's complaints.
"The objective is to bring all the stakeholders together — be it MCDs, Delhi government or the Delhi Development Authority, along with citizens, to combat air pollution," Kejriwal said.
today's #PM2.5 #AQI derived from #VIIRS #AODs from #SNPP and #NOAA20 over #India @AerosolWatch @NASAEarthData @NASAARSET @NASA_HAQAST @CareForAirIndia @jksmith34 @airqualityindia @CBhattacharji @carolineoutside @OpenAQ @AJ_AIT @BZgeo @somagnik @avoiland @vinoj_iisc @ashimmitra pic.twitter.com/IvsZ9y8B7e

— Pawan Gupta (@pawanpgupta) October 26, 2020
In addition, the Delhi government is paying special attention to management of paddy crop residue, which is burnt in Punjab, Haryana and Uttar Pradesh at the start of winter, causing air pollution in the northern Gangetic plains and its already polluted cities like Delhi.
The Indian Agricultural Research Institute (IARI) had developed the 'Pusa Decomposer' technology for stubble management. The results have been "good results so far" and a detailed analysis will be presented in the next few days. "If this works, then by next year a solution will come up to address the smoke that is caused from stubble burning. I hope other governments will follow this too," he said.
Also read: Delhi's electricity too is contributing to air pollution: Study
Will other city administrations learn from Delhi?
While air pollution is a bigger menace in Delhi, other big cities — especially metro cities — too are grappling with the problem which has assumed great significance and has emerged as a serious health threat of late.
As on October 29 (3pm), the air quality index (AQI) in Mumbai is 132 (unhealthy for sensitive groups) while that in Raipur it has reached 174. For other major cities: Hyderabad (147), Bengaluru (111), Chennai (87), Thiruvananthapuram (100), Kolkata (122),  Patna (154), Lucknow (154).
It is time the local administrations of the above cities and the respective state governments too think of proactive measures like Delhi to keep a tab on air pollution.