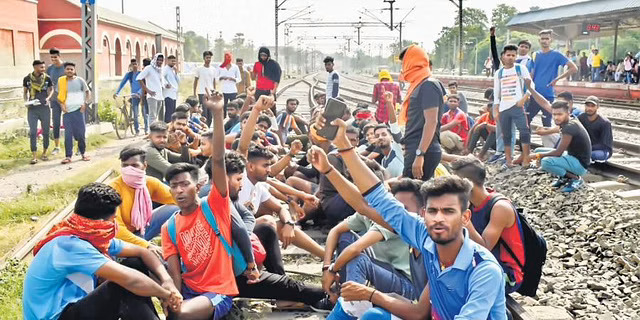 Chidambaram lambasts Agnipath: 'Penny wise and security foolish'
The Centre's controversial 'Agnipath' scheme to recruit soldiers on a short-term contractual basis has triggered widespread protests in various parts of the country.
The Congress has said that the controversial recruitment scheme "carries multiple risks and subverts the long-standing traditions and ethos of the Armed Forces".
Senior Congress leaders P Chidambaram said the scheme might turn out to be a case of 'penny wise and security foolish', referring to the Centre's contention of saving on pension bills.
Also read: Agnipath scheme decoded: How to join, salary, benefits — and criticism
Ajay Maken, Sachin Pilot and Pawan Khera were also present at the press conference held on Thursday (June 16) to clarify Congress' stand on the contentious recruitment process which has seen youngsters going on a rampage from Haryana to Bihar.
The Congress stated that retired defence officers too are opposing the scheme and possibly several serving officers share the same views.
The party said "the scheme makes a mockery of training; inducts into the defence forces an ill-trained and ill-motivated soldier; and discharges a disappointed and unhappy ex-soldier into the society".
The Congress leaders said the 'Agnipath' scheme was poorly conceived and hastily drawn up.  "A major change in the mode of recruitment should have been examined thoroughly and a pilot scheme should have been tried and tested," the statement read.
The party warned that given the volatile situation on our borders, it is imperative that we have soldiers in our defence forces who are young, well-trained, motivated, happy, satisfied and assured of their future. "The Agnipath scheme does not advance any of these objectives," the statement read.
Notably, the Centre has projected "Agnipath" scheme as a major overhaul of the decades-old selection process to bring in fitter and younger troops to deal with future security challenges facing the nation.
Also read: Protests over Agnipath: Aspirants resort to arson, violence in Bihar, Rajasthan
A day after the government unveiled the ambitious "Agnipath" scheme for recruitment of soldiers in the Army, Navy and the Air Force largely on a four-year short-term contractual basis, the Indian Army on Wednesday (June 15) said it would recruit 40,000 soldiers in the coming months.
The recruitment will be based on an "all-India, all-class" basis that is set to change the composition of some regiments that recruit youths from specific regions as well as castes.
After completion of the four-year tenure of the recruits, the scheme provides for retaining 25 per cent of each specific batch for regular service, based on organisational requirements and policies promulgated by the armed forces from time to time.