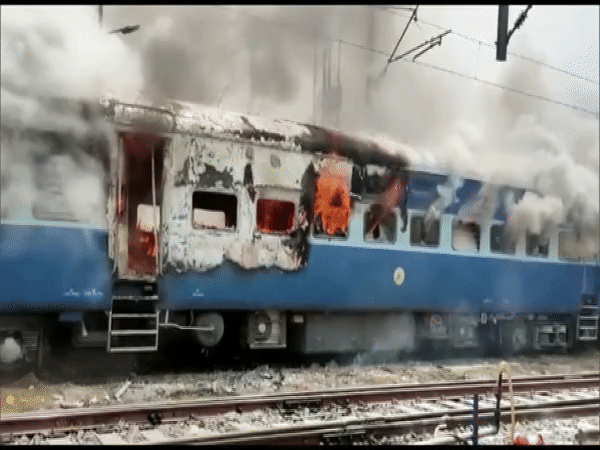 Protests over Agnipath: Aspirants resort to arson, violence in Bihar, Rajasthan
Mayhem broke out in several districts of Bihar for the second consecutive day as aspirants disrupted rail and road traffic, while resorting to arson and vandalizing public property in many places in protest against Agnipath, the Centre's new recruitment plan for the defence forces.
In Rajasthan, too there were protests.
Protesters, armed with sturdy batons, in Bihar's Kaimur district broke the glass windows of the intercity express train at Bhabhua Road railway station and set a coach on fire.
#WATCH | Bihar: Armed forces aspirants protest at Bhabua Road railway station, block tracks & set a train ablaze over #AgnipathRecruitmentScheme

They say, "We prepared for long&now they've brought ToD (Tour of Duty) as a 4-yr job.Don't want that but the old recruitment process" pic.twitter.com/TmhfnhHiVg

— ANI (@ANI) June 16, 2022
"They are protesting on the railway tracks. We are trying to pacify them. We are making an effort to clear the railway track. We are monitoring the situation," Kaimur SP Rakesh Kumar told ANI.

Also read: Agnipath scheme decoded: How to join, salary, benefits — and criticism
Police had to lob tear gas at the Arrah railway station to disperse protesters after the latter started pelting security personnel with stones. Fire extinguishers were used to douse fire caused by protesters by lighting furniture on the tracks at the station.
Similar scenes were witnessed in places including Jehanabad, Chhapra, and Munger.
In Chhapra, the agitators vandalised shops while in Munger, students blocked the National Highway 80, which connects Patna to Howrah. Student protesters in Saharsa blocked the tracks to cause disrupt rail traffic on the Saharsa-Mansi route.
In Jehanabad, students threw stones at people and police only to be chased away by the latter.
According to reports, at least 25,000 personnel have been stationed at railway stations and protest-torn cities to ensure that rail and railway service are not disrupted due to the agitation.
In Rajasthan
Scores of defence job aspirants led by the Rashtriya Loktantrik Party (RLP) staged protests in several parts of Rajasthan on Thursday against the Centres Agnipath scheme for four-year contractual recruitment in the armed forces. Job aspirants and RLP activists took out protest rallies in Jodhpur, Sikar, Jaipur, Nagaur, Ajmer and Jhunjhunu districts.
The Agnipath Scheme, which was approved by the Cabinet Committee on June 14, seeks to recruit young Indian youths – referred to as Agniveers – aged between 17.5 and 21 years to the armed forces and retire them by the end of a four-year tenure along with a one-time monetary settlement. During service, the agniveers will receive a monthly salary of ₹30,000-₹40,000 besides allowances, medical and insurance benefits.
The step has been taken to render a youthful profile to the armed forces and cut down on salary and pension expenses of the central exchequer.
Only 25 per cent of the 45,000-50,000 soldiers recruited annually will be allowed to continue in the armed forces under permanent commission for 15 years. The others will leave service with a package of between ₹11-₹12 lakh and sans pension.
The scheme would make the permanent strength of the Army, Navy and Air Force leaner by 13 lakh personnel.
Also read: Protests in Bihar against Agnipath; job aspirants block highway, rail tracks
Aspirants have protested against the scheme's early-retirement condition and the absence of pension and gratuity. They have demanded the government to revoke the new plan and go back to old recruitment system.
The old system allowed youth aged between 16.5 and 21 years to get inducted to the armed forces for 15 years of service and avail a lifetime of pension after retirement.