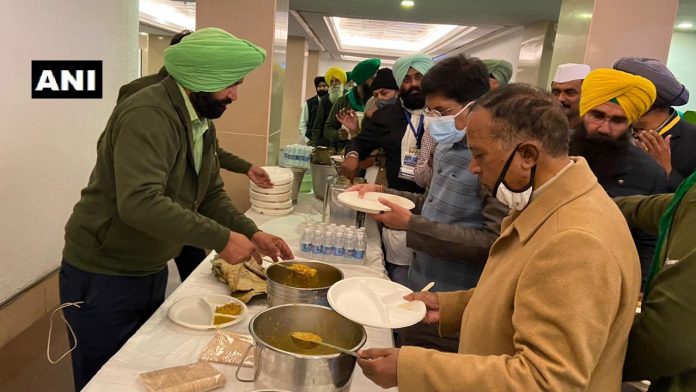 The sixth round of talks on Wednesday (December 30) between the Centre and farmers protesting against the three new farm laws has resulted in consensus on two of their four major demands, Union agriculture minister Narendra Singh Tomar said.
He said the talks with the 40 unions representing various farmers' groups will continue and the next round will take place on January 4.
The five rounds of talks held earlier had ended in deadlock with both sides sticking to their respective stands. While the government had said that it was ready to make amendments to the laws to incorporate the demands, farmers had been adamant that the laws should be scrapped.
The farmers have gathered in large numbers at many locations along Delhi's border as part of their Dilli chalo protest that began on November 26. So far about 40 farmers who were part of the protests have died, mostly due to health complications caused by the chilly conditions in the capital region.
During Wednesday's discussions at the Vigyan Bhavan in Delhi, the government is believed to have told farmer leaders that a committee could be formed to deliberate on their  demands regarding the three laws.
The farmer leaders demanded justice and compensation for the families of farmers who have died during the protest, which had started late November, reported ANI.
Also read: No PM in the world should comment on India's internal affairs: Rajnath
Earlier in the day, Bharatiya Kisan Union leader Naresh Tikait had expressed hope that the Centre and farmer leaders will find a solution. "I have got information that talks are progressing in the right direction at Vigyan Bhawan. I feel there will be a solution today even if talks go on till 12 midnight…I have also asked the farmers to move some steps backward if required," he said.
Tikait said that Union Defence Minister Rajnath Singh and senior BJP leader LK Advani should have been present for the talks on Wednesday. Addressing farmers in Ghazipur, he said, "We the farmers community will emerge victorious. Farmers are here in thousands. 40 protesting farmers have died so far. These are testing times for farmers. If we don't stand united at this juncture we will be finished."
Also read: Haryana villages divided by caste unite against 'common enemies'
On Tuesday (December 29), Union ministers Narendra Singh Tomar and Piyush Goyal met Home Minister Amit Shah and reportedly finalised the government's agenda for the meeting.
The Centre has reiterated its stand that it does not want to scrap the minimum support price (MSP) regime. Defence Minister Rajnath Singh said that no "ma ka lal (no one)" can take away land from the farmers.
Sources, however, said the Centre is firm that it will not repeal the laws. Union minister Som Prakash, who has been part of the three-member team conducting negotiations, said the Wednesday's meeting would be "decisive" and the government wants the farmers to "celebrate New Year at their homes".