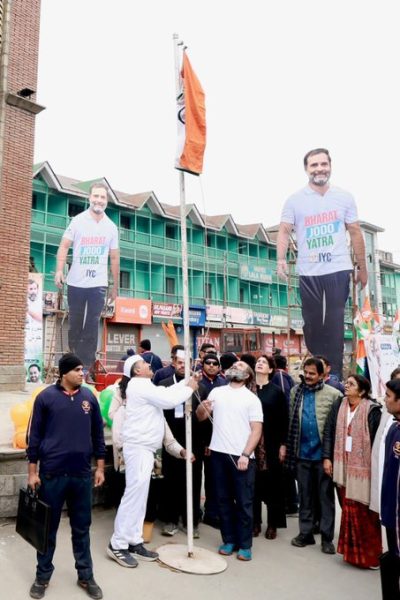 Congress leader Rahul Gandhi on Sunday (January 29) unfurled the national flag at the historic clock tower of Srinagar's Lal Chowk as part of the Bharat Jodo Yatra, amid stringent security measures usually reserved for a prime ministerial visit.
Taking a 30-minute break from the Kanyakumari to Kashmir foot march at Sonawar, the Congress leader drove to the Pradesh Congress Committee headquarters on Maulana Azad Road before heading to the clock tower, locally known as Ghanta Ghar, to unfurl the tricolour.
He was accompanied by his sister and Congress general secretary Priyanka Gandhi Vadra and party leaders from Jammu and Kashmir for the event. The security for the 10-minute event was at its peak as all roads leading to Lal Chowk had been sealed off from Saturday (January 28) night and no vehicular movement was allowed. Shops, business establishments and the weekly flea market were closed as part of the security drill for the flag unfurling by the former Congress president.
"By hoisting the tricolour at Lal Chowk, the promise made to India was fulfilled today. Hate will lose, love will always win. There will be a new dawn of hopes in India," Rahul tweeted in Hindi after the event.
On Monday (January 30), Rahul is slated to unfurl the tricolour at the party headquarters on M A Road, following which a public rally will be held at the SK stadium. Leaders of 12 Opposition parties are expected to attend the event.
While the Congress has invited 21 parties to the event, some including Trinamool Congress, Samajwadi Party, and TDP have reportedly chosen to skip the event due to security reasons.
लाल चौक पर तिरंगा लहराकर
भारत से किया वादा आज पूरा हुआ।🇮🇳

नफ़रत हारेगी, मोहब्बत हमेशा जीतेगी,
भारत में उम्मीदों का नया सवेरा होगा। pic.twitter.com/8B6vAk3aL6

— Rahul Gandhi (@RahulGandhi) January 29, 2023
The concluding function in Srinagar will be attended by leaders from several political parties like DMK-led MK Stalin, Sharad Pawar-led NCP, RJD led by Tejashwi Yadav, Janata Dal (United) led by Nitish Kumar, Shiv Sena (UBT) led by Uddhav Thackeray, CPI(M), CPI, VCK, Kerala Congress, Jammu & Kashmir National Conference led by Farooq Abdullah, PDP led by Mehbooba Mufti, and JMM led by Shibu Soren.
Also Read: Ladakh delegation discusses statehood issue with Rahul Gandhi
Earlier on Sunday, Rahul resumed the last leg of the walkathon from Srinagar's Panthachowk. The former Congress president along with sister and Congress general secretary Priyanka Gandhi Vadra, began the yatra at 10:45 am in his trademark white T-shirt.
The Gandhis joined hundreds of Congress supporters, including women, who were seen carrying the tricolour and party flags. The yatra covered a distance of 7 km up to the Sonwar area of the city.
After Lal Chowk, the yatra will travel to Nehru Park in the Boulevard area of the city, marking an end to the 4,080-km walkathon, which started from Kanyakumari on September 7 and traversed 75 districts across the country.
On Saturday, Priyanka joined her brother Rahul for the yatra, which resumed in Awantipora after being temporarily cancelled due to security concerns. PDP chief, Mehbooba Mufti, also joined the yatra in Awantipora.
Despite security concerns, local police have stated that there was no security breach during the yatra. Additional Director General of Police, Vijay Kumar, has also dismissed allegations of a security lapse.
Also Read: J&K going through difficult phase, Cong wants early restoration of statehood: Rahul Gandhi
In response to the January 27 security incident involving Rahul, Congress president Mallikarjun Kharge wrote to the Union Home Minister, Amit Shah, asking for his personal intervention to ensure adequate security for the Bharat Jodo Yatra in Jammu and Kashmir.
In his letter to Shah, Kharge expressed anticipation for a large turnout at the upcoming yatra events, including the January 30 event in Srinagar. He also mentioned that numerous senior Congress leaders and political figures will be in attendance.
Kharge requested Shah's personal intervention to ensure adequate security measures for the events, including the January 30 culmination in Srinagar.
Also Read: Rahul Gandhi's look-alike becomes an attraction in Bharat Jodo Yatra
The Kanyakumari to Kashmir Yatra began on September 7, covering 3,970 km, 12 states, and two territories over 145 days, before its final destination in Srinagar on January 30.
LIVE: National flag hoisting | Lal Chowk, Srinagar | Jammu and Kashmir | #BharatJodoYatra https://t.co/A0kLh07RUo

— Bharat Jodo (@bharatjodo) January 29, 2023