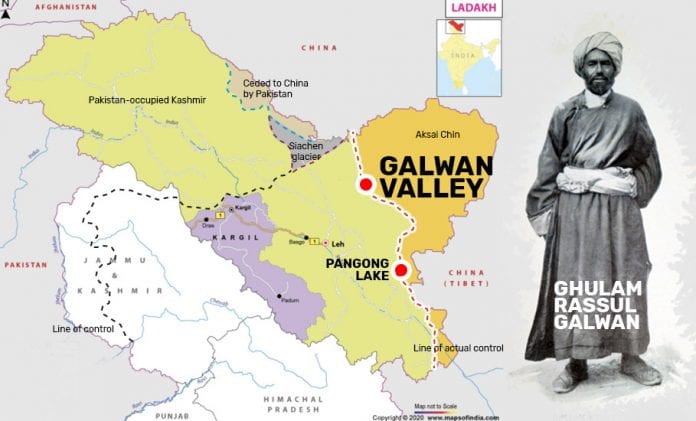 China and India — the world's two most populous countries which had fought a full-fledged war in 1962 — are now facing a stern test once again as their militaries are in an eyeball-to-eyeball confrontation at a few places along the Line of Actual Control (LAC) in the Ladakh region.
Alongside the main story of border tensions, skirmishes and alleged incursions, there lies a strategic importance of the Galwan Valley in the restive region.
But how this valley was named Galwan? And what is its backstory?
Several historians, scholars and experts of Ladakh affairs are of the view that Galwan Valley was named after Rasool Galwan. According to the book Forsaking Paradise: Stories from Ladakh, Ghulam Rasool Galwan or Ghulam Rassul Galwan had arrived in Leh in 1895.
"In the year 1895, after a hazardous journey of one year and three months in Central Asia and Tibet, Rasool Galwan, and his companions arrived in the village Thiksey. Another day's journey and they would reach Leh and be reunited with their family members," the book reads.
"The river Galwan originates from the Aksai Chin region and joins the Shyok River inside the territory claimed by India to form upstream tributary of the Indus River. What is lesser known is the fact that the river valley is named after a native explorer of Kashmiri descent Ghulam Rassul Galwan, whose forefathers belonged to the famed Galwan (the Galawan) tribe of Kashmir," writes Waris Ul Anwar, a PhD scholar at the department of history, Aligarh Muslim University, in a Kashmir-based news portal.
Ghulam Rassul Galwan earned fame as well as notoriety for various reasons. He also penned down a book titled Servant of Sahibs: A Book To Be Read Aloud.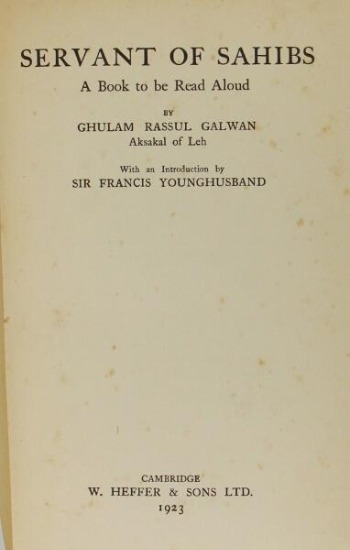 As the Galwan Valley is in the news for all the wrong reasons, Jammu and Kashmir's social media space is abuzz with the legend of Rassul Galwan and his book. Reports suggest that some are looking forward to reading Servant of Sahibs during the lockdown period.
Social media enthusiasts are even uploading cover picture of the book which also includes an introduction by British explorer Sir Francis E Younghusband. Some in Kashmir are revisiting history by debating the life and adventures of Rassul Galwan. They say this has resulted in enhancing people's interest in reading more about Ladakh's past to understand the present.
"Today I post the cover of book no: 2 (out of 10) I could lay my hands on. This is in response to what my friend Jaspreet Kaur asked me to do. I request my friends to do the same to excite the curiosity/attention/interest of people in book reading," wrote Dr Ahad Abdul on Facebook. Dr Ahad is known for his interest in Kashmir's history.
According to Dr Ahad's claim, Servant of Sahibs "is an important book on the life and times of early twentieth century Ladakh and some parts of Central Asia authored by an illiterate Galwan whose ancestry is rooted in the Kashmiri community historically known for their banditry. The illustrious author Rassul Galwan became a trusted assistant to various nineteenth century European explorers."
He says that the book "is the first and perhaps the last of its kind to have found its due space in the most prestigious publications of the famous Cambridge University."
"Setting off at a young age, Galwan was soon to be found in the company of adventure travellers like Sir Francis Younghusband, who explored the Tibetan plateau, the Pamir mountains and the deserts of Central Asia. Quietly bringing up the rear of these now-famous caravans was Rassul Galwan. Having taught himself how to run the expedition, the intelligent mountaineer was soon turning his talents to acquiring languages, picking up a working knowledge of Chinese and English, among others. It was with this rudimentary English vocabulary that Rassul Galwan authored Servants of Sahibs, the only account of its kind."
Related news: India, China's choreographed disputes on border seem risky, but safe
Rassul Galwan is said to have written about his life of journeying and adventures in his book. The foreword of the book is written by British explorer and a leading figure in The Great Game between the British and Russia, Francis Younghusband.
In his foreword, Younghusband writes: "Why Himalayan peoples should be ready as they are to undergo hardships, and run risks of the most serious nature, in the service of stray traveller who appears among them is not easy to understand. The payment they receive is small. They have to work for much more than eight hours a day… Yet they readily work through long and arduous days and willingly risk their lives. And, most wonderful of all, they are full of gratitude to their employer when they leave his service. In this book we get an answer to the puzzle."
Rassul Galwan begins his book in flawed and broken English. "This told my mother. Long years before, in Kashmir hills, were herds of ponies belonging to Maharaja, and were very many people to watch to them, on those mountain pastures. One those people, after, become a robber. His name was Karra Galwan. Karra was his name (means: black). Galwan means robber."
The author describes Karra as a strong and clever Galwan (robber), who robbed houses of the rich. "Karra gave much money poor men. Rich men in Kashmir very hard men, never gave money to poor men."
He says that after the arrest of Karra, many of his family (members) moved out of the Valley fearing the Maharaja's forces. He says that one of his great grandfathers had even moved to Baltistan (part of the Gilgit-Baltistan region) and from there to Leh.
Many Galawans moved to Yarkand in Xinjinag Uyghur Autonomous Region. Later, Rassul travelled to Yarkand with, whom he calls, "Captain Younghusband."
There are varied views on popular Ladakhi explorer and adventurer Ghulam Rassul Galwan, and his tribe, the Galawans.
The word 'Galawan' means horse-keeper in Kashmiri language.
"The Galawans, or horse-keepers, of Kashmir are by some considered to be descendants of the Dums, and their dark complexion suggests that they are not of the same race as the Kashmiri peasants. Others think that the Galawans are the descendants of the Tsak tribe. But as far as I know there is no evidence to support the latter theory," Jammu and Kashmir's first-ever Settlement Commissioner, Sir Walter R Lawrence, writes in The Valley of Kashmir.
Related news: India-China stand-off could continue as an assertive China marks time
According to Lawrence, "Originally, they (Galawans) earned their livelihood by grazing ponies, but as time went on they found it more remunerative to steal them, and they eventually developed into an established criminal tribe." The Galawans, according to Lawrence's account, "earned notoriety in the days of Pathan rule, and when the Sikhs took over Kashmir the Galawans were a terror to the country." (The Valley of Kashmir by Walter Lawrence, p. 311).
He also claims that the Galawans would frequently attack wedding-parties and even carry off the bride. They were also known for their bravery and daring attitude. Lawrence says that Dogra Maharaja Ranbir Singh had "finally sent them as colonists to Bunj. Many of the Galawans have, however, returned to Kashmir, and pony-lifting frequently occurs. The ponies are carried off to Poonch, where they are disposed of with ease and safety."
The term 'Galawan', according to him, is also "used to describe a man of violent and predatory habits, and it is said by the villagers that the Galawans in their capacity of horse-keepers, often kill a young foal and eat it, returning the skin to the unfortunate owner."
A Kashmiri proverb "Galawans karun gur hawale" roughly means to hand over the horse to the 'horse-keeper' (read horse stealer).
Meanwhile, the confrontation between the armies of India and China has been reported at Hot Springs in Chang Chenmo River valley, and at Demchok, according to a recent article by Lt Gen (retired) HS Panag in The Print. Media reports have alluded to intrusions and face-offs in the Galwan River on the northern bank of Pangong Tso.
Apparently, China aims to have control over the Galwan Valley for strategic purposes.