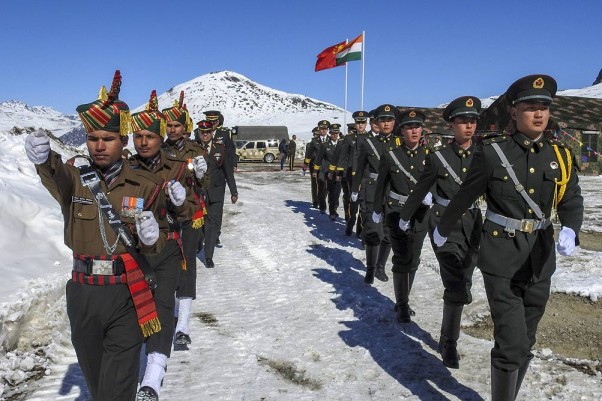 Is the current India-China stand-off on the border mere shadow-boxing by the two Asian giants, or are the transgressions along the Line of Actual Control (LoAC) this time much more serious?
There are no clear indications yet, if the eye-ball to eye-ball confrontation in Ladakh would continue through the summer or even lead to an armed skirmish.
Both India and China have dug in their heels. Despite several meetings between field commanders, the issues have not been resolved. Unless status-quo is maintained, meaning both sides go back to their normal positions, the dangerous situation will prevail.
Perhaps it is time for political leaders at the highest level to intervene. The unofficial summit in Wuhan between Prime Minister Narendra Modi and Chinese President Xi Jinping was to ensure that a Doklam-like situation does not recur. The 2017 stand-off in Bhutan had continued for over 70-days before it was diffused.
The question is, why now? China is under pressure on several fronts. It has come out of a pandemic with its reputation in tatters and its economy allegedly shrinking to six percentage points.
Related news | PM Modi meets NSA Doval, CDS Rawat to discuss India-China face-off
Relations with the US are plunging downhill as President Trump hopes to ride the elections on taking a tough stand against China and all those who dare stand up to America. It is being accused by the United States and several other Western nations of initially trying to brush the seriousness of the disease under the carpet.
Chinese doctors in Wuhan endorse that view, and it is playing out in China's social media in a big scale, despite the crackdown on those who ask questions. Trump and his Right-wing supporters also claim the novel coronavirus came out of Wuhan's Virology lnstitute and was part of the biological weapons program of the government.
The head of the institute has vehemently denied such wild charges. Hong Kong's pro democracy protests are gathering steam as China aims to bring in a fresh legislation to curb rights and freedoms enjoyed by citizens there, but denied to fellow Chinese citizens in the main land.
In such a situation, would China wish to open another front, this time with India across Ladakh and earlier in Sikkim? Experts including former Indian ambassadors to China, who know the system well, believe China will not be cowed down by pressure.
No, said Ashok Kantha, who served as ambassador to Beijing, these considerations will not deter the leadership. Nationalism is in the rise across the world, more so in China under Xi Jinping.
Related news | Tension mounts in Ladakh as China brings in more troops along LAC
The President is ready to export socialism with Chinese characteristics to countries across the world. That and the theme of rejuvenation of China and its ancient glory was the hallmark of the 19th Party Congress, which was regarded by many observers as China's coming out party. China's self confidence is at an all time high.
So while responding to criticism against China over its COVID-19 fisaco, Chinese diplomats are becoming increasingly vocal and assertive. They are being dubbed as China's wolfwarriors for attacking every country which criticises China's action.
Wolf Warrior 2 was a highly successful patriotic Chinese film released in 2017 which glorified China. One of the tag lines of the film was, "Whoever offends China will be punished, no matter how far they are.'' All of this is coming into play as Chinese envoys are increasingly lashing out against criticism.
However, President Xi's government is being pilloried in the social media at home, and nationalism is always the answer in such situations. China today is a powerful country — it is after all the second most important economy in the world. Its financial and political clout across the globe is increasing at a tremendous pace. China knows that apart from the US, few countries would want to go head-to-head with it. Whether it is Japan, Vietnam or India.
So, China is not about to back down just because it is under pressure.
Related news | Ladakh face off: China moves in 5,000 more troops along LAC
Generally, at the onset of summer, patrolling by both Indian and Chinese soldiers are more frequent. With the LAC not marked in many areas and with each country claiming territory, some amount of Chinese intrusions keep happening. Indians may also be doing the same.
But this time, the intrusion by the Chinese into Galwan, where there is no room for ambiguity, has come as a surprise. The Chinese have built around 100 tents in the Galwan area and is bringing in equipment reportedly for the construction of bunkers.
In places like Demchok, Daulat Beg Oldie, and Pangong Tso, Chinese and Indian troops are having a face-off with each other. India has also reinforced its position and brought in additional forces from other areas of Ladakh.
One of the reasons for the current stand-off is that over the last ten to twelve years, India has improved its infrastructure in border areas, including in Ladakh. So patrolling in places which were not accessible earlier to the Indian soldiers, are now frequent, leading to incidents with their Chinese counterparts.
Recent reports of fisticuffs between soldiers are increasing. The units of the People's Liberation Army posted in the Chinese side of the border are not accustomed to encountering Indian patrols.
Related news | Ladakh: Army chief visits Leh amid rising tensions with China along LAC
Again, ever since India built a landing strip in Daulat Beg Oldi area, the Chinese have been closely watching the area. Whenever possible, they try to ensure their advantage is not lost. India's move in Doklam to prevent the Chinese from building a road in Bhutanese territory in 2017 is making the Chinese watch every move on the LAC and resist further inroads by India.
Significantly, China was quick to criticise India on granting Ladakh the union territory status when the government scrapped Article 370 of the Indian Constitution last August.
The foreign ministry spokesman asserted that the new territory included some land within China's administrative division. So, it was a challenge to China's sovereignty.
India reiterated by asking China not to interfere in its internal affairs. How all of this will pan out is uncertain. But diplomats rule out any military confrontation. They also predict that it could take time to diffuse the situation.
(The author is a senior journalist who has worked for several national newspapers, specialising in foreign affairs)
(The Federal seeks to present views and opinions from all sides of the spectrum. The information, ideas or opinions in the articles are of the author and do not necessarily reflect the views of The Federal.)