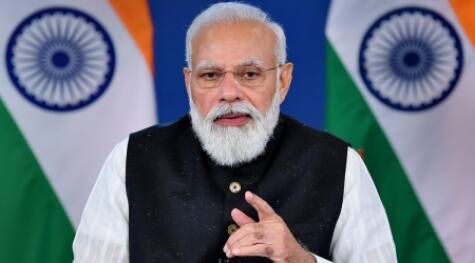 Prime Minister Narendra Modi on Sunday (June 26) said that during the Emergency imposed in 1975 attempts were made to "crush democracy" in India, and asserted that it is difficult to find another such example in the world where people defeated a "dictatorial mindset" through democratic means.
In his Mann Ki Baat radio broadcast, Modi recalled the Emergency imposed by the then Indira Gandhi-led government and said all rights were "snatched away" during that time.
Also read: Modi reaches Munich for G7 summit; food security, counter-terrorism on agenda
Emergency was announced in the country on June 25, 1975, when Indira Gandhi was the Prime Minister and was lifted on March 21, 1977.
"During the Emergency, all rights were snatched away. Among these rights was the right to life and personal liberty guaranteed under Article 21 of the Constitution. At that time, attempts were made to crush democracy in India, the country's courts, every constitutional institution, press, everything was brought under control," Modi said.
'Kishore Kumar banned'
He said censorship was so stringent that nothing could be published without approval.  "I remember, when famous singer Kishore Kumar ji refused to praise the government, he was banned, he was not allowed on radio," the prime minister said.
Despite several attempts, thousands of arrests and atrocities on millions, the faith of Indians in democracy could not be shaken, he asserted. "The democratic values ingrained in us since centuries, the spirit of democracy that flows in our veins, ultimately triumphed," Modi said.
"The people of India got rid of the emergency and re-established democracy in a democratic way. It is difficult to find such an example of defeating a dictatorial mindset, a dictatorial tendency in a democratic way, in the whole world. During the Emergency, I had the good fortune to have been a witness; to be a partner in the struggle of the countrymen – as a soldier of democracy," he said.
Also read: SC Gujarat riots verdict: Amit Shah says Modi suffered for 19 long years
"Today, when the country is celebrating 75 years of its independence, celebrating Amrit Mahotsav, we should never forget that dreadful period of emergency. The generations to come should also not forget. The Amrit Mahotsav not only encompasses the victory saga of freedom from hundreds of years of slavery, but also the journey of 75 years after independence. We move forward, learning from every important stage of history," he added.
Praise for Neeraj, Mithali
The PM also lauded Olympic gold medallist javelin thrower Neeraj Chopra who recently won a gold medal in Finland.
"Recently, our Olympic gold medalist Neeraj Chopra was again in the headlines. Even after the Olympics, he is setting new records of success, one after the other. Neeraj won the silver at Paavo Nurmi Games in Finland. Not only that, he also broke the record of his own Javelin Throw. Neeraj once again made the country proud by winning the gold in Kuortane Games. He won this gold in conditions when the weather there was also inclement. This zest is the hallmark of today's youth," Modi said.
Also read: Kuortane Games: Neeraj Chopra wins gold in 'tough conditions'
"From Start-Ups to the Sports World, the youth of India are making new records. In the recently held Khelo India Youth Games too, our players set many records. You would love to know that a total of 12 records have been broken in these games – not only that, 11 records have been registered in the names of female players. M. Martina Devi of Manipur has made eight records in weightlifting," he added.
Sharing this month's #MannKiBaat. Tune in. https://t.co/4vGCN8ZiW2

— Narendra Modi (@narendramodi) June 26, 2022
The PM also lauded former Indian women's cricket team captain Mithali Raj, who retired from the game recently.
"Friends, when it comes to sports, today I would also like to discuss Mithali Raj, one of the most talented cricketers in India. Just this month, she has announced her retirement from cricket which has emotionally moved many sports lovers. Mithali has not only been an extraordinary player, but has also been an inspiration to many players. I wish Mithali all the very best for her future," the PM said.
Chess Olympiad
Modi also spoke about the Chess Olympiad which will be held in India for the first time. Chennai will host the event from July 28.
"There is going to be an international tournament of a game which was born centuries ago in our own country…in India. This is the event of the Chess Olympiad beginning from the 28th July. This time, more than 180 countries are participating in the Chess Olympiad," he said.
Also read: Chess Olympiad in Chennai: Teams, schedule, format and venue details
Further, he spoke about the achievements of Telangana mountaineer Poorna Malavath.
"Today's discussion of sports and fitness cannot be complete without another name – this is the name of Telangana's mountaineer Poorna Malavath. By completing the 7 summit challenge Poorna has added another feather in her cap of success. The seven summit challenge… that is the challenge of surmounting seven most difficult and highest mountain peaks. With her indomitable spirit, Purva ascended the highest peak of North America Mount Denali and brought honour to the counry. Poorna is the same daughter of India who had accomplished the amazing feat of done a conquering Mount Everest at the age of just 13," PM Modi said.
He also urged the citizens to conserve water. "Monsoon is continuously progressing in our country. Rain is increasing in many states. This is also the time to make special efforts in the direction of 'water' and 'water conservation'," he said.