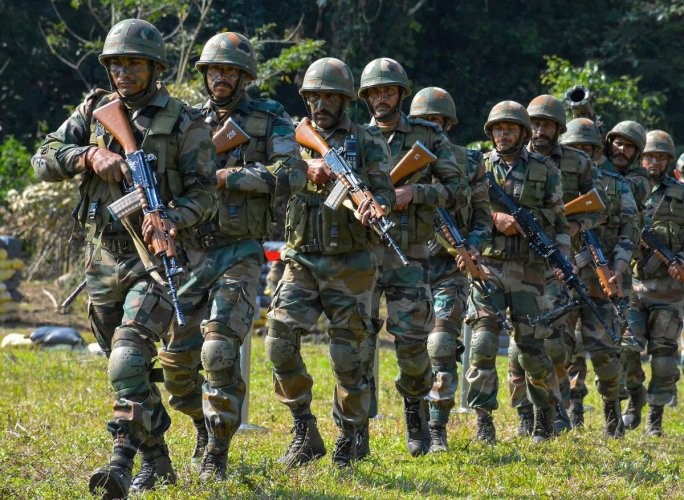 The Indian Army is working on a battlefield surveillance system to provide itself a composite operational picture to commanders and staffers at all levels for faster decision-making.
The Battlefield Surveillance System seeks to create multiple surveillance centres for field formations and to enable the integration of a large number of sensors.
According to PTI, the Army is observing 2023 as the Year of Transformation to become a "future-ready, technology-driven, lethal and agile force" and establish itself as an "iron cast pillar of national power". Project Sanjay and other tech-driven projects, including one that will bring in multi-domain spatial awareness on a single GIS platform, are aimed at making the military more potent.
Also read: Indian Army and Tezpur University sign MoU to teach soldiers Chinese
The Battle Surveillance System will provide an integrated surveillance picture to commanders and staffers besides completing the sensor-shooter grid by integrating it with the Artillery Combat Command and Control and Communication System (ACCCS), official sources said.
New projects
The project has "come of age" following extensive validation in multiple terrains including plains, desert areas and mountains over time from August to October.
Bharat Electronics Ltd, Ghaziabad, is the project's system integrator. The contract with the supplier is now being progressed further for delivery of these surveillance centres for field formations by December 2025. These projects will seek to reshape and re-engineer the functional processes and bring in a quantum jump in the Army's capabilities, the source said.
The Battle Surveillance System will give a fillip to the Army formations along the northern and western borders. It will allow commanders and others to take decisions swiftly, boosting the Army's overall operational preparedness.
Army Chief Manoj Pande recently said: "We have taken multiple transformation initiatives so that we become a more modern, more technology-driven, self-reliant and battle-worthy force to be able to not only carry out our mandate more effectively but also to be able to meet future security challenges."
SAMA
The Army is also working on a Situational Awareness Module for the Army or SAMA. SAMA, the in-house decision support system, has been developed in conjunction with BISAG-N and has successfully integrated inputs from ACCCS and three other platforms.
SAMA is being fielded this month for field validation in a corps zone. They said the transformation envisaged in the force is in sync with the Army's endeavour to be a "net-centric force" through technology infusion. Situational reporting is the keystone of all operational correspondence that happens on a perpetual basis.
Also read: Indian Army's Artillery regiment get first five women officers
"From June, situational reporting will start on an enterprise-class geographic information system platform configured for the Army's operational needs with a state of the art spatial visualisation, temporal and dynamic querying and analytics custom-built for commanders and staff as per authorisation rules. "The system will be first operationalised in the Army's Northern Command in June and the balance commands will migrate to the new system later," a source said.
Infrastructure projects
Project Avgat aims at integrated and planned development of critical infrastructure projects to reduce logistics costs. The system is expected to be fully operational towards the year-end. For Project Anumaan, the Army has signed an MoU with the National Centre for Medium-range Weather Forecasting (NCMRWF).
According to sources, the Army will help NCMRWF with the collection of observations along the northern borders and receive customised products for higher-resolution weather forecasts for its components. Project INDRA (Indian Army Data Repository and Analytics) has been developed to manage a database of junior commissioned officers and other personnel spread across 47 Record Offices.
(With agency inputs)