Police found a charred body of a woman on Friday (November 29) just a few kilometres away from where the woman veterinarian's body was recovered, at Shamshabad near Hyderabad.
According to a report on NDTV, although the two bodies were found in the same locality and under similar circumstances, the police couldn't confirm if the two cases were linked.
It quoted Cyderabad Commissioner of Police VC Sajjanagar as saying that the second body was found in an open area on the outskirts of Shamshabad. "It is being moved to a government hospital for autopsy, and a case is being registered," he said.
Also read | Terrible Thursday, three rape and murder cases rock southern states
In the first incident, 27-year-old vet's body was found near an overpass at Shadnagar on the outskirts of the state capital on Thursday. Police suspect she was raped and murdered. She had gone missing on Wednesday night while on her way home from Gachibowli.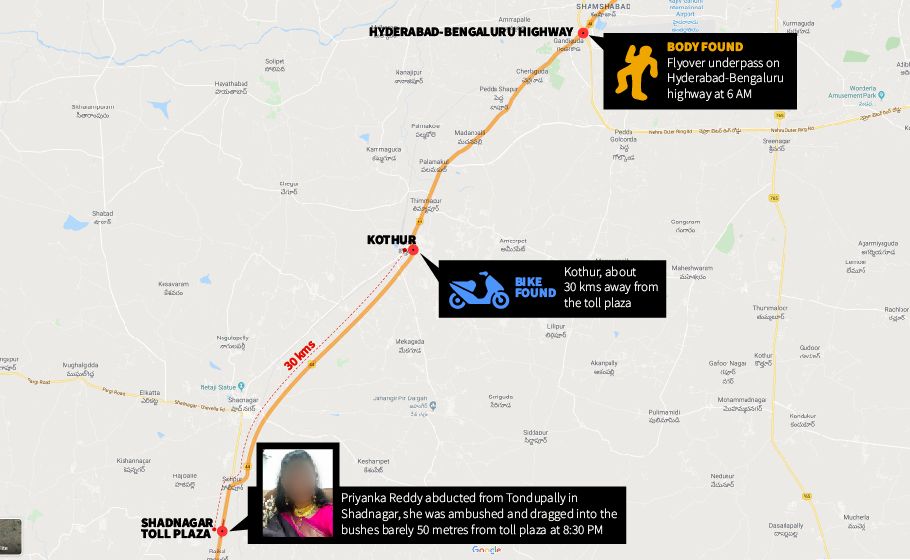 On Friday, the police had taken four people in custody, including the prime suspect Mohammad Pasha, in connection with the incident. The National Commission of Women (NCW), which took cognizance of the incident on Friday, will be sending a member to take up the matter with the police.
According to the police, the female vet was left stranded at Shamshabad after her two-wheeler got punctured on Wednesday evening, and was reportedly offered help by a few men.
The victim, who was talking to her sister on the phone around 9.20 pm, had told her some men had taken her bike to a mechanic. Her sister had asked her to abandon the bike and come to the nearest toll plaza from where she will pick her up. But the victim's phone was switched off when she tried contacting her after that.
The woman's charred body was spotted by a milkman at Shadnagar, 30 km from Shamshadbad, the next morning. Police suspect the people who had offered help to the veterinarian may have had a hand in her rape and murder.
Police have formed 10 teams to arrest the culprits. The role of two truck drivers is being suspected in the crime. The police are also scanning CCTV footage from the toll plaza.
(With inputs from agencies)