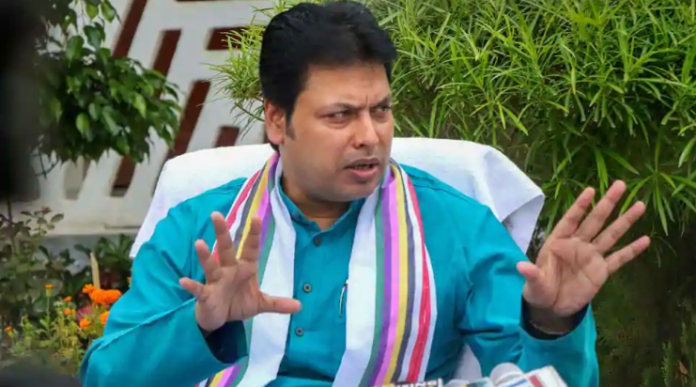 Stirring up yet another controversy, Tripura Chief Minister Biplab Deb on Sunday (February 14) told a public gathering in Agartala that the BJP plans to expand its reach beyond state borders, and aims to form government in neighbouring countries like Sri Lanka and Nepal.
While addressing an event, Deb gave an account of a chat he had with Home Minister Amit Shah, who was then the BJP chief, ahead of the Tripura Assembly election in 2018. It was the year the saffron party had defeated the Left Front government to come to power in the state.
Related news: Facing rebellion, Biplab Deb invites public to decide on ouster
"We were talking in the state guesthouse when Ajay Jamwal (northeast zonal secretary of BJP) said that BJP formed its government in several states. In reply, Amit Shah said that now Sri Lanka and Nepal are left. 'We have to expand the party in Sri Lanka, Nepal and win there to form a government'," Deb said quoting the conversation.
When HM was party chief, he had visited the state. We were sitting & talking. We said that we've so many states(BJP govt in several states). He said Sri Lanka & Nepal still remain. He said that we've to take party to Sri Lanka & Nepal too. We've to win there too: Tripura CM(13.2) pic.twitter.com/fWHiJpjlSH

— ANI (@ANI) February 15, 2021
While predicting a rout of the Mamata Banerjee government in West Bengal this year, Deb said the BJP will also end the culture of an alternate UDF and LDF rule in Kerala.
Deb, much like his BJP colleague Sadhvi Pragyan Thakur, is known for his foot-in-mouth statements that have left the party embarrassed.
From asking people to rear ducks to increase oxygen levels to claiming that internet and satellites existed in the Mahabharata era to stating that only civil engineers should sit for civil services exams, the Tripura chief minister has had his fair share of gaffes.
Deb once compared Bengalis and Jats from Punjab and Haryana, calling the former intelligent and the latter strong, but daft.
Related news: Biplab Deb says Jats physically strong, but have less brains
"For Bengalis, it is said that one should not challenge them when it is regarding intelligence. Bengalis are known as very intelligent and it is their identity," he said.
"When we talk about the people of Punjab, we say he's a Punjabi, a Sardar. They may have less intelligence but are very strong. One can't win them over by strength but with love and affection. A large number of Jats live in Haryana. So what do people say about Jats? Jats are less intelligent but are very healthy. If one challenges a Jat, he will bring a gun from his house," he had said.