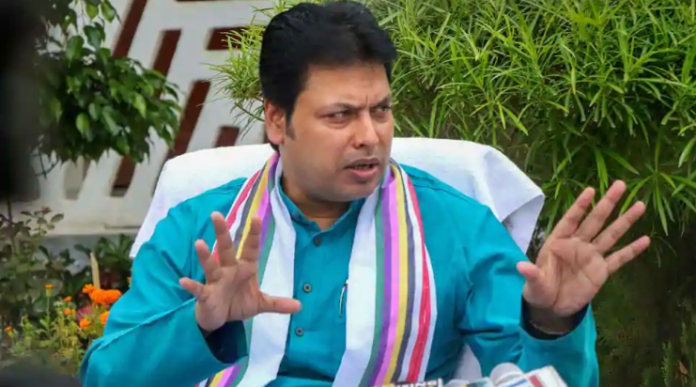 Tripura Chief Minister Biplab Deb, who is facing a rebellion within the state BJP with several partymen calling for his ouster, has 'invited' the people of the state to decide on his fate as chief minister during a public meet at Agartala's Astabal Maidan on December 13.
"I want to hear from the people if they want to remove me. I will go to the Astabal Maidan on December 13 at 2 pm. I invite everyone to come and tell me whether I should go or stay. I will ask 37 lakh people of Tripura to tell me what to do," India Today quoted Deb as saying.
On Tuesday, the state guest house reverberated with the slogan of 'Biplab Hatao, BJP Bachao' during BJP observer Vinod Sonkar's visit to resolve the internal rift in the party.
The disdain for the chief minister among party colleagues has increased manifold over the past few months. Recently, a group of rebel BJP MLAs under the leadership of former state health minister Sudip Roy Barman had flown to Delhi and met the party's organizational secretary BL Santosh to express their displeasure over the working style of Deb. The delegation had told Santosh that Deb is endangering the party's footing in the state which in turn may catapult the Left Front, whose 25-year-long rule ended in 2018, to power again.
Related news: Tripura BJP MLAs camping in Delhi want 'dictator' Biplab removed
Barman had also said he has the support of 25 MLAs in the 60-member Assembly.
Barman had initiated a similar rebellion in the Congress in 2016 before joining the Trinamool Congress and then the BJP. He was removed as the health minister of Tripura in 2019 for his alleged involvement in anti-party activities.
His team includes Sushanta Choudhury, Ashish Saha, Ramprasad Pal, Diba Chandra Hrankhawl and Parimal Deb Barma among others. Many are leaders who defected to the BJP ahead of the 2018 Assembly elections from the Trinamool Congress and Congress.