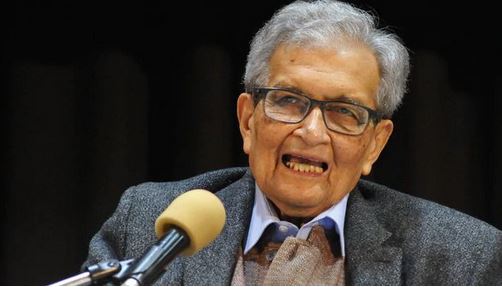 Amartya Sen on Uniform Civil Code, Opposition unity and Manipur chaos
Nobel laureate Amartya Sen has welcomed the ongoing discussions between non-BJP parties to form a federal front for the 2024 Lok Sabha elections, saying that democracy often demands power sharing.
Speaking to PTI in a free-wheeling interview at his ancestral house at Bolpur in West Bengal's Birbhum district during his recent visit to India, the 89-year-old economist said the central government needed to intervene with greater force to bring peace in Manipur.
"Democracy demands sharing of power"
"I think the fact of the matter is that often democracy demands the sharing of power. (But) often, the majority vote did not allow the minority parties to have that force and rather left the minority (in) too precarious (a situation)," Sen said.
The economist-philosopher said, "Given the current situation, the only way of having some kind of balancing of power would be for the opposition parties to stand with each other, rather than remain vulnerable."
He added, "In some ways, that seemed to be what happened in the meeting in Patna (opposition conclave held last month)."
Also read: Uniform civil code a difficult issue: Amartya Sen
Opposition leaders from 24 parties are slated to hold the second round of meetings in Bengaluru on Monday and Tuesday (July 17-18). Besides the Congress, JD(U), and RJD, most major opposition parties, including Trinamool Congress, Samajwadi Party, DMK, AAP, CPI(M), CPI, CPI (ML), Shiv Sena, and NCP, will join the meeting, which is expected to chalk out a strategy for fighting the 2024 general elections unitedly.
"Manipur needs just, powerful intervention"
Speaking on the situation in Manipur, where ethnic strife has claimed more than 150 lives since May 3, the Nobel laureate said, "What is needed is (a) just, powerful intervention by the central government."
Sen also said he had expected the Prime Minister to make a statement of a just and balanced nature about Manipur.
He also spoke about the defamation case against Congress leader Rahul Gandhi and said he did not recall any Member of Parliament facing arrest in any similar case or losing their seat in the Lower House because of a similar case.
"It may well be very unfortunate for India that we are going in that direction," Sen added.
Also read: Calcutta HC stays Visva-Bharati move to seize part of Amartya Sen's land
On UCC
The economist said he would be surprised if the Uniform Civil Code (UCC) had a constructive role.
He pointed out that the Indian Constitution is a well-thought-out structure that was passed by the Constituent Assembly after much deliberation and thought. Sen added that the process had given different sides in the Indian polity to express their views before a consensus was arrived at.
He said he was very worried about what the UCC may do to India and the kind of negative consequences this attempted democratic experiment may have.
(With agency inputs)